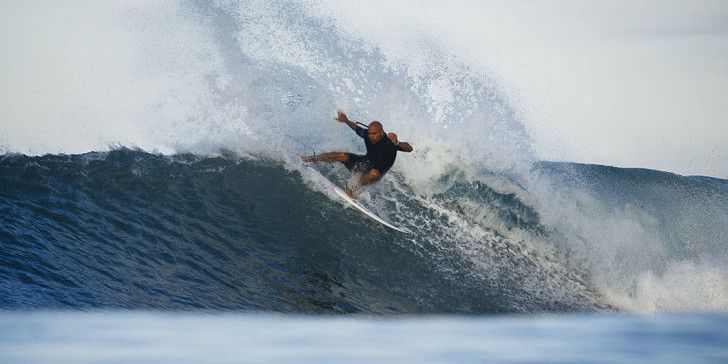 Kelly Slater © Oakley/Ellis

WSL Men's QS6000 event
Lower Trestles, California
28 April – 2 May 2015
Slater, Yeomans, Igarashi, Robinson, Coffin and Geiselman Join the Mix
 Surf News Network, 17 April, 2015. With the long-awaited return of the World Surf League (WSL) Qualifying Series (QS) at Lower Trestles – the newly minted Oakley Lowers Pro – just two weeks away, six wildcards have been named to join the list of 96 vying for the $250,000 prize purse and 10,000 WSL points on the line.
Wildcards can shake things up, and this roster surely will. Leading the pack is 11-time World Champion Kelly Slater who has a long history of wins at Lower Trestles. Currently ranked #12 on the WCT, his first victory at Lower Trestles came in 1990 at the Body Glove Surfbout. Seventeen years later, he started a winning streak at the famed cobblestone break claiming titles in 2007 and 2008 at the Boost Mobile Pro and in 2010, 2011 and 2012 at the Hurley Pro.
"Lowers is a special wave and it's been a pivotal place for me in my career," said Kelly Slater, 11-time World Champion. "The wave is a great canvas for experimentation, in both equipment and approach, and I'm looking forward to surfing it with just a couple of guys out at the Oakley Lowers Pro. Hope we get some swell for it."
Slater's wildcard invitation was one of two WSL Commissioner's wildcard offerings, the second of which was given to Nate Yeomans as the top North America seed and local representative from San Clemente. Yeomans is currently ranked #129 on the QS with his most notable recent finish a career-boosting win at the Coldwater Classic in late 2014.
Oakley chose two up-and-coming juniors for their event wildcards. Huntington Beach's 17-year-old Kanoa Igarashi, currently ranked #3 on the North America Junior circuit, is coming off of a win at the Hurley Australian Open Men's Junior in February and a second-place at the Ron Jon Vans Junior Pro in March. Surfing prodigy, 16-year-old Jack Robinson out of western Australia, has a long list of notable accomplishments over the past few years including winning the North Shore Surf Shop Pro Junior in 2014 and receiving the #1 Hottest 100 vote from SURFER Magazine in 2012.
"Kanoa and Jack are both standouts in their age group," said Oakley Surf Marketing Manager Ronny Nelson. "Kanoa has been surfing contests really well, racking up some good results and was close to qualifying for the Oakley Lowers Pro. He really deserves this opportunity. While Jack doesn't do as many contests, he's been charging crazy waves around the world for quite awhile and has become known for his high-performance surfing. One good result in a Prime event like this could shoot him up the ratings and open the door to surfing more high caliber events."
Finally, two WSL North America wildcards were presented to reigning WSL North America Junior Champion Parker Coffin, currently ranked #7 on the North America Junior circuit and 45th on the QS, and to Evan Geiselman, currently ranked #11 on the QS.
These six wildcards will join a stacked field of 96 of the world's best surfers including 23 additional CT competitors from April 28th – May 2nd at Lower Trestles at San Onofre State Park in San Clemente, Calif. The first day of competition will also add two additional wildcards selected from a trials event.
The Oakley Lowers Pro is the first of nine QS10000 events on the 2015 WSL QS. As the highest rated of all of the QS events, this event will set the stage for early 2016 Championship Tour qualification campaigns that will ultimately be determined at the end of the year in Hawaii.
The Oakley Lowers Pro will feature an HD-quality live webcast with video coverage and scoring for all five days of competition.