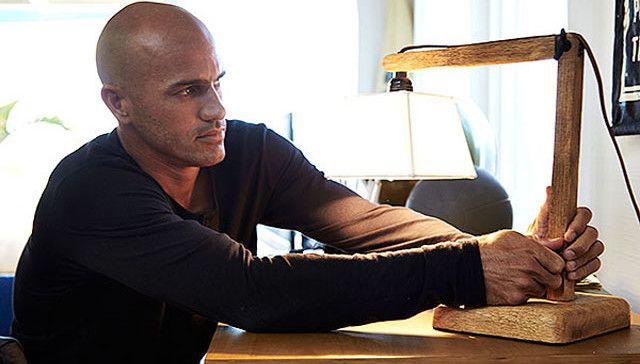 11x World Champ dips into home furnishing and accessories
Surf News Network, 4 April, 2015. San Francisco, California – PBteen, a member of the Williams-Sonoma, Inc., has launched its exclusive collaboration with Kelly Slater, the 11-time world surfing champion. This new capsule collection, available at PBteen.com today, is the most eco-conscious assortment that Pottery Barn has ever made and marks Slater's introduction into the world of home furnishings.
Kelly Slater's genuine passion for sustainability is at the heart of the Kelly Slater for PBteen collection. Combining PBteen's fresh and authentic designs with Slater's commitment to global conservation, the assortment was inspired by a desire to reduce environmental impact.
The collection boasts more than 40 pieces, including furniture built with FSC-certified wood, rugs made with recycled fibers, and bedding composed of certified 100% organic cotton. Environmentally responsible materials have also been incorporated into the packaging and store marketing for the collection. The assortment ranges from $29.00 to $1,999.00 and also includes categories such as wall décor, lighting, decorative pillows and jewelry storage.
"I'm really excited to be working with PBteen." said Kelly Slater. "I'm honored that PBteen has seen me as someone who can help a broader audience understand the need to use recycled, repurposed and organic materials.  Global conservation is a focal point of the capsule collection and it falls right in line with the change and direction I'm working towards, on a professional and personal basis. In collaborating with PBteen, we are creating a subtle and natural feel with this collection – something that has an authentic appeal for teens and their parents alike."
"We are thrilled to collaborate with Kelly Slater on this collection as there isn't a better ambassador for the surf lifestyle," said Sandra Stangl, President, Pottery Barn Brands. "As a mother of teen-aged kids who are avid surfers, I have seen the rise of the surf movement up close and feel this is not just a trend, but a way of life. While collaborating with Kelly, he challenged our team to bring sustainability to every part of the Kelly Slater for PBteen collection. We are proud to say this is the most environmentally responsible collection we have brought to market to date.  We believe it's empowering to show tweens and teens, regardless of whether they surf, that they can make a difference for the world's resources by being mindful of their personal choices."
The Kelly Slater for PBteen collection features an array of eco-conscious décor and home furnishings that bring authentic surfer style indoors.
Collection highlights include the Latitude Lounger crafted in the U.S.A. with recycled cotton upholstery and foam that's been reclaimed from the automotive industry, the Dover Storage Bed made with FSC-certified wood, and the Shoreline Wind Chime crafted with found driftwood and recycled copper. Surf inspiration can be seen throughout the collection, with details such as a lifeguard tower-inspired table lamp and a point break wave-inspired quilt & sham.  Lastly, the collection includes the 100% organic Surf Spot Pillow Covers that highlight Slater's favorite surfing locations.