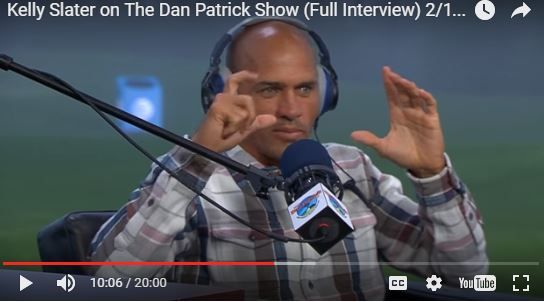 The Dan Patrick Show (Full Interview) 2/10/17

When Kobe retired he was 37. Phelps was 31 and Jordan: 40….
On Feb 11th, Kelly Slater turned 45.
Next month the first WCT event of 2017 will kick off with the Quik Pro Gold Coast – Slater will compete with world class talents mostly half his age.
"People took it that way, but it's not necessarily the case. But I may pull back and just not do any full years. I don't foresee myself stopping doing contests anytime soon, but that full tour thing might not be too appealing. If I feel healthy this year and give it my all and don't win, then I doubt that I'll do more full years. I feel like I've put in four or five years just now where I honestly didn't give a full effort."And to back up his hazy plans of possible retirement, yet still continuing to compete here and there, Slater talked with sportscaster Dan Patrick while at the Pebble Beach Pro-Am. To the question, "are you retired?" Slater responded:
"No. I'm full-time still. There's been rumors I'm retiring since '98. When I got on tour, the oldest guy was 28 or 29. It gives a little perspective. My sport was young and guys weren't really taking care of themselves. They were having a good time though. They weren't really taking the sport seriously longevity-wise."
Over the 20-minute conversation, we learned how long can Slater can hold his breath: "5 minutes." How many trophies he won as a kid: "About 300." His thoughts on Maverick's: "Only surfed it three times, almost drowned twice." We even find out more about that spooky tale about Slater's French stalker. There's plenty funny moments, too.