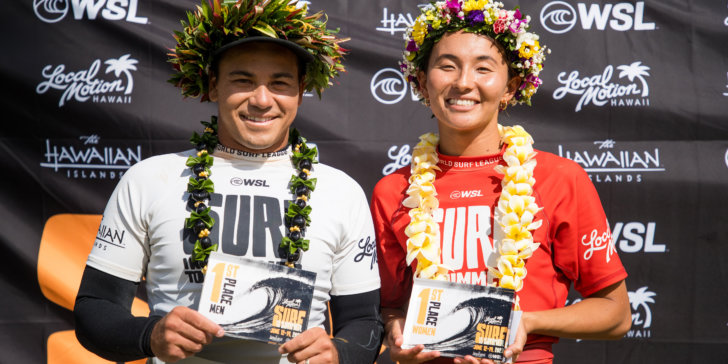 At Home In The Hawaiian Islands 
Tomoda-Bannert Claims Maiden QS Victory, Asing Returns Local Motion To South Shore
Big Runner-Up Showings From Eweleiula Wong, Isaiah Moniz
Notable Final Appearances From Some Of The Region's Top Emerging Talents
Pictured:
 Keanu Asing (HAW) (L) and Keala Tomoda-Bannert (HAW) emerged in victorious after both posting their winning scores on their final attempts. 
Credit
: © WSL / Heff
ALA MOANA BOWLS, Oahu, Hawaii (Thursday, June 15, 2023) – Today, Keala Tomoda-Bannert (HAW) and Keanu Asing (HAW) claimed wins at the Local Motion Surf Into Summer At Home In The Hawaiian Islands, a Qualifying Series (QS) 1,000 and Longboard Regional Qualifying Series (LQS). This marked Tomoda-Bannert's first-ever QS victory before Asing's win brought the event title back to the South Shore where he grew up. Now, both lead the Hawaii/Tahiti Nui QS rankings to start the 2023/24 season after showcasing their ability to win under pressure.
Hawaii/Tahiti Nui's top regional contenders all clashed in the Final featuring 2022/23 Hawaii/Tahiti Nui QS Regional Champion Moana Jones Wong (HAW), No. 2 Puamakamae DeSoto (HAW), No. 3 Eweleiula Wong (HAW), and former Challenger Series competitor Keala Tomoda-Bannert (HAW). A slow start to the Final witnessed Tomoda-Bannert earn an early lead, but Eweleiula Wong responded with a solid 6.27 (out of a possible 10) and added a 6.70 to establish a solid lead. Tomoda-Bannert wasn't done and answered with a 6.70 of her own before heading into the final minutes, delivering a 7.50 under pressure and turned in her maiden QS victory.

"It definitely feels like that was overdue, but I woke up today and thought it's time to get my first one," said Tomoda-Bannert. "It was a stacked Final, all the girls are so amazing and I knew it was going to be a big heat. It was super slow, but I was able to manage to pull off a couple scores. I'm not doing the Challenger Series this year so it was a slow start, but now having this under my belt I feels really good and hopefully have the momentum from this win into the next regional contest."

Tomoda-Bannert's Finals Day run began with one of the day's best performances, garnering a 16.94 (out of a possible 20) heat total in the Semifinals ahead of eventual runner-up Wong. The former World Junior Championships Runner-Up, Tomoda-Bannert now moves into the 2023/24 Hawaii/Tahiti Nui season as the No. 1 and looks to get back among the world's top contenders on the Challenger Series.
An all-star men's field came down to Keanu Asing (HAW), Isaiah Moniz (HAW), Kai Martin (HAW), and Robert Grilho (HAW) in a heavy-hitting Final. South Shore's own Asing kicked off his Final with an excellent 8.17 as Moniz garnered a 7.37 right behind him. Martin and Grilho put their name in the mix before a lull forced Asing to wait for another moment to strike as Moniz took a slim lead with Asing being put in fourth-place. But, Bowls delivered one more opportunity and Asing didn't disappoint with his world-class backhand attack to earn a near-perfect 9.00 and claim a big win in home waters with a 17.17 heat total.

"I was bummed I didn't get to last year and this year I made it a point to be here, this is a special event," said Asing. "Being a part of Local Motion for 20 years I never made the Final [for the QS], but I've always loved this wave and it was great to get going on my backhand again. It was perfect Bowls, really fun, tough competition and just had to make sure I was on the right waves. Just understanding that I know how to win and putting that forward, and being on the right waves was a difficult task with the competitors we had at hand with Championship Tour guys, up-and-coming Challenger Series guys, and it was just a special moment to have this event."

Asing's charge to the Final began with a tough Round of 32 bout he emerged unscathed from before turning it on in the Quarterfinals and Semifinals, earning excellent 16.66 heat total in the Semifinals. The former Championship Tour (CT) competitor looks to continue his success into the Challenger Series which gets back underway at the upcoming Ballito Pro.
Pictured:
 2022/23 Hawaii/Tahiti Nui No. 3 Eweleiula Wong (HAW) starts the year with a runner-up after putting on a backhand attack showcase. 
Credit
: © WSL / Heff
After a stunning 2022/23 QS season, Eweleiula Wong's (HAW) breakthrough sent her among the Challenger Series elite for 2023 and brought that confidence back with her to this event. Wong's Quarterfinal win set her up for a big Semifinal clash, advancing behind Tomoda-Bannert, before finishing short of the eventual victor once again. Now, Wong prepares for her return to the Challenger Series at the Ballito Pro.
"I'm excited to get the first event done and get a runner-up. It's good to come home and reset before going to South Africa and get an event under my belt. My goal is to keep doing the QS this year and also keep going with the Challenger, and it's good to have this as a backup in case I don't make it through Challenger. But, I'm really excited for what's to come and enjoy some time at home."
Pictured:
 For not being a full-time competitor, Isaiah Moniz (HAW) turned it on throughout the event to deliver a runner-up performance. 
Credit
: © WSL / Heff
The Moniz family is a household name in surfing and Isaiah Moniz (HAW) carried that weight in terrific fashion, charging through competition to earn his way into the Final and finish runner-up. While Moniz doesn't compete on a regular basis, his ability to thrive under pressure and not let opportunities pass him by in heats was a driving force in his success this week at Ala Moana Bowls – a wave all too familiar with him.
"It was fun, but honestly I give it up to all the guys who do this professionally, it was wild," said Moniz. "I did enjoy it but it was tough. Emotions were all over and I felt like I got lucky in a lot of heats, and to think how these guys do it on the big stage, my hat is off to them. There was a bit of pressure with all my friends and family here (laughs). I surf here all the time, but no one's there just to watch me and just had all the thoughts going through my head. But, it jut seemed like a lot of things went my way and I'm stoked on how it all worked out.
Pictured:
 (Clockwise) Puamakamae DeSoto (HAW), Kai Martin (HAW), Robert Grilho (HAW), and Moana Jones Wong (HAW) all start the fresh season with a big result. 
Credit
: © WSL / Heff
Also notching major Final appearances, reigning Hawaii/Tahiti Nui QS Regional Champion and event victor Moana Jones Wong (HAW) and Challenger Series contender Puamakamae DeSoto (HAW) kick off their season with a third and fourth-place, respectively, to kick off their seasons.
For the men, third-place for Robert Grilho (HAW) marked a career-best finish on the QS and Kai Martin (HAW) returned to the Final for a second-consecutive showing in impressive form throughout the day – earning multiple excellent scores along the way.
Women's Final Results:
1 – Keala Tomoda-Bannert (HAW) 14.23       1,000 points
2 – Eweleiula Wong (HAW) 13.37                       800 points
3 – Moana Jones Wong (HAW) 12.43                650 points
4 – Puamakamae DeSoto (HAW) 11.47             600 points
Men's Final Results:
1 – Keanu Asing (HAW) 17.17       1,000 points
2 – Isaiah Moniz (HAW) 12.20         800 points
3 – Robert Grilho (HAW) 11.80      650 points
4 – Kai Martin (HAW) 11.77            600 points
Women's Semifinal Results:
HEAT 1: Keala Tomoda-Bannert (HAW) 14.84, Eweleiula Wong (HAW) 13.33, Chesney Guinotte (HAW) 8.36, Summer Ivy (HAW) 7.06
HEAT 2: Moana Jones Wong (HAW) 11.96, Puamakamae DeSoto (HAW) 10.67, Erin Brooks (HAW) 7.50, Nora Liotta (HAW) 5.33
Men's Semifinal Results:
HEAT 1: Kai Martin (HAW) 14.17, Robert Grilho (HAW) 10.74, Kaulana Apo (HAW) 7.80, Kaulana Apo (HAW) 7.80
HEAT 2: Keanu Asing (HAW) 16.66, Isaiah Moniz (HAW) 12.37, Mihimana Braye (PYF) 12.23, Brodi Sale (HAW) 12.04
Men's Quarterfinal Results:
HEAT 1: Kai Martin (HAW) 15.86, Kaulana Apo (HAW) 13.87, Cole Alves (HAW) 13.43, Makana Franzmann (HAW) 13.04
HEAT 2: Ezekiel Lau (HAW) 17.16, Robert Grilho (HAW) 15.00, Cody Young (HAW) 13.23, Gen Asano (HAW) 8.66
HEAT 3: Mihimana Braye (HAW) 9.44, Isaiah Moniz (HAW) 6.84, Finn McGill (HAW) 5.70, Diego Ferri (HAW) 0.00
HEAT 4: Keanu Asing (HAW) 13.34, Brodi Sale (HAW) 12.10, Shayden Pacarro (HAW) 9.60, Maikai Burdine (HAW) 5.40
Men's Round of 32 Results:
HEAT 1: Kaulana Apo (HAW) 10.97, Gen Asano (HAW) 10.67, Eli Hanneman (HAW) 10.67, Kekoa Cazimero (HAW) 5.60
HEAT 2: Makana Franzmann (HAW) 14.76, Robert Grilho (HAW) 9.23, Luke Swanson (HAW) 9.00, Sebastian Zietz (HAW) 7.30
HEAT 3: Ezekiel Lau (HAW) 13.90, Kai Martin (HAW) 12.80, Sheldon Paishon (HAW) 11.43, Mason Ho (HAW) 7.67
HEAT 4: Cody Young (HAW) 15.06, Cole Alves (HAW) 13.10, Logan Bediamol (HAW) 12.24, Davi Stella (USA) 5.74
HEAT 5: Finn McGill (HAW) 14.67, Keanu Asing (HAW) 13.33, Imaikalani deVault (HAW) 12.87, Kylen Yamakawa (HAW) 12.26
HEAT 6: Mihimana Braye (PYF) 15.73, Shayden Pacarro (HAW) 14.33, Tony Nunez (HAW) 11.23, Liam Wilson (HAW) 9.34
HEAT 7: Brodi Sale (HAW) 14.40, Diego Ferri (HAW) 12.83, Rylan Beavers (HAW) 9.43, Shion Crawford (HAW) 8.83
HEAT 8: Maikai Burdine (HAW) 15.67, Isaiah Moniz (HAW) 14.80, Philippe Chagas (BRA) 13.10, Kala Willard (HAW) 12.04