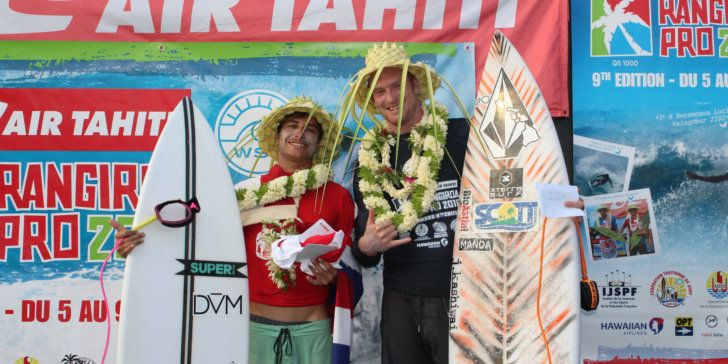 WYATT MCHALE LEADS REGIONAL JUNIOR RATINGS AFTER RUNNER-UP FINISH–
KAUAI'S GABRIELA BRYAN EARNS 9.0 IN FINAL  
 Papara Pro Junior winners Kauli Vaast (FRA) and Leila Riccobuano (PYF) during the awards ceremony at Taharuu Beach. Credit: © WSL / Lienard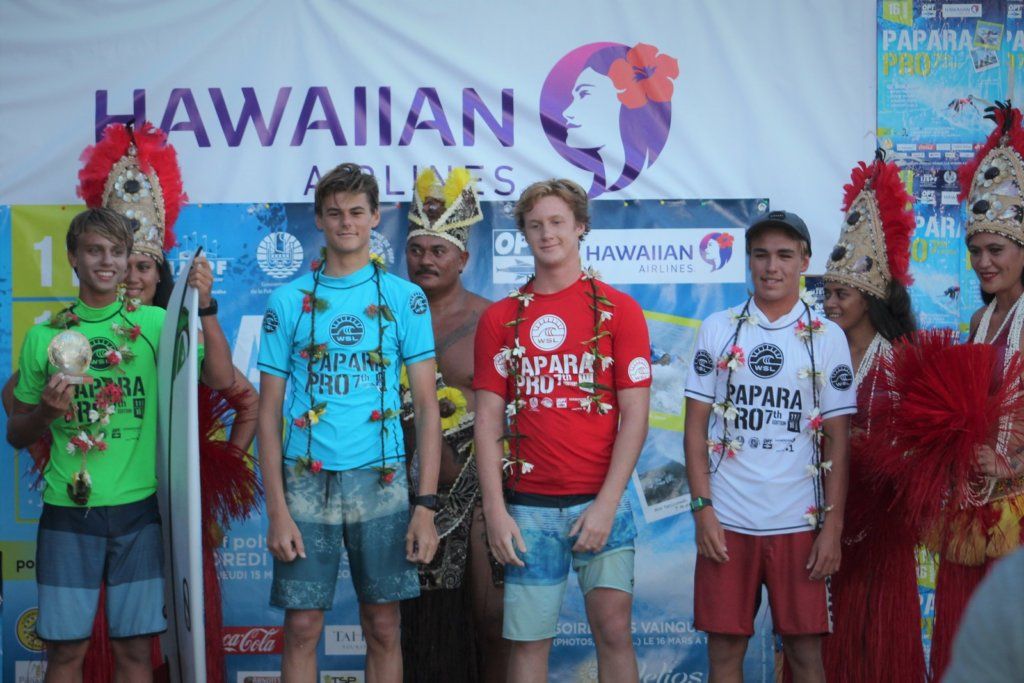 FINALISTS
Location:   
  Papara, Taharuu, Tahiti
Event window:
  

March 11 – 16

Rating:
  Men's QS 1,000
Conditions:
  SSE, 3-4ft. waves, light winds
PAPARA, Tahiti, French Polynesia – (Monday, March 12, 2018) — Kauli Vaast (FRA) and Leila Riccobuano (HAW) were victorious today at the Papara Pro Junior, each taking home their very first professional wins over formidable Hawaii finalists. A World Surf League (WSL) Men's and Women's Pro Junior, the event will count toward regional rankings for the Hawaii/Tahiti Nui region – the ultimate goal being a slot into the 2018 World Junior Championships. The win also bodes well momentum-wise for the pair as they head into the Men's and Women's Papara Pro Qualifying Series (QS) 1,000, which begins tomorrow.
Vaast and Riccobuano both displayed smart surfing from start to finish and confident approaches in the shifting lineup, powering through ten hours of competition in 3-4ft surf at Papara. A Tahitian standout, Vaast had to dramatically change his approach to succeed at the beach break, since his home break of Teahupo'o features heaving barrels over razor-sharp reef. His versatility – from powerful turns to progressive airs – is what landed him today's win.
"Feels good because the conditions were hard and I am happy to win," said Vaast. "I live in Teahupo'o so I surf only the reef, so when I came here it was not like Teahupo'o, it's hard and I'm happy to win on this beach break. When I started the contest I was thinking, 'I just want to pass my first heat,' and when I came in the Final I was like, 'okay I just want to surf,' and I got two good waves and I won. I work really hard with my dad, he helps me surf everywhere, Hira (Teriinatoofa), he coaches me sometimes here. Thank you to my sponsor and my family and everyone for this contest."

Vaast's quick surfing and backhand attack was a true standout from today's competition. Image: WSL/Thomas
The Men's Final opened with the second-highest score of the heat, a 7.75 from Vaast, who unleashed a series of maneuvers on his backhand and claimed an early lead. But with a flurry of waves gracing the lineup, there was plenty of scoring opportunities for the other three finalists and Noah Hill (USA) opened his campaign with his two best rides of the 25-minute heat, a 5.50 and 6.65. Hill, the 2016 Papara Pro Junior winner, tallied up scores and battled Vaast for first place. The two international surfers traded waves for the first half of the heat until eventual runner-up Wyatt McHale (HAW) asserted his dominance by jumping from fourth to second after backing up his 6.25 with a 5.95.
"Kauli was just smashing it the whole time and I saw that I was in fourth, but second wasn't that far away," said McHale. "So at the end I figured I might as well go for second and bump up a few points, so that's what I did and I got a few little ones."
McHale is coming off a final appearance at the Sunset Pro Junior, the first regional junior event of the year that took place in January, and talked about his goals for 2018. "I'm definitely pretty stoked, obviously the goal is to win, but runner-up is good and to follow that up after my fourth place at Sunset, I'm pretty stoked to be consistent and hopefully get one more good result before the end of the year," McHale continued. "I definitely want to qualify for World Juniors and if I could win the region that would be awesome too, but main goal is World Juniors."
The Final was extremely close and McHale took second place by only five-hundredths of a point from Hill. In similar fashion, Hill earned third place by less than half a point over fourth place finisher Sage Tutterow (HAW), who maintained a solid rhythm throughout the Final and surfed a total of nine waves with a combined heat total of 11.90. After today's excellent placing, the Kauai native now sits among the top five on the regional rankings, with McHale claiming the top spot.
In the Women's division, it was an all-Hawaii Final featuring Riccobuano, Gabriela Bryan (Kauai), Luana Coelho Silva (North Shore, Oahu) and Keala Tomoda-Bannert (Kauai). In an impressive display of power and commitment, the surfers unleashed their best and went head-to-head for the win, with Bryan posting a near-perfect 9.0 and Coelho Silva in the lead for majority of the heat. But Riccobuano tallied two strong scores – a 7.35 and 6.50 – to victory, the first of her entire surfing career.
"Oh my goodness, I've never won a Menehune or anything until today and I am so excited and so happy," said Riccobuano. "It took hard work, and I didn't have the best first or second heat, but I kind of pulled it together. It was so stressful, I was so happy it was an all-Hawaii Final because they're all my friends and we hang out all the time and it was really fun."

Smart surfing and a confident backhand earned Riccobuano her maiden WSL win. Image: WSL/Rolland
Riccobuano earned runner-up at the Papara Pro Junior last year and bettered her regional standings with today's win to take the No. 2 spot behind Bryan. "I'm staying with Gabi, which is kind of funny," Riccobuano continued. "I was so stressed out during the Final, I knew I had like a couple seconds left to get one more score because since she had a 9 she just needed to get another one and I don't know how I did it, but I did it."
Bryan held onto priority for a good portion of the Final and with five minutes on the clock, nailed three beautiful turns on her forehand for a 9.0 – the best score of the day – and the lead.
"I was in fourth before that and it was very slow so I knew all I had to do was wait because I couldn't get a good score on a small wave," said Bryan. "So it came, I got a 9 and then I knew that I had to back it and I just ran out of time."
Bryan hopes to carry her confidence into the Papara Pro Vahine QS 1,000 and has been training hard in all conditions to prepare for the year.
"I've been working really hard and training a lot and just practicing in all conditions because if you can get high scores in any waves you'll be better off in contests," Bryan continued. "Hopefully at the Turtle Bay Resort Pro Junior I can claim the regional title for the Junior division and go to Worlds, that would be really awesome. So heading into that final Pro Junior of the year, my goal is to obviously win and come out on top for the overall rankings."
The Papara Pro Men's and Women's QS 1,000 will likely get a start tomorrow around 7:30amlocal time, with Round 1 of the Men hitting the water first. The Papara Pro Open features four different divisions including a Men's and Women's QS 1,000 and a Men's and Women's Pro Junior, and has a holding period of March 11 – 16. Live scoring will be available on WorldSurfLeague.com and the Papara Pro event pages, and the final day of competition will be broadcast LIVE by Polynesie 1re at http://la1ere.francetvinfo.fr/polynesie/.
RESULTS
Athletes listed in first through fourth, all surfers from Hawaii unless otherwise noted.
Men's Final
1st – Kauli Vaast (PYF), 16.00
2nd – Wyatt McHale, 12.20
3rd – Noah Hill (USA), 12.15
4th – Sage Tutterow, 11.90
Women's Final
1st – Leila Riccobuano, 13.85
2nd – Gabriela Bryan, 12.25
3rd – Luana Coelho-Silva, 12.25
4th – Keala Tomoda-Bannert, 8.10
Men's Semifinals, 1st and 2nd advanced, 3rd = 5th place, 4th = 7th place
SF1: Noah Hill (USA), Wyatt McHale, Ryder Guest, Cole Alves
SF2: Sage Tutterow, Kauli Vaast (PYF), Luke Swanson, Maxime Ratia (PYF)
Women's Semifinals, 1st and 2nd advance, 3rd = 5th place, 4th = 7th place
SF1: Keala Tomoda-Bannert, Leila Riccobuano, Aelan Vaast (PYF), Kelta O'Rourke
SF2: Gabriela Bryan, Luana Coelho Silva, Ariana Shewry, Savanna Stone
Men's Quarterfinals, 1st and 2nd advance, 3rd = 9th place, 4th = 13th place
QF1: Ryder Guest, Cole Alves, Warren Pecket (PYF), Eimeo Czermak (PYF)
QF2: Noah Hill (USA), Wyatt McHale, Levi Young, Kayam Amar (ISR)
QF3: Kauli Vaast (PYF), Maxime Ratia (PYF), Logan Bediamol, Makana Franzmann
QF4: Luke Swanson, Sage Tutterow, Robert Grilho, Elijah Hanneman
Women's Quarterfinals, 1st and 2nd advance, 3rd = 9th place, 4th = 13th place
QF1: Leila Riccobuano, Aelan Vaast (PYF), Ynes Balcon-Mouzaoui (PYF)
QF2: Keala Tomoda-Bannert, Kelta O'Rourke, Tehani Tafaatau (PYF), Gillian McKenzie
QF3: Savanna Stone, Luana Coelho Silva, Tiana-Breeze De Mooij (NZL), Heimiti Fierro (PYF)
QF4: Gabriela Bryan, Ariana Shewry (NZL), Angelina Yossa, Kai Corrie
Men's Round 1 (Round of 32), 1st and 2nd advance, 3rd = 17th place, 4th = 25th place
H1: Warren Peckett (PYF), Levi Young, Kalani Rivero, Jaques Monchau (PYF)
H2: Cole Alves, Kayam Amar (ISR), Dylan Franzmann, Manakei Kahiha (PYF)
H3: Noah Hill (USA), Ryder Guest, Kainehe Hunt, Felix Bourgoin (PYF)
H4: Wyatt McHale, Eimeo Czermak (PYF), Brodi Sale, Keanu Taylor
H5: Makana Franzmann, Sage Tutterow, Haumana Ateni (PYF), Ocean Macedo
H6: Kauli Vaast (PYF), Robert Grilho, Erwan Figuri (PYF), Makana Pang
H7: Luke Swanson, Logan Bediamol, Zac Hedemann, Tamahei Temu (PYF)
H8: Elijah Hanneman, Maxime Ratia (PYF), Gavin Hogan, Stellio Bobet (PYF)
Men's Trials Heat, top three advance to Round 1
H1: Warren Peckett (PYF), Stellio Bobet (PYF), Keanu Taylor, Haunui David (PYF)