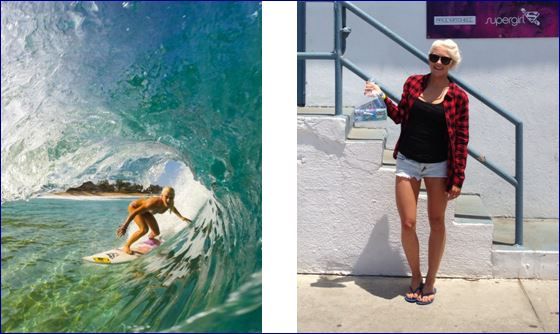 Photo: Anthony Walsh
Vista, California, November 5, 2014 – Sticky Bumps elite team rider Tatiana Weston-Webb took home a big win at the ASP 4-Star Mahalo Surf Eco Festival in Itacare, Brazil on November 1.  In the finals of the event, she surfed against friend and fellow Sticky Bumps team member Alessa Quizon, beating her by only 1.10 points.  Quizon competed in both the WCT and QS events this season, and with this top finish has solidified herself another spot on the World Tour for next season.  Weston-Webb was an alternate on the WCT this year and got a chance to compete in the Fiji Pro and the US Open this season, but by taking first place at the Bahia QS event, has gained herself a legit spot on the WCT for 2015.
"I've had qualifying for the World Tour a part of my dream for as long as I can remember. Having it actually happen in Bahia was literally a dream come true for me. I came out of that heat and got goose bumps realizing my dream had just come true," states Weston-Webb, just after returning home from Brazil. "We know the determination and drive that Tatiana has in regards to competitive surfing, so we are not surprised with her recent accomplishments on the ASP circuit. We also see the joy and passion for surfing and life that she has, and could not be more happy for her and proud to have her as a part of our Sticky Bumps team and family."
–John Dahl, Wax Research Founder/President.
About Tatiana Weston-Webb Tatiana Weston-Webb grew up in Princeville, on the island of Kauai, Hawaii.  Surfing since she was little, she sites her inspirations and influencers as other Hawaiian surfers, Bruce and Andy Irons, Alana Blanchard, Leila Hurst and Carissa Moore.  As an amateur she claimed 11 championships, plus two titles at Pipeline.  She is the 2x ISA World Junior Champion (2013, 2014), competing for team Hawaii.  This season, her top finishes include second place in the Supergirl Pro QS event, first place in the New Zealand Surf Festival Junior Pro event, second place at the Ron Jon Vans Junior Pro event, and her recent win at the Malaho Surf Eco Festival QS event.  18 year old Tati is thrilled to compete on the World Championship Tour next season.