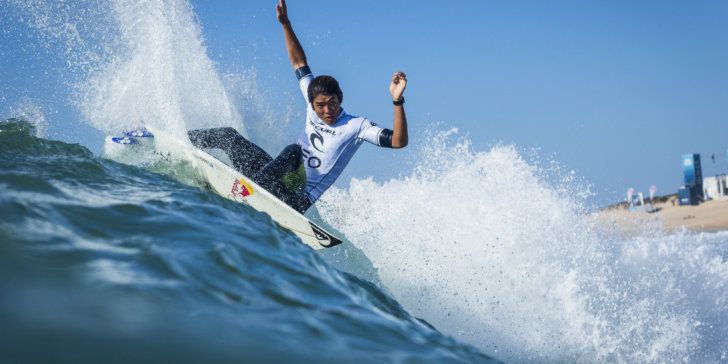 THE 20-YEAR-OLD HOPES TO SURF FOR HOME COUNTRY IN TOKYO 2020 OLYMPIC GAMES
HE BECOMES the FIRST COMPETITOR TO FORMALLY REPRESENT JAPAN ON WSL! 
Kanoa Igarashi, 20, will represent Japan on the WSL Championship Tour.
Credit: © WSL /  Poullenot
LOS ANGELES, California, USA (Monday, February 12, 2018) – Kanoa Igarashi, 20, will represent Japan heading into the 2018 World Surf League (WSL) Championship Tour (CT) season. A dual citizen of Japan and the United States, Igarashi decided to change his representing country as he eyes the 2020 Olympic Games in Tokyo, which will include surfing for the first time.
"I am going to be representing Japan this year on the Championship Tour," Igarashi said. "I am proud to surf for Japan. My parents are Japanese, my whole family is Japanese. I have a lot of support and fans over there. We do not have any Japanese surfers on the CT, so it is something for them to cheer for and have that part in the WSL. I am sure they are really excited, and I am looking forward to it. My family is stoked."
With this change, Igarashi becomes the first competitor to officially represent Japan on the WSL CT. In 2016, Igarashi joined the CT as its youngest member (then 17) and has proven to be a leader in the next generation of progressive surfers. Igarashi's career has been decorated with impressive performances as he has ranked in the Top 20 for the past two years.
His standout victories include first at the Vans US Open of Surfing in 2017 and a runner-up finish at the Billabong Pipe Masters in 2016.
"I want to be able to compete in the Olympics and represent Japan," continued Igarashi. "I grew up competing for the USA and have a lot of support over here, but this is a different part of my career now. The Olympics is the greatest competition in all of sports and it is something that you dream of doing as a kid. I never thought it would be possible as a surfer. It is a really exciting time for surfing. I am going to do my best to represent surfing in the best way possible."
Igarashi will compete under Japan for the first time in the 2018 WSL Championship Tour kickoff event, the Quiksilver Pro Gold Coast, in Australia from March 11 – 22, 2018.