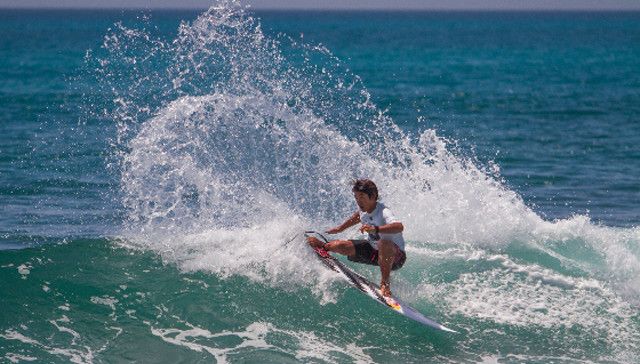 The Open of Surf Junior Series
Kanoa Igarashi © Marenelmar / Boardwalk Producciones
Los Cabos Open of Surf
WSL QS Women's 6000 Event
WSL QS Men's & Women's Jr. Event
Zippers, Baja, Mexico
Inaugural event offers valuable WSL JQS points
Surf News Network, 12 June, 2015 – The Junior Men put on a showcase of top-class surfing today in challenging Zipper's conditions as Kanoa Igarashi (USA) earned a huge win over Seth Moniz (HAW) becoming the inaugural Los Cabos Open of Surf Junior Series Champion.
This is Igarashi's second Junior Series win of the season, but the first in the North America region. "This win will definitely solidify my spot and I'm really stoked on winning this contest," Igarashi said. "My goal is to make it to World Juniors and to win the North American Junior Series. This win gets me one step closer to those goals."
Igarashi had his strategy set for the Final after battling through the Quarterfinal and Semifinals. "I rode a different board than what I've been riding and it felt good," Igarashi said. "I feel confident in my surfing right now and I knew if I got a good one I would get a good score."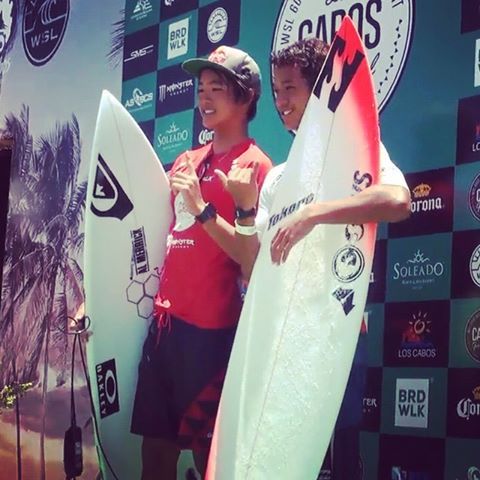 Moniz went on a tear during the last two days of competition, culminating into a final's appearance. "I was stoked to make the final," Moniz said. "The contest was kind of slow today and struggled through some heats but there were some guys throwing up big scores. I just had to keep a strong mind and stay calm."
The Hawaiian made a board change after watching the conditions, something that was needed with the difference in size between his heats. "I switched boards twice in this event," Moniz said. "I rode a regular glassed board and also an apoxy because it was a little faster and more buoyant – I was just adapting to conditions."
Kalani David (HAW) also fell short to the ripping of Igarashi, posting a 16.34, in the Semifinals but felt he gave it his all earning a heat-high 8.83. "I got a wave with two air-reverses after he got another 8 and I paddled right back out," David said. "I got another wave so I took that not knowing what I needed and just did whatever I could on it but didn't get the score."
Jake Davis (USA) was eliminated by an in-form Moniz in his Semifinal appearance after a great campaign in this year's contest. Davis was just missing the last piece of the puzzle to earn a win. "I felt like all I needed to do was wait for the sets and finish them," Davis said. "I got the best wave of the heat and I didn't take advantage of it. That was the big difference in the heat and I think I would've won had I completed that wave."
Defending Women's Champion Coco Ho (HAW) dazzled the crowds of Zippers earning the event's first and only perfect 10. Ho knows this wave all too well and is enjoying the venue. "I'm really excited to be back and when they come they're very familiar to us," Ho said. "I was having so much fun getting to open up."
Ho has her strategy set, throwing in a bit of flare while reserving herself to get the scores needed. "You do have to surf to a criteria but put your own twist on things," Ho said. "It's so easy with fun little rights like this to want to go out and do everything. I just slow my pace and think about what the judges want to see – but do my own thing as well."
Nikki Van Dijk (AUS) has not let up in her campaign so far and is only feeling stronger. "Every round I'm getting hungrier because I want to keep going," Van Dijk said. "It feels really good with each heat being one step closer and earning more points. I'm just getting lucky with good waves and choosing them wisely."
Tomorrow's 7:30am Call will determine an 8am Start for either the Women's QS or the Junior Women's with take the water.
Junior Men's – Final Results: 
Kanoa Igarashi (USA) 13.66, Seth Moniz (HAW) 6.33
Junior Men's – Semifinal Results: 
Heat 1: Kanoa Igarashi (USA) 16.34, Kalani David (HAW) 16.23
Heat 2: Seth Moniz (HAW) 14.20, Jake Davis (USA) 11.30
Junior Men's – Quarterfinal Results: 
Heat 1: Kalani David (HAW) 12.37, Imaikalani Devault (HAW) 12.03
Heat 2: Kanoa Igarashi (USA) 17.43, Noah Collins (USA) 16.33
Heat 3: Seth Moniz (HAW) 9.47, Daniel Glenn (8.13)
Heat 4: Jake Davis (USA) 12.20, Nolan Rapoza (USA) 9.97
Women's QS – Round of 16 Results:
Heat 1: Alessa Quizon (HAW) 10.16, Ellie-Jean Coffey (AUS) 6.27
Heat 2: Paige Hareb (NZL) 15.40, Laura Enever (AUS) 9.17
Heat 3: Silvana Lima (BRA) 16.03, Justine Dupont (FRA) 14.23
Heat 4: Sage Erickson (USA) 17.37, Tatiana Weston-Webb (HAW) 13.90
Heat 5: Coco Ho (HAW) 18.67, Isabella Nichols (AUS) 15.53
Heat 6: Philippa Anderson (FRA) 14.57, Malia Manuel (HAW) 14.27
Heat 7: Pauline Ado (FRA) 12.33, Dimity Stoyle (AUS) 4.50
Heat 8: Nikki Van Dijk (AUS) 17.57, Brisa Hennessey (HAW) 12.73