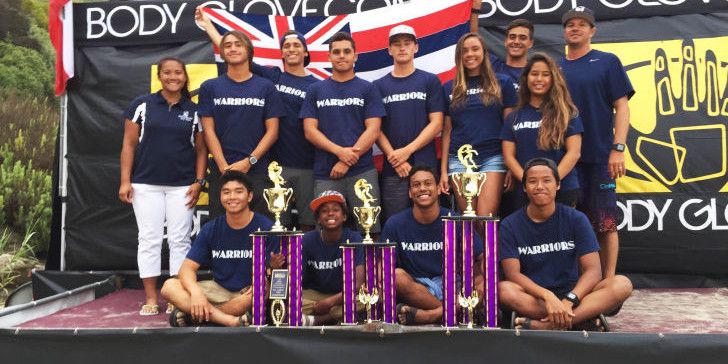 Congrads Kamehameha Surf Team! We are so Proud of each of you individually and together!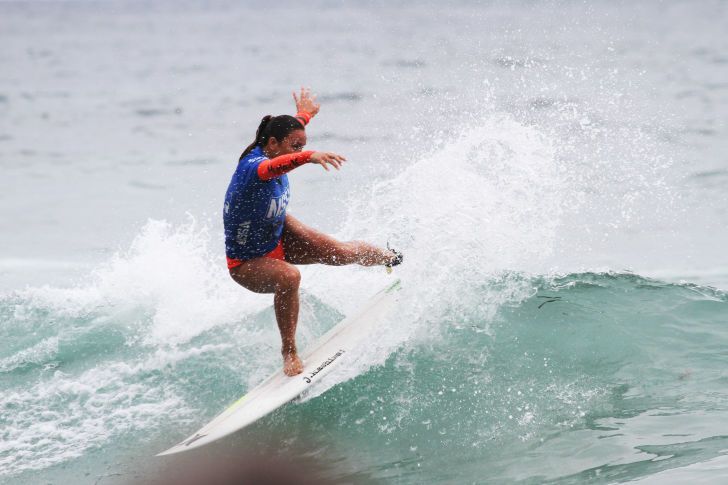 Cayla Moore: goofy foot winning style (The World Champ is proud of her Sis)
It is with great pride to announce that the Kamehameha Surf Team successfully defended their National High School Surfing title at this past weekendʻs NSSA National Interscholastic Championships at Salt Creek, Dana Point California making it back to back National Titles. In addition, Cayla Moore (KS Kapalama ʻ15) also defended her National Womenʻs High School Shortboard title, while teammate Imaikalani Devault (KS Maui ʻ15) took overall 4th place in the National Menʻs High School Shortboard Division. This was once again a team effort.
Participants in the High School Team included Charlie Akao (KS Kapalama ʻ15), Paliku Victorino (KS Kapalama ʻ15), Imaikalani De Vault (KS Maui ʻ15), Nathan Hester (KS Kapalama ʻ16), Kahia Walker (KS Kapalama ʻ16), Kuio Young (KS Kapalama ʻ17), Julian Williams (KS Kapalama ʻ18), Cayla Moore ( (KS Kapalama ʻ15), Kealohi Sabate (KS Kapalama ʻ15), Jacob Maihui (KS Kapalama ʻ17), and Nakoa Sabate (KS Kapalama ʻ15)
[caption id="attachment_2344" align="alignnone" width="728"]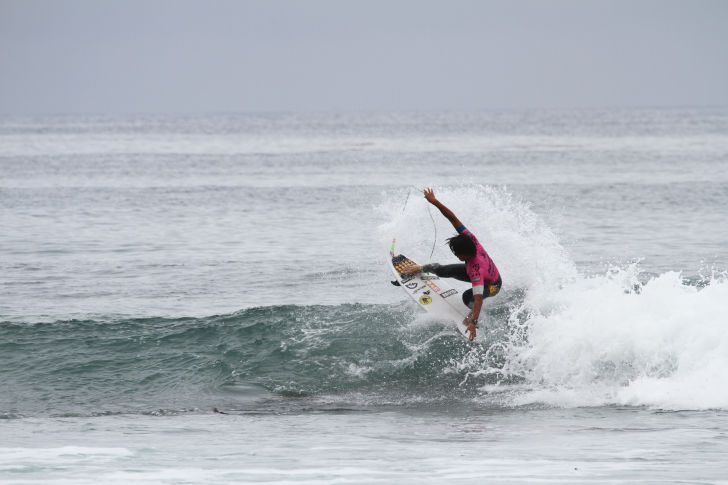 "Imai" kalani De Vault goes fins free on his way to victory[/caption]
In addition the Middle School Team, came in 3rd overall with Tyrra Gallano (KS Kapalama ʻ20) placed 4th overall in LB and teammate Hauoli Myers (KS Kapalama ʻ20) placed 3rd Overall in Gilrs Shortboard. Participants in the middle school team included Makani Walker (KS Kapalama ʻ19), Cullen Myers (KS Kapalama ʻ19), Liam Wilson (KS Kapalama ʻ19), and the two girls above.
Here are the final standings for the High School Team:
1. Kamehameha Schools (94 points)
2. San Clemente High, CA (90 points)
3. Huntington Beach, CA (88 points)
4. San Dieguito High, CA (86 points)
5. Dana Hills High, CA (76 points)
6. Newport Harbor, CA (67 points)
7. Satellite Beach High, Fl (60 points)
8. Carlsbad High, CA (59 Points)
9. Mira Costa, CA (46 points)
10. Edison, CA (43 Points)
11. Melbourne High, Fl (32 points)
12. Manasquan High, NJ (30 points)
12. Ocean City, NJ (25 Points)
14. Marina, CA (8 Points)
Attached are some pictures of the team and action shots of Cayla Moore and Imaikalani De Vault.
Mahalo so much for your continued support on the team!
Lea Arce
Kamehameha Schools Kapālama
High School Biology
Kamehameha Surfers Give Back and Surf Team Coach/Adviser
(808) 842-8239 learce@ksbe.edu