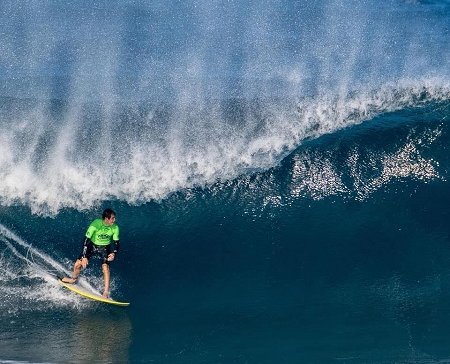 Image from Kalani's FB Aug 27th.
The Beloved Hawaiian Surf & Skate Prodigy dies from a major seizure in Costa Rica Saturday Sept 17th.
Kalani -just 24 years old -was doing what he loved…Surfing.
From Haleiwa, the young versatile athlete had a condition known as 'Wolf Parkinson White Syndrome' which causes seizures. It's a condition with an extra electrical pathway between the upper and lower chambers of the heart. This results in rapid heartbeat. Kalani even had open heart surgery after a 6-hour episode on Oahu about 6 years ago.
The news came in from photographer Peter King, Kalani's dear friend and supporter…Peter's Instagram said he had 'connected with family (in Costa Rica) and was having such a great time'.
Many big names in the surf world also shared their sadness over Kalani's passing like Nathan Florence, Eli Olson, Kaipo Guerriero, Taylor Steele, Pat O'Connell, et al, poured out their sorrow over David's death.
Mike Latronic FB "RIP Kalani… Massive heartfelt condolences to your friends and family. I know you passed a grown man, but I will always remember you as one super stoked, super talented frothing Grom.
@kalanidavid #rip #gonetoosoon
Our hearts and prayers go out to all of Kalani's Family and Friends. SNN
Here's the story of Kalani's near death experience back in 2016. 
More news to come…
View this post on Instagram
View this post on Instagram
On Aug. 27th Kalani posted this epic quote on his FB page…at the top he simply wrote…"Awesome".