Hawaii's Kalani David put on a show at Huntington Beach this past wkend, claiming the Trials and advancing into the main event, alongside Peruvian charger Miguel Tudela. They will both face some of the world's best surfers tomorrow on the Men's QS Round 1, heats 13 and 12 respectively.
Kalani scored a combined total of 12.77 in the Final, taking down Miguel, Ekeziel Lau and Evan Geiselman in 3 to 5 foot surf, in the south side of the Pier.
Vans US Open of Surfing
WSL QS10000 Men's Event
WSL JQS Men's Event
The Pier, Huntington Beach California
25 July – 2 August 2015
David and Tudela ready as weeklong event kicks off
Surf News Network, 26 July, 2015. Huntington Beach – The 48-man Trials for the 2015 Vans US Open of Surfing was completed today at Huntington Beach with form surfers Kalani David (HAW) and Miguel Tudela (PER) emerging victorious amidst a hotly-contested Final against Ezekiel Lau (HAW) and Evan Geiselman (USA).
Rippable three-to-five foot faced surf and onshore winds were on offer throughout most of the day which saw 48 of the hungriest surfers on the planet vying for two highly-coveted wildcard spots into the World Surf League (WSL) Qualifying Series (QS) 10000 event beginning tomorrow.
Hawaiian Kalani David built momentum throughout the day, advancing in second position in both his Round 1 and Round 2 heats this morning before finding his form in Round 3 and finishing the Final with a win.
"I'm still kind of baffled that I just won that," David said. "I'm so stoked. It was a lot of work today. That was the gnarliest contest I've ever surfed, and everyone was just grinding, wanting to be one of the two guys to make it through. It's insane."
"We all got out there, and everyone was just exhausted," David continued. "My arms felt so weak, I could barely paddle. Huffing and puffing every time I paddled back out.  We all had 1s to start. No one had anything. Zeke (Ezekiel Lau) got a 5 and then it was on. I was able to use priority to get my first score, with a combination of a turn and a blow tail on my backhand, going into the pier. I backed it up with something similar, and that was enough to take the win."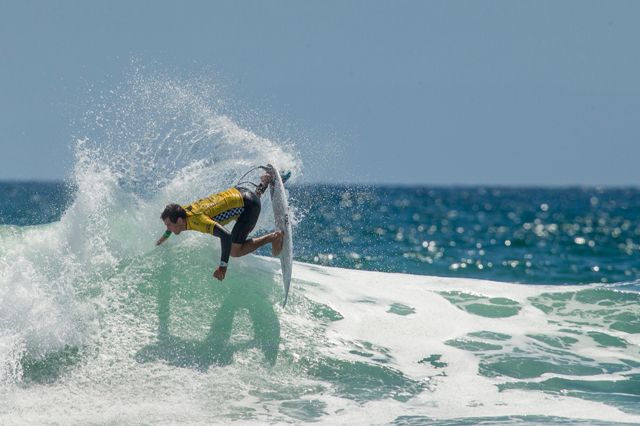 Kalani David © WSL/Lallande
Despite his humble retelling of the Final, David's stellar form from yesterday's Pro Junior carried over into today's competition where the young natural-footer secured a near-perfect 9.87 out of a possible 10 on his backhand during the Semifinals.
"I got a left and I just went for it," David said. "I had two 6s, and I knew anyone could have gotten better than that.  Zeke already had a 9.  So I just through the full rotation air reverse and stuck it, went up for another turn immediately and then got another section for air reverse. My best wave from the last two days."
David faces defending event winner Filipe Toledo (BRA), Tanner Gudauskas (USA) and Cooper Chapman (AUS) in tomorrow's Round 1.
Peru's Miguel Tudela has spent the past two years emerging onto the world stage as one of the planet's most versatile surfers. As adept on 30-foot waves as he is pushing the boundaries of aerial surfing, Tudela's runner-up finish today earns the young goofy-footer a place into the main event tomorrow.
"I am really stoked," Tudela said. "I just came with that mission, to make it to the main event.  Last year I lost last second in the Trials Semifinals, and I wanted to make it through bad today. Now I'm through and I can have fun with the rest of the event, take it one heat at a time."
"I had a zero in my ranking, so this result will help me a lot," Tudela continued. "At least I now replace this with some points, and have an opportunity to get more.  I'm 84th right now, so hopefully this is enough to keep my ranking in the 10000s now."
Tudela faces Adriano de Souza (BRA), Heitor Alves (BRA) and Mitch Crews (AUS) in Round 1 of competition
Round 1 of the Vans US Open of Surfing will commence at 7:30am tomorrow morning.
Check back for more details and full report. HERE