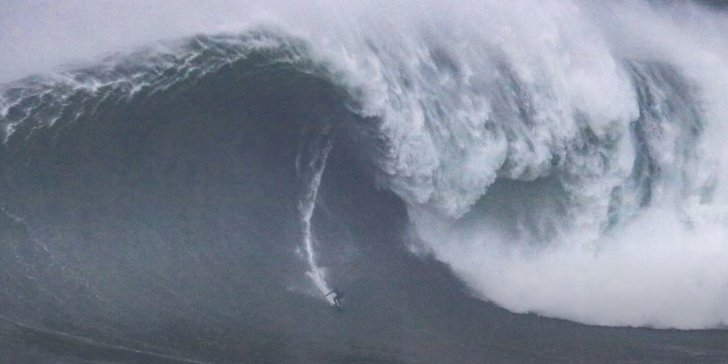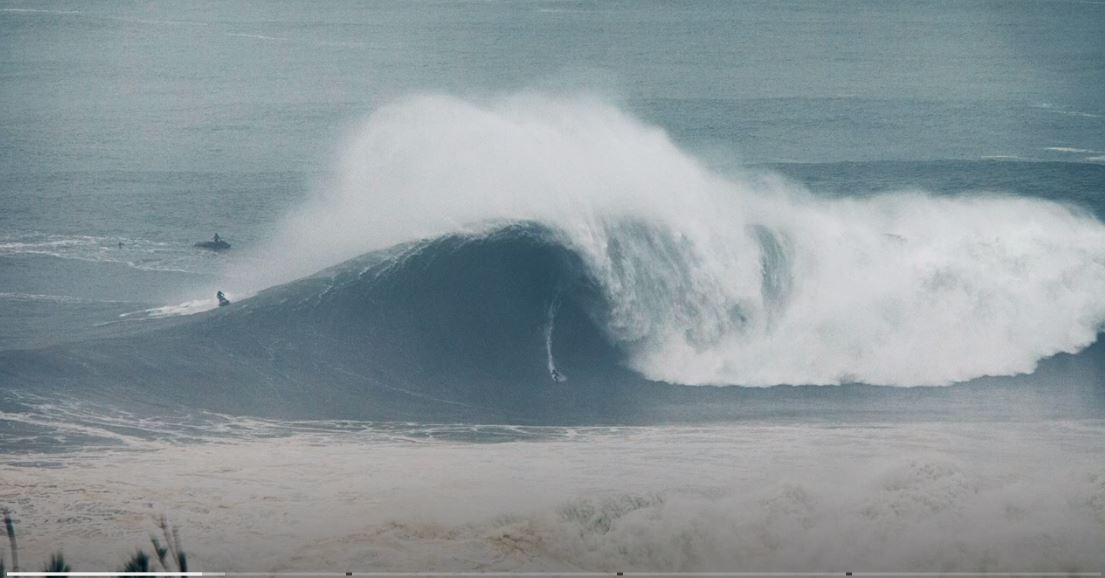 The pulled back version shows what a mutant Kai -not just survived- but thrived on.
2020 Red Bull Big Wave Awards 
Kai Lenny (USA) Wins cbdMD XXL Men's Wave  of the Year 
Link For Vision Below
Women's XXL Wave To Be Decided Soon With Possible Guinness World Record Announcement.
LOS ANGELES, Calif./USA (Monday, August 17, 2020) – 
The Big Wave Awards cbdMD XXL Men's winner is Kai Lenny (USA/Hawaii).
This award recognizes the biggest wave ridden by a Male and Female surfer which is often caught with Jet Ski assisting the surfer onto the very biggest waves of the season. 
The Women's cbdMD XXL is still to be decided and will be announced shortly as the WSL checks the waves thoroughly with a possible Guinness World Record.
The BWA judging panel determined Kai Lenny's winning wave to be 70 feet on the face.
(Considerably smaller than the existing Men's Guinness World Record of 80 feet held by Rodrigo Koxa.)
The above news-feed link includes the spectacular vision of Kai Lenny's ride which was ridden at Nazare in Portugal on February 11 2020. – It is the second wave in this clip and clearly slated.
Each week, the WSL will announce one BWA category winner on WorldSurfLeague.com/gobig2020 Red Bull Big Wave Awards Programming Schedule:
July 27: Wipeout of the Year Winner Announced – Winner Keala Kennelly (USA).
August 3:  Biggest Paddle Award Winners Announced – Paige Alms (USA) and Eli Olson (USA)
August 10: Overall Performer of the Year Winners Announced – Justine Dupont (FRA) and Kai Lenny (USA)
August 17: cbdMD XXL Biggest Wave Award Winners Announced – Kai Lenny (HAW) Men's Winner, Women's Announcement Shortly.
August 24: Ride of the Year Winners Announced  on World Surf Weekly at 3:00 p.m. PDT
The 2020 Red Bull Big Wave Awards are proudly supported by Red Bull and cbdMD.

Photographs and video of all the nominated rides can be viewed at WorldSurfLeague.com/gobig.
About the WSL 
The World Surf League (WSL), established in 1976, is the home of surfing. The WSL is dedicated to changing the world through the inspirational power of surfing by creating authentic events, experiences, and storytelling to inspire a growing, global community to live with purpose, originality, and stoke.The WSL is a global organization, headquartered in Santa Monica and with regional offices in North America, Latin America, Asia Pacific, and EMEA. The WSL possesses a deep appreciation for the sport's rich heritage while promoting progression, innovation, and performance at the highest levels.The WSL is comprised of Tours & Events, celebrating the world's best surfers across all disciplines and annually running more than 180 global contests and crowning the undisputed World Champions across all divisions; WSL WaveCo, where innovation meets experience; and WSL Studios, which offers best in class storytelling across competition, lifestyle, and conservation.For more information, please visit WorldSurfLeague.com