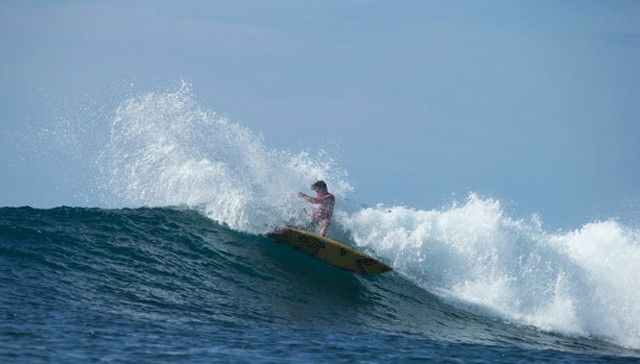 Sunset Beach Pro. Pic: Brian Bielmann © Waterman League
Stand Up World Tour
Sunset Beach, Hawaii
13 – 18 February 2015
Kai Lenny takes home crown at Stand Up World Tour 2015 Sunset Beach Pro
Surf News Network, 19 February, 2015. Sunset Beach, Hawaii – Kai Lenny wins the 2015 Sunset Beach Pro, Stand Up World Tour Opener.
Kai Lenny left it until his last two waves of the final to win the Sunset Beach Pro.
In what proved to be testing conditions through the day the waves turned on for the final heats of what was a dramatic close to the 2015 Sunset Beach Pro. In 30 minutes Kai Lenny (Naish), Mo Freitas (Focus Sup), Cai Vaz (Art in Surf) & Justin Holland (Starboard) caught 41 waves between them in 30 minutes.
Kai Lenny was in impressive form throughout Day 3, dominating all his heats on the way to the Final. In an awesome display of surfing in Semi-Final 1, his 17pts (8.33 & 8.67) left his opponents needing a combination of scores to better his.
More flair and radical turns on his final two waves in the final (7.77 & 7.5) mean't he takes his 4th Sunset Beach Pro event (out of 6) and starts the 2015 season with a win.
Mahalo to Turtle Bay Resort & Redbull