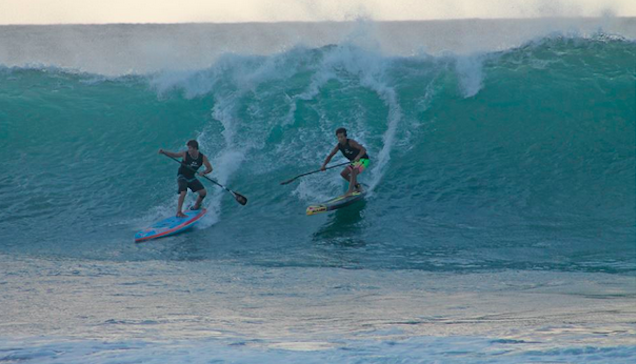 Contests highlights include 10 foot plus surf and a photo finish
Surf News Network, 14 October, 2014 : Kai Lenny (Naish) secures a well deserved win at the World Series Finals presented by Turtle Bay, taking 1st place in the long distance and 2nd place by a matter of inches in the sprint racing, giving him his second win of the season and securing 2nd place overall for the year on the World Series Ranking. While the 2x Racing World Champion was disappointed not to retain his Title (with Connor Baxter (Starboard) securing the deal at Huntington last month), Kai was committed to finishing year on a high, at home in Hawaii.
The widely anticipated World Series Sprints saw spectacular action, every bit as exciting as last year, as the World's best put it all on the line for the glory here on the Final day of racing at the World Series Finals at Turtle Bay presented by Naish.
With solid surf in the region of 10+ foot faces on the sets, the scene was set for some dramatic battles, as we saw some incredible action all day long, culminating in a star studded, two lap final, that saw half the eight-man-heat surfing the same wave into the inside buoy and a dramatic battle to the finish line as Kai and Zane Schweitzer (Starboard), surfed a set to the inside and then went stroke for stroke for a phenomenal photo finish.
In the end, it was Zane who got the nod on video replay, with his board crossing the line just inches in front of Kai. The result made little difference to Kai, as a second place was enough for him to secure the overall event win as he lifted another World Series Trophy above his head at the Awards Ceremony on the Lawn in Kuilima Cove.
An incredible finish once again here at Turtle Bay as history is once again made and another season wrapped here on the Stand Up World Series.