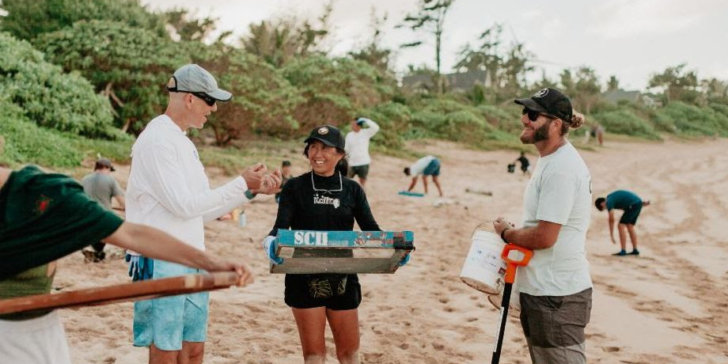 Our final large-scale cleanup is coming up soon and you won't want to miss it. This year has been such an incredible time to get outside and have the chance to water and sow both old and new relationships with you all.
Join us on Saturday, December 2nd for a Pau Hana cleanup from 3-5PM at Kahuku Golf Course Beach + an AFTER PARTY at Kahuku Beer Garden with live music, food trucks, games, and more! Come discover our new Hub at the Kahuku Sugar Mill and reimagine what this new space will look like with us!
This is a keiki to kupuna friendly event, with pets also welcomed. Please note the location! We will be providing a FREE shuttle for volunteers from Kahuku Sugar Mill to Kahuku Golf Course Beach and back afterwards. We'll also be taking out our crowd favorite mega sifters and handheld sifters for this cleanup event!
Sign up now for your last chance to cleanup with us this year!
Hey You! Join us for Giving Tuesday, November 28th
We're gearing up for our biggest fundraiser of the year on November 28th – Giving Tuesday! The work we continue to do would not be possible without the dedicated support of people just like you. So, join us this Giving Tuesday to bring life to a new space we've been creating. Any amount will help get us that much closer to making this dream of ours a reality for the community!
Stay tuned for more about our fundraiser happening on Giving Tuesday, Nov. 28th
We're going on tour… AGAIN! But this time, in Kahuku!
We're stoked for our upcoming education tour across Kahuku from Monday, November 27th to Friday, December 1st! We're bringing our amazing team of educators directly to you and your students for a free immersive (re)Learning experience with our crew to talk 'trash', upstream solutions, and more!
 If you are a teacher and would like to invite our team for a fun and engaging presentation, email your school's name, class grade level(s), estimated number of students, and topic interests to education@sustainablecoastlineshawaii.org.
Contact us at education@sustainablecoastlineshawaii.org to sign up your class or inquire more. We can't wait to see you all from 11/27 to 12/1!
Check out our October (Re)Learning impact report 
Take a look into the impact of our (re)Learning Team as they take action to bring immersive learning to classrooms all throughout O'ahu. From in-person and virtual presentations to beach cleanup field trips, our team works to hold space for students from all over to learn about plastic pollution, sharing ideas of proactive, upstream solutions to mitigate it.
Learn more about our educational (Re)Learning programs!
Photos by Jasmine Buerano
SUSTAINABLE COASTLINES HAWAI'I

3160 WAIALAE AVE.

SUITE 120

HONOLULU, HI 96816