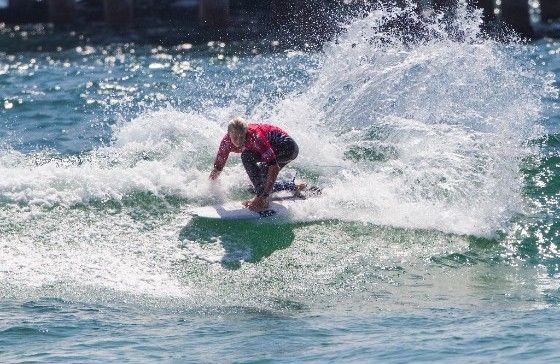 MEN'S QS10,000 ROUND 5 SET FOR COMPLETION FOLLOWING JUNIORS

WOMEN'S CT QUARTERFINALS TO FIRE ON SUNDAY
 International Junior competitor Ethan Ewing (AUS) is looking to secure a Vans US Open title from the North America region after already being crowned the Australiasia Junior Champion earlier this year.
Image: WSL/ Sean Rowland
Location:   
Huntington Beach Pier, Huntington Beach, California
Event Window:
July 25 – 31, 2016
Today's Call:
Men's and Women's Juniors Semifinals and Finals,
Men's QS10,000 Round 5 
| | |
| --- | --- |
| Conditions:   | 2 – 3 feet (0.5 – 1 metre) |
HUNTINGTON BEACH, Calif./USA (Satruday, July 30, 2016) – The World Surf League (WSL) Vans US Open of Surfing Men and Women's Junior final day of competition is ON. After an exciting week of impressive surfing from the next generation of surfers, respective champions will crowned by day's end. In addition to the junior's event being completed, Round 5 of the Men's Qualifying Series (QS) 10,000 is also in store with some heavyweight bouts on offer. The Samsung Galaxy Women's Championship Tour (CT) Quarterfinals are off for today and will resume Sunday, July 31.
"We have a very exciting day in store with the 2016 junior champions being crowned, as well as deciding who will make it into the men's Quarterfinal draw," North America Tour Manager Brian Robbins said. "This is the biggest stage for these juniors to show what they're capable of with the crowds in attendance and the Vans US Open title on the line. We're excited to get this day going and set up the final day of competition for the Men's QS and Women's CT tomorrow."
Up first in Semifinal, Heat 1, a talented field takes to the water as Caroline Marks (USA), Macy Callaghan (AUS), Alyssa Spencer (USA), and Leilani McGonagle (CRI)contest for two spots into the Final.
An equally impressive, international Semifinal kick off the Junior Men's action as Ethan Ewing (AUS), Yuji Mori (JPN), Nolan Rapoza (USA), and Kei Kobayashi (USA) will do battle in the Huntington Beach Pier arena.
Following the Semifinals, Round 5 of the Men's QS10,000 begin with event standouts Mitch Crews (AUS) and Ryan Callinan (AUS) competing for a spot into tomorrow's Quarterfinals.
Upcoming Vans US Open of Surfing Women's Junior Semifinal Matchups:
Heat 1: Caroline Marks (USA), Macy Callaghan (AUS), Alyssa Spencer (USA), Leilani McGonagle (CRI)
Heat 2: Maddie Peterson (USA), Bethany Zelasko (USA), Kirra Pinkerton (USA), Brisa Hennessy (HAW)
Vans US Open of Surfing Junior Men's Semifinal Match-Ups:
Heat 1: Ethan Ewing (AUS) Yuji Mori (JPN), Nolan Rapoza (USA), Kei Kobayashi (USA)
Heat 2: Ryland Rubens (USA), Luis Diaz (CNY), Jake Marshall (USA), Christopher Kervin (USA)
Upcoming Vans US Open of Surfing Men's QS10,000 Round 5 Matchups:
Heat 1: Mitch Crews (AUS) vs. Ryan Callinan (AUS)
Heat 2: Ethan Ewing (AUS) vs. Mitch Coleborn (AUS)
Heat 3: Sebastian Zietz (HAW) vs. Davey Cathels (AUS)
Heat 4: Adriano de Souza (BRA) vs. Nathan Yeomans (USA)
Heat 5: Conner Coffin (USA) vs. Kanoa Igarashi (USA)
Heat 6: Torrey Meister (HAW) vs. Bino Lopes (BRA)
Heat 7: Filipe Toledo (BRA) vs. Maxime Huscenot (FRA)
Heat 8: Michel Bourez (PYF) vs. Carlos Munoz (CRI)