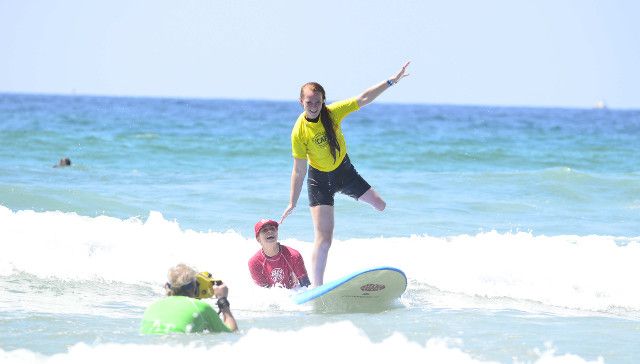 The kids will also learn about surf history & experience a shaping session
Surf News Network, 8 July, 2016 – The Junior Seau Foundation Adaptive Surf Program presented by Challenged Athletes Foundation® (CAF) will host the inaugural youth surf camp from July 8th to the 10th in Del Mar, CA. We look forward to the program in Hawaii Nei.
In April, 2016, the Junior Seau Foundation presented a $250,000 check to CAF to launch the program that will provide universal access to surfing for kids with physical challenges, while continuing a meaningful legacy for Junior Seau.
The partnership with the Junior Seau Foundation will support CAF's mission by giving people with physical challenges the opportunity to pursue an active lifestyle through physical fitness and competitive athletics, in this case, surfing. CAF believes that involvement in sports at any level increases self-esteem, encourages independence and enhances quality of life.
Executive Committee Director of the Junior Seau Foundation, Michael Kinkelaar remarked, "When we partnered with the Challenged Athletes Foundation, we shared their vision to help adaptive youth get in the water to surf, a hobby that was close to the heart for Junior Seau. Junior would be very proud to see this program come to fruition, and to see how much fun these kids have learning to surf."
Throughout the weekend's camp, the kids will enjoy surfing Del Mar's waves with expert coaching and mentorship from experienced adaptive surfers including Team USA members from the first-ever ISA World Adaptive Surfing Championship Alana Nichols, Danielle Burt, Christiaan Bailey, Team Brazil's Andre Szucs, plus Ryan Gambrell.
The kids will also learn about surf history and experience an exclusive surfboard shaping session at Rusty's Board Shop.
The City of Del Mar Lifeguards, a longtime partner of CAF that has helped develop Adaptive Surfing for the injured military through a weekly clinic in Del Mar, will be on-hand for any needed assistance and safety.
Sam Day, an Oregon native who lost one leg and part of his other foot as part of his ongoing battle with Ewing Sarcoma, an extremely rare form of bone cancer, is one of the kids participating in the adaptive surf camp. He said, "I'm so excited to come to San Diego for the surf camp and enjoy surfing with the other kids. I love the feeling of being on top of the water. It keeps me strong and gives me energy. It's going to be an awesome weekend!"
CAF Board of Directors Chairman and Co-Founding Member, Jeffrey Essakow said, "We are very grateful to the Junior Seau Foundation for the incredible gift and unique opportunity for the kids who will be participating in the adaptive surf camp. The kids are going to have an amazing time surfing all weekend long, while the CAF mission is directly put into action."
On Saturday, the kids will be treated to the annual Switchfoot Bro-Am, an event that draws over 15,000 people to Moonlight Beach, Encinitas, for a charity surf contest and free beach concert.
Funds raised at the Switchtfoot Bro-Am benefit a number of local charities that help deserving local youth, including CAF. As part of the day's festivities, the kids will get to surf alongside surfing stars like Rob Machado and members of GRAMMY® award-winning band Switchfoot during the Junior Seau Foundation Adaptive Surf Program presented by CAF Expression Session. The kids will be allotted a 30-minute period where they will be the spotlight of the event and enjoy catching waves in front of thousands of spectators.
"We are so excited to have these kids participate at the Bro-Am's Expression Session because it fits in so well with the heart of this event," said Switchfoot front man Jon Foreman. "We know our community will leave changed and inspired by these courageous kids and we feel honored to host them at BRO-AM."
During the Switchfoot Bro-Am Benefit Party on Friday, July 8th, one of the CAF athletes participating in the camp, 15-year-old Breezy Bochenek, a cancer survivor and below-knee amputee will take the stage and sing one of Switchfoot's songs "One Hope." Additionally, long-time CAF supporter and NBA Basketball Hall of Fame's Bill Walton will perform a song as part of the VIP evening.
CAF is also proud to announce Hurley and the Del Mar Lifeguards as partners in the development of the Junior Seau Foundation Adaptive Surf Program presented by CAF.