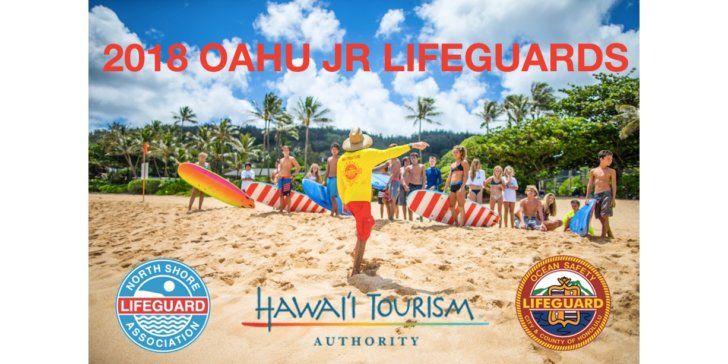 DOES SAVING LIVES SOUND LIKE THE JOB FOR YOU?
SUMMER 2018
SIGNUPS OPENED MAY 1st 
GENERAL INFORMATION
This course will familiarize participants with ocean safety and beach rescue skills.  Topics include an introduction to water safety, first aid, CPR and surf rescue techniques with an emphasis on beach and ocean awareness.
ELIGIBILITY
Open to male and female applicants ages 12-17 (Age as of June 4th 2018).  Applicants must have swimming skills and be able to swim for 100 yards continuously with 100% effort.  This is NOT a learn-to-swim program.  Qualifying swims will be held on the first day.
REGISTRATION INFORMATION 
This program is FREE to all registered participants.  Limit of 45 students per session (35 online, 10 walkup). Ages 12-17.  Programs will be held at 4 locations: Ehukai, Makaha, Ala Moana and Kalama Beach.  Each location will have 6 session that last 5 days from 9am – 2pm.
June 4-8
June 11-15
June 18-22
June 25-29
July 9-13
July 16-20
State championships will be hosted on the island of Kauai.
PLEASE ONLY SIGN UP FOR 1 WEEK.  YOU WILL BE PUT ON STANDBY IF YOU SIGNUP FOR MORE THAN 1 WEEK.
NEW PROGRAM!
Waimea Bay for ages 8-11 years old (Age as of June 4th 2018).  The program will run Monday, Wednesday and Fridays 8am-12 noon. 45 students max.
June 4-8
June 11-15
June 18-22
June 25-29
WALKUP SIGNUPS
IF A SESSION IS FULL YOU WILL STILL HAVE AN OPPORTUNITY TO SIGNUP. PLEASE SHOW UP EARLY TO THE LOCATION YOU DESIRE AND THE FIRST DAY OF THE SESSION BY 8AM. 10 SPOTS ONLY.
MAHALO TO OUR SUPPORTERS!
Waimea Bay***** Ages 8-11
May 01 – June 29, 2018
Ehukai Beach Park
May 01 – July 20, 2018
 Makaha May 01 – July 20, 2018
Ala MoanaMay 01 – July 20, 2018
Kalama Beach Park, KailuaMay 01 – July 20, 2018