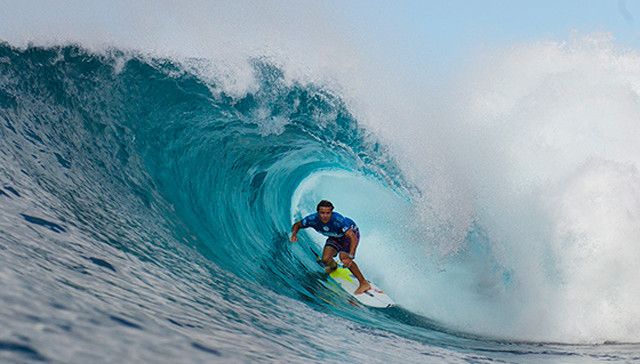 Julian Wilson @ ASP/Masurel

ASP Men's World Tour Event
Banzai Pipeline, Oahu Hawaii
8 – 20 December 2014
Surf News Network, 19 December, 2014: Banzai Pipeline – AustralianJulian Wilson has won both the Billabong Pipe Masters in Memory of Andy Irons, and the Vans Triple Crown of Surfing after defeating World Champion elect Gabriel Medina (BRA) in the closest Pipe Final on record. The victory marks his only win of the 2014 Samsung Galaxy ASP World Championship Tour (WCT) and his second CT win of his career. He pocketed $100,000 for the event win and a bonus $50,000 for the Triple Crown series.
The result is Wilson's best of the season, bettering his third place finish at Bells Beach, and sees him end the year with a ranking of 14th on the WCT, marking him as a solid starter for 2015. It was a life-affirming moment for the 26-year-old who built momentum in the barreling 8-foot waves and overcame Medina's inspired, pressure-free performance in the Final.
"It was an incredible day and I'm honestly speechless," said Wilson. "Words can't describe, I don't even know how to feel yet. To win the Pipe Masters in good waves and having been out in the water for three heats in a row is amazing. I just found a groove and me and Gabriel got to duel it out — that's what it's all about.
"Congrats to Gabriel on his World Title. To win this with Andy's name on it, is the most special day in my life. I can't really say anything else. I want to thank everybody, my family who's back home, my beautiful girlfriend, I wish you guys were here but I really didn't really expect this to happen."

Julian Wilson @ ASP/Masurel
It was easily the most dramatic day in the 44-year storied history of the Pipe Masters; 20-year-old Medina winning the first ASP men's world surfing title for Brazil, pulling out the impossible along the way to reach the final, and posting the only perfect 10 of the event. A dynamic crowd that included thousands of flag-waving Brazilian fans chanted a patriotic national song and shared the emotion of every round with Medina's victorious entourage. Medina surfed a total of five 30-minute heats today, while Wilson surfed six during the eight hour day.
"Winning the World Title was my dream and now it's reality – I'm seriously shocked," Medina said. "Brazil is partying right now I think. I'm thankful to be part of this, a lot of guys are trying to do this and I feel honored to be the one. I don't know why it's me but I'm really happy it is and I'm so proud to be Brazilian.
"This year has been great. I never imagined that I would win Snapper, Fiji and Teahupoo. I really wanted to win Pipe but Julian (Wilson) took me down, but I'm so happy right now. I'm so honored to have be in this battle against Mick (Fanning) and Kelly (Slater). I've always looked up to them and they've inspired me since I was a little grom.  I can't believe I just beat them, it's the best day of my life."
It all came down to pure, deep, committed tube riding. The pair of goofy-footers opened the Final going different directions on the same wave for tube rides and ended it with a brilliant exchange. Final scorelines showed 19.63 (9.93 and 9.70) for Wilson, to Medina's 19.20 (10, 9.20).

Gabriel Medina © ASP/Masurel
Alejo Muniz (BRA) played a pivotal role in Medina's World Title, eliminating both rival contenders Mick Fanning (AUS) and Kelly Slater (USA) from the competition. Fanning exited the competition in Round 5 while Slater was eliminated in Round 3. Muniz was eventually defeated in the Quarterfinals byAdrian Buchan (AUS), who took equal third place alongside compatriot Josh Kerr.
"It's amazing you know, Gabriel's championship, his happiness, it means a lot to everyone," said Muniz. "You can hear the crowd. It's a special day for me too. To surf against Kelly and Mick and make those heats was incredible. I've never surfed against Kelly man-on-man before so I was thanking God that I got the chance in my last event on the World Tour this year. All I wanted to do was help Gabriel as much as I could and I'm just so happy to be apart of it."
Fanning's Round 5 loss ended his hopes of claiming a fourth World Title and sees him take home a 9th place finish and end the year in second place on the WCT rankings.
Although Medina's Round 3 win over lethal wildcard Dusty Payne (HAW) sawSlater out of the title race, the 7-time Pipe Master was still in contention for the event, until a last-minute 9.50 from Muniz saw him steal the win from the 11-time ASP World Champion.
"Mick (Fanning) is probably one of the greatest ever competitors," said Slater. "Gabriel (Medina) is starting to be. I probably made two mistakes in that heat and it cost me because they're weren't a lot of opportunities."
The Billabong Pipe Masters marks the final Association of Surfing Professionals (ASP) event in history, as the governing body of professional surfing has been named since 1983. The ASP will become the World Surf League (WSL) in 2015, delivering the athleticism, adventure and competitive drama of the world's best surfing to fans from around the world.
 Billabong Pipe Masters Final Results:
1 – Julian Wilson (AUS) 19.63
2 – Gabriel Medina (BRA) 19.20
Billabong Pipe Masters Semi final Results (1st to Final, 2nd = 3rd):
Semifinal 1: Gabriel Medina (BRA) 13.60 def. Josh Kerr (AUS) 9.43
Semifinal 2: Julian Wilson (AUS) 13.16 def.Adrian Buchan (AUS) 3.17
Billabong Pipe Masters Quarterfinal Results (1st to SF, 2nd = 5th):
Quarterfinal 1: Gabriel Medina (BRA) 4.30 def. Filipe Toledo (BRA) 3.27
Quarterfinal 2: Josh Kerr (AUS) 6.00 def. John John Florence (HAW) 4.04
Quarterfinal 3: Adrian Buchan (AUS) 12.17 def. Alejo Muniz (BRA) 3.77
Quarterfinal 4: Julian Wilson (AUS) 17.83 def. Kai Otton (AUS) 2.77
Billabong Pipe Masters Round 5 Results (1st to QF, 2nd = 9th):
Heat 1: Filipe Toledo (BRA)14.66 def. Owen Wright (AUS) 3.84
Heat 2: Josh Kerr (AUS) 14.00 def. Michel Bourez (PYF) 10.84
Heat 3: Alejo Muniz (BRA) 6.53 def. Mick Fanning (AUS) 2.84
Heat 4: Julian Wilson (AUS) 17.46 def. Sebastien Zietz (HAW) 10.34
Billabong Pipe Masters Round 4 Results (1st to QF, 2nd & 3rd to R5):
Heat 1: John John Florence (HAW) 6.74, Michel Bourez (PYF) 6.40, Owen Wright
Heat 2: Gabriel Medina (BRA) 15.67, Filipe Toledo (BRA) 15.23, Josh Kerr (AUS) 4.97
Heat 3: Adrian Buchan (AUS) 6.86, Mick Fanning (AUS) 6.47, Julian Wilson (AUS) 6.43
Heat 4: Kai Otton (AUS) 7.06, Sebastien Zietz (HAW) 4.54, Alejo Muniz (BRA) 1.27
Billabong Pipe Masters Round 3 Results (1st to R4, 2nd = 13th):
Heat 1: John John Florence (HAW) 16.33 def. Adam Melling (AUS) 12.16
Heat 2: Owen Wright (AUS) 12.20 def. Fredrick Patacchia (HAW) 11.17
Heat 3: Michel Bourez (PYF) 9.67 def. Matt Wilkinson (AUS) 7.00
Heat 4: Josh Kerr (AUS) 10.50 def. Jadson Andre (BRA) 7.87
Heat 5: Filipe Toledo (BRA) 12.17 def. Miguel Pupo (BRA) 5.17
Heat 6: Gabriel Medina (BRA) 17.66 def. Dusty Payne (HAW) 11.84
Heat 7: Julian Wilson (AUS) 9.40 def. Kolohe Andino (HAW) 1.40
Heat 8: Adrian Buchan (AUS) 11.53 def. Bede Durbidge (AUS) 1.33
Heat 9: Mick Fanning (AUS) 10.84 def. Jeremy Flores (FRA) 7.67
Heat 10: Sebastien Zietz (HAW) 8.93 def. Joel Parkinson (AUS) 6.76
Heat 11: Kai Otton (AUS)10.67 def. Nat Young (USA) 9.44
Heat 12: Alejo Muniz (BRA) 15.50 def. Kelly Slater (USA) 13.10