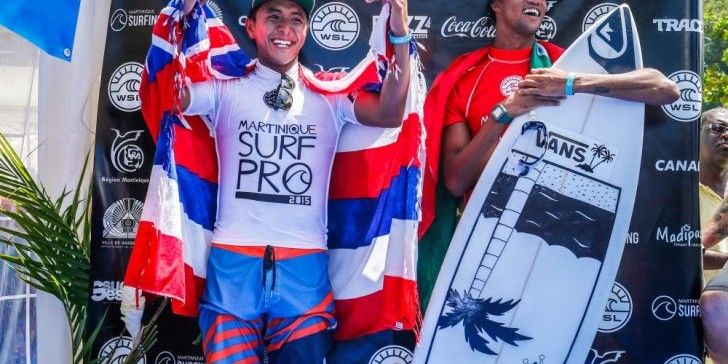 PIC: Joshua Moniz and Mike February © ASP/Poullenot
Martinique Surf Pro
WSL QS3000 Men's event
Basse-Pointe, Martinique, France
21 – 26 April 2015
Moniz defeats Mikey February in hotly contested final
 Surf News Network, 25 April, 2015.  Brasse Pointe – Joshua Moniz (HAW) 18, has won the inaugural QS3000 Martinique Surf Pro over Michael February (ZAF) 21 in an exciting final at the righthand pointbreak of Basse-Pointe.
Moniz couldn't start his final any better, catching an excellent wave in the opening seconds, to deliver a series of exciting fronthand turns and collect a 9.07. The Hawaiian didn't take his foot off the gas and continued to capitalize on every opportunity he got to finally net an 8.87 as a backup and win the event.
"I was so nervous going into that heat, I knew to win it I'd have to get big scores," Moniz said. "I'm so stoked, this is my first QS win. Coming off another win in a Junior in Hawaii I had a lot of confidence and I'm on kind of a little roll so hopefully I can keep it going."
Moniz, despite posting big scores all week was in the underdog position up until his quarterfinal matchup where he dispatched of South-Africa's Beyrick De Vries (ZAF) 22. He then emerged as a potential threat for the event crown, and convincingly surfed two more briliant heats to take the title home.

Joshua Moniz © WSL/Poullenot
"I got a lot of confidence from that win over Beyrick," Moniz continued. "I thought if I beat him well I can maybe go all the way. Everyone's been super nice and helpful here, all the locals, very supportive, and also my friend Taylor Clark (USA) and his older brother Christian have been helping me out a lot. My family and friends have been staying up late as well to watch me and texted me after every heat, I'm just tripping out I won."
February, who posted one of the only two perfect 10 point rides on Day 4 in the quarters, didn't not let Moniz's first score alter his motivation and kept battling all the way to the final countdown in search of the 9.37 he needed to take the win.
"This is the best result I've ever had so I'm super happy," February said. "Unfortunately that last one didn't give me enough to do enough turns and maybe I made a few mistakes, but I tried my best and I'm super happy to have put together a good contest again."
The South-African opted to go local in terms of accommodation and stayed with a Martinican family to immerse himself into the local vibe. Supported during all his heats by an excited crowd, February has won the hearts of many Basse-Pointe locals today.
"The people here are really good and they welcomed me so nicely," February continued. "I've been getting really good food from the people I stayed with, tried new stuff and they also drove me to all the little secret spots. It's just been a beautiful experience, I met some incredible people and I can't wait to be back."

Mikey February © WSL/Poullenot
In the first semifinal, a tight back and forth battle for first position was a goofy vs. regular opposition that eventually went February's way. Despite leading the 30-minute exchange from start to finish, Miguel Tudela (PER) 20, couldn't contain the South-African hailmary attempt in the dying seconds that got him the winning ride. Tudela placed equal 3rd in Martinique.
"Sure it's a little frustrating to go out like that but I made a mistake, I had priority and let him go," Tudela reflected. "I never thought there was any scoring potential on a left and he proved me wrong, hats off to Michael ! I'm stoked to have made the semis here, like I said before this is probably the best event I've ever been to and I'll be back for sure to Martinique, contest or no contest."
Cooper Chapman (AUS) 20, fell short of a mere 0.34 in Semifinal N°2, after an exciting final exchange with Moniz in the last instants of the heat. Chapman improved both his counting rides including an impressive 9.03 on his very final wave, but he couldn't match Moniz's flair and rhythm.
"Waves were great again today and I knew I was going to have to put down another 17+ score," Chapman analyzed. "As soon as Josh got his 9 I knew it would take another huge score but I had faith I'd get another opportunity. I got that last wave, got a 9 but he got the next wave behind me and beat me. I've had a great time here, the waves were perfect, some of the best I've ever had in an event. The place is beautiful, I can't wait to be back next year !"
MARTINIQUE SURF PRO FINAL RESULTS:
1- Joshua Moniz (HAW) 17.94
2- Michael February (ZAF) 16.10
MARTINIQUE SURF PRO SEMIFINAL RESULTS:
SF 1: Michael February (ZAF) 14.80 def. Miguel Tudela (PER) 14.63
SF 2: Joshua Moniz (HAW) 17.80 def. Cooper Chapman (AUS) 17.46