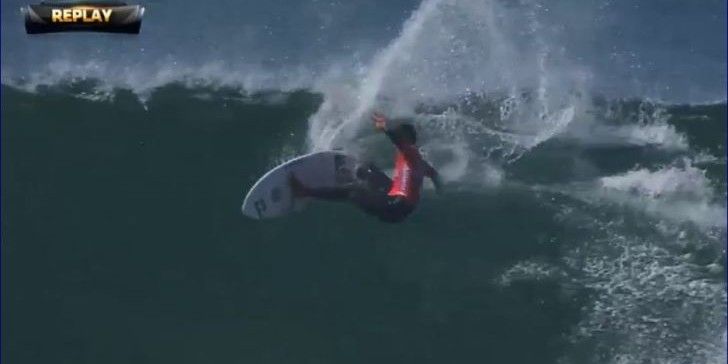 PLAYA DE RIBEIRA D'ILHAS, Ericeira/Portugal – The second day of the Allianz ASP World Junior Championships unfolded in pumping 4-to-6-foot surf at the iconic Ribeira D'Ilhas pointbreak in Ericeira and witnessed another action-packed day.
Semifinalists of the women's event were first decided in the morning before moving on to the opening round of the men's competition. The best under-20 surfers in the World took it to the water in pulsing powerful righthanders and raised the performance levels to new heights.
Joshua Moniz (HAW) 18, came firing out of the gates and dominated the first heat of the men's competition. The talented Hawaiian unleashed powerful gauges on his forehand and punctuated his best ride with a radical layback snap to collect a 9.00 point ride and the win.
Moniz laying back Hawaiian style.
"I was pretty happy with the waves, I pulled up this morning a little late and then I saw just perfect lines, so I was stoked to get a couple," Moniz said. "It's a lot like back home [at Sunset], pretty tricky, you wanna keep going deep, hang wide and get those big open face waves that are a lot easier and smoother and allow you to do bigger carves.
"I'd be stoked to get a bit further, this is my last year in the World Juniors so I'm pretty psyched to get better than Round 4. This place is sick, it's one of my favorite places I ever been to, food is good and there are crazy slabs everywhere so it's been super fun."
Check his ride out…