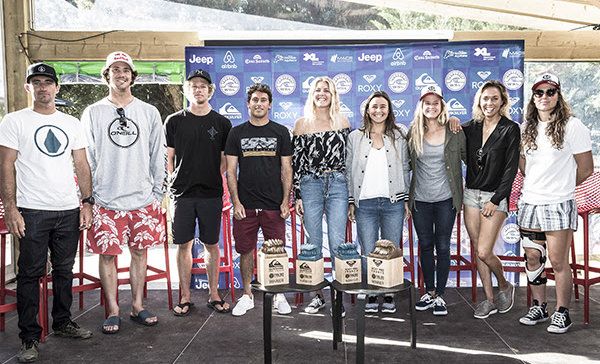 – TIGHT WSL TITLE RACES HEAD TO STOP NO.9 ON CHAMPIONSHIP TOUR
– POTENTIAL START ON DAY 1 IN HOSSEGOR (12 hours ahead of Hawaii so possible start tonight, Friday ~8pm)

| | |
| --- | --- |
| Location:    | Capbreton, Hossegor, Seignosse / France |
| Event window: | October 7-18, 2017 |
HOSSEGOR, France (Friday, October 6, 2017) – The world's best surfers have arrived in the Southwest of France for the next stop on the 2017 World Surf League (WSL) Championship Tour (CT), the Quiksilver and Roxy Pro France, which holds a competitive window of October 7 – 18, 2017.
South Africa's Jordy Smith leads the Top 34 into Stop No.9 on the Men's Championship Tour, the Quiksilver Pro France.
A two-time runner-up in the world title race in 2010 and 2016, Smith has had an extremely consistent run this season since winning the Rip Curl Pro Bells Beach in April. He currently spearheads the Jeep Leaderboard and will try to distance himself from his closest competitor, the reigning WSL Champion John John Florence (HAW) in the number two position.
"This is the best position I could be in but the year is far from over and it won't count until it's done," Smith stated. "I still have a lot of work to do and at this point anything can happen, so I'll just try to do my best surfing and see where that puts me. I love coming to Hossegor and it's a great time of year to be here. I've had some good waves these last three days and hopefully, conditions are fun for this event."
Jordy Smith (ZAF) & John John Florence (HAW). Don't let the smiles fool ya…:) These 2 prodigies mean business. SNN.
IMAGE CREDIT: WSL / Poullenot
The defending event champion Keanu Asing (HAW), who failed to re-qualify for the CT at the end of 2016, received the WSL wildcard and will have the opportunity to defend his title. Perennial QS threat and Quiksilver surfer Marc Lacomare (FRA) received the local wildcard and will be a danger for the world's best in his backyard of La Graviere.
Current No. 8 on the Jeep Leaderboard and one of the most successful surfers in France, Gabriel Medina (BRA) will likely try to turn his season around in the familiar French beach breaks. With two event wins and four finals in Hossegor, his experience and flair in both the tubes and massive air sections that France usually delivers could prove to be a spoiler the top title race contenders.
Sally Fitzgibbons' remarkable season continues as the talented Australian, a three-time runner-up in the WSL Title race, heads to France wearing the Jeep Leader jersey. Fresh from an excellent third place in Portugal, Fitzgibbons will lead the Top 17 into an event she won in 2013. With a number of great results in France, the current World No.1 will count on past experiences to further build her lead over Courtney Conlogue (USA) and the reigning WSL Champion Tyler Wright (AUS).
"I look back over the year and there's been so many exciting moments and it's led to such a close title race," Fitzgibbons said. "I'm having so much fun in this one, I feel calm, you get to mature and evolve under these pressures and being on tour so long. I feel very comfortable in that position now and am willing to accept those opportunities whether they come my way or not, I feel like I can cope with any situation that comes."
Current World No.8 and local favorite Johanne Defay (FRA) will be a force to be reckoned with in the powerful sandy peaks of Hossegor, as she tries to swing her momentum around after two disappointing results in Trestles and Cascais. A former semifinalist in France, the powerful regular foot from Reunion Island can count on the support of the French crowds when competition starts.
"I'm super happy to be back in France and enjoying nice sunny days in Hossegor," Defay said. "I got to surf good waves these past few days and I'm excited to surf, the banks look fun! I'm super motivated and I can't wait to be back in the jersey. We had complicated conditions in Portugal and I look forward to hopefully put a good heat together. It's a great time to be on tour right now, we are a number of girls battling for the wins at every stop and it's as exciting as ever."
Caroline Marks (USA) has been awarded the event wildcard for the Roxy Pro France. Currently ranked third on the women's Qualifying Series, the fifteen year-old Floridian is likely to earn a full-time spot on the Championship Tour next season and will have one more opportunity in France to sharpen her skills amongst the world's elite.
Event organizers will convene at 7:45 a.m. local time tomorrow morning to assess conditions and make the first call.
The opening weekend of the event (Oct 7-8) will see a modest WNW swell with clean conditions. Early to mid next week looks slow at this time with fading leftovers from the weekend swell. A larger swell looks increasingly likely for the end of next week, Wednesday afternoon through Friday, easing over the weekend of the 14th-15th. Beyond that, an even larger NW swell is possible for the very end of the waiting period. Surfline.
The Quiksilver and Roxy Pro France will be webcast LIVE on WorldSurfLeague.com as well as the WSL app.
Quiksilver Pro France Round 1 Match-Ups:
Heat 1: Adriano De Souza (BRA), Conner Coffin (USA), Stuart Kennedy (AUS)
Heat 2: Owen Wright (AUS), Bede Durbidge (AUS), Nat Young (USA)
Heat 3: Matt Wilkinson (AUS), Wiggolly Dantas (BRA), Josh Kerr (AUS)
Heat 4: Julian Wilson (AUS) Caio Ibelli (BRA), Ethan Ewing (AUS)
Heat 5: John John Florence (HAW), Italo Ferreira (BRA), Keanu Asing (HAW)
Heat 6: Jordy Smith (ZAF), Kanoa Igarashi (USA), Marc Lacomare (FRA)
Heat 7: Filipe Toledo (BRA), Joan Duru (FRA), Miguel Pupo (BRA)
Heat 8: Gabriel Medina (BRA), Jeremy Flores (FRA), Leonardo Fioravanti (ITA)
Heat 9: Joel Parkinson (AUS), Michel Bourez (PYF), Jack Freestone (AUS)
Heat 10: Connor O'Leary (AUS), Sebastian Zietz (HAW), Jadson Andre (BRA)
Heat 11: Frederico Morais (PRT), Mick Fanning (AUS), Ian Gouveia (BRA)
Heat 12: Kolohe Andino (USA), Adrian Buchan (AUS), Ezekiel Lau (HAW)
Roxy Pro France Round 1 Match-Ups:
Heat 1: Nikki Van Dijk (AUS), Johanne Defay (FRA), Malia Manuel (HAW)
Heat 2: Sage Erickson (USA), Lakey Peterson (USA), Pauline Ado (FRA)
Heat 3: Sally Fitzgibbons (AUS), Silvana Lima (BRA), Caroline Marks (USA)
Heat 4: Courtney Conlogue (USA), Keely Andrew (AUS), Bianca Buitendag (ZAF)
Heat 5: Tyler Wright (AUS), Tatiana Weston-Webb (HAW), Bronte Macaulay (AUS)
Heat 6: Stephanie Gilmore (AUS), Carissa Moore (HAW), Coco Ho (HAW)