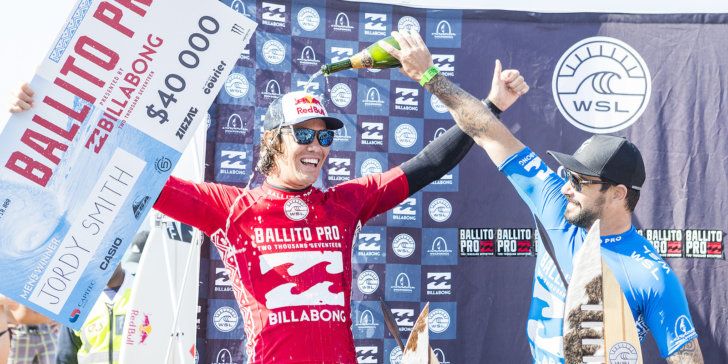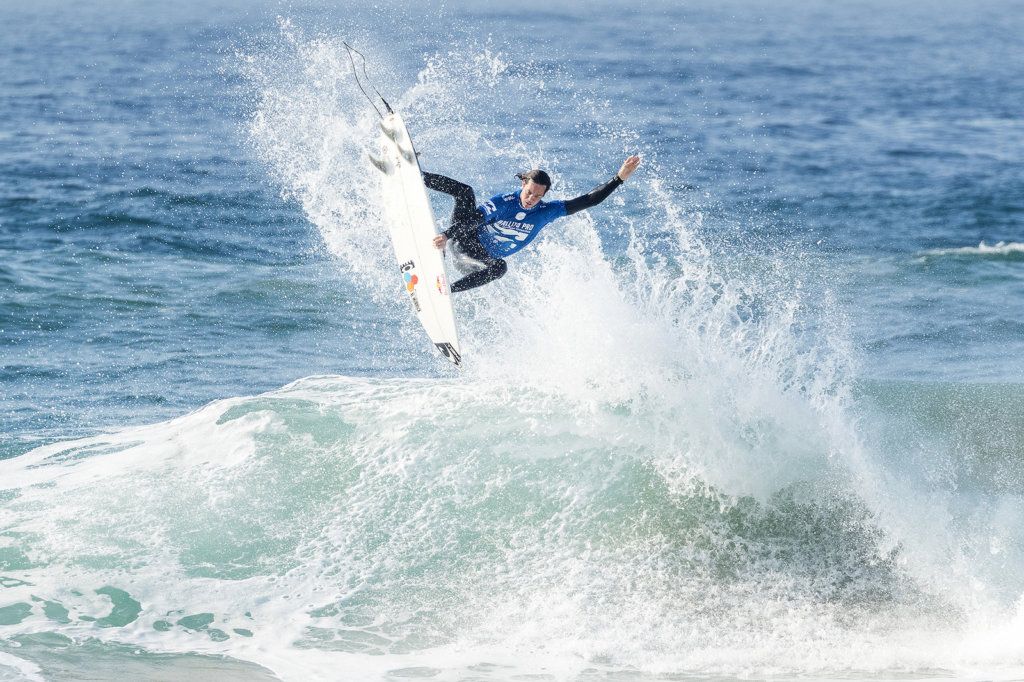 Smith blow up at Ballito 2017. Image: cestari
– WILLIAN CARDOSO PLACES RUNNER-UP AND JUMPS INTO 2ND ON QS
– MIKEY FEBRUARY CLAIMS CAREER-BEST 3RD PLACE AND JUMPS INTO QS TOP 5-
World No.3 Jordy Smith (ZAF) Wins the QS10,000 Ballito Pro pres. by Billabong for the second time.


Credit:
 © WSL / Cestari
Location:   
Willard Beach, Ballito, KwaZulu-Natal / South-Africa
Event window:
July 3-

9, 2017

Today's call:
Event completed, Jordy Smith Wins!
| | |
| --- | --- |
| Conditions | Three-to-four foot. |
WILLARD BEACH, Ballito, KwaZulu-Natal / South-Africa (Saturday, July 8, 2017) — Jordy Smith (ZAF) won the Ballito Pro pres. by Billabong in front of a packed beach of partisan spectators today, defeating powerful Brazilian Willian Cardoso (BRA) in a pulsating final to add the 2017 event title to his previous victory in 2010.
The big South African overcame a stomach bug that almost derailed his charge in mid week to reach the final of the first World Surf League (WSL) QS10,000 rated event of the year where he used his trademark repertoire of aerial manoeuvres to post an impressive heat total 18.06, including near perfect 9.73.
"I had a bit of a slow start, but I ended up sticking that first air and from there I was actually enjoying my surf out there and just taking my time as the waves came through," said Smith. "Eventually I got that one wave with a nice section and got one of the biggest ramps all week and just went for it and I landed it.
"I'm really happy with my performance this week and hopefully I can take this momentum to J-Bay. Willian is a tenacious competitor as all the Brazilians are. He's one of the most powerful surfers in the world and we're both bigger guys so we were matching fire with fire.
"It's such an honour winning this event with so many of my friends and family here. Thanks so much to everyone who's come down to the event, your support makes a huge difference for us local surfers."
His haul of 10,000 points sees Smith jump straight into fifth position on the QS rankings along with a massive boost of confidence as he heads to Jeffreys Bay for Stop No. 6 of 11 on the WSL Championship Tour (CT) starting on Wednesday where he is a former two-time event winner (2010 & 2011).
While he was disappointed not to claim the win, Cardoso was happy with his runner-up finish which bumped him up into No. 2 on the QS rankings heading into the second half of the year.
"I knew with Jordy it was going to be crazy in that heat and I tried to find the really good waves, but I just found one," said Cardoso. "I'm just super stoked to be in the final, it's been about two years since I was in a final so it's really good to be in that position again.
"This result puts me in a really good position, but I've been in this position before so I hope to get more results in the next two primes (QS10,000 rated events) and a few 6 stars so I can go to Hawaii at the end of the year relaxed."
Cardoso's patented power moves saw him charge past Vasco Ribeiro (PRT) in the quarterfinals and Mikey Wright (AUS) in the semifinals on his way to the final.
Wright had delivered the highest single ride and heat total in the event with his blend of powerful carves and progressive aerial manoeuvres. But the brother of reigning  WSL Women's World Champion, Tyler, and men's world title contender, Owen, came up just short against Cardoso and finished equal third at Ballito.
"I went out there to do my thing and catch a few waves, but I didn't really catch the fun waves that I wanted to. I got a little ramp halfway through the heat, but I fell on the landing. Willian was surfing really good and I'm stoked for him," said Wright. "This result gives me a lot of confidence. It's my first year doing all the QS events and this is a really good setup for the rest of the year. I'm just going to try and keep it going."
Crowd favourite Michael February (ZAF) had an incredible run through the event, posting his career-best result on his way to third place after suffering a narrow loss to Smith in their all-South African semifinal encounter. The Capetonian matched Smith ride-for-ride in the early stages before the heat burst into life in the last five minutes with a flurry of rides that saw Smith nail down his berth in the final with back-to back excellent rides that February could not equal as time ran out.
"When you surf against Jordy you've got to be at your best, he's so good, and it was pretty cool to watch him from the water," said February. "It's awesome to surf against him because he is such an amazing surfer. And to have a heat against him at this stage of the contest is really good for me. At the end of the contest you're always going to surf against the best in the world, and Jordy is definitely one of them.
"It boosts my confidence so much making semis in a 10 000 and I'm looking forward to keeping the positive vibes going, taking everything I learned from this event and just keep it going. It gets pretty busy now, it's the US Open and after that the European leg so that's my focus now, and then Hawaii. I had some nice words from Jordy after that heat which was really cool from someone I look up to, it gives you that extra push."
His third place finish saw February leapfrog from 21st to No. 4 on the QS rankings, giving him an solid base from which to challenge for a place in top 10 in the yearend rankings and qualification for the elite CT
"Secretly I was a little bummed for Mikey February. I would have liked to be in the finals with him but that's just the way our sport goes," commented Smith on his compatriot. "I just wish him all the best, I really hope he brings it and joins me on the tour next year. He's got the ability and the confidence to go all the way."
Full results, video footage, photos and news from the Ballito Pro pres. by Billabong can be found at www.worldsurfleague.com and on the WSL App.
BALLITO PRO PRES. BY BILLABONG FINAL RESULTS:
1 – Jordy Smith (ZAF) 18.06
2 – Willian Cardoso (BRA) 15.37
BALLITO PRO PRES. BY BILLABONG SEMIFINAL RESULTS:
SF 1: Jordy Smith (ZAF) 16.10 def. Michael February (ZAF) 13.10
SF 2: Willian Cardoso (BRA) 14.00 def. Mikey Wright (AUS) 10.84
BALLITO PRO PRES. BY BILLABONG QUARTERFINAL RESULTS:
QF 1: Michael February (ZAF) 15.33 def. Jesse Mendes (BRA) 12.43
QF 2: Jordy Smith (ZAF) 14.50 def. Miguel Pupo (BRA) 14.20
QF 3: Mikey Wright (AUS) 14.66 def. Wade Carmichael (AUS) 6.70
QF 4: Willian Cardoso (BRA) 15.83 def. Vasco Ribeiro (PRT) 12.77