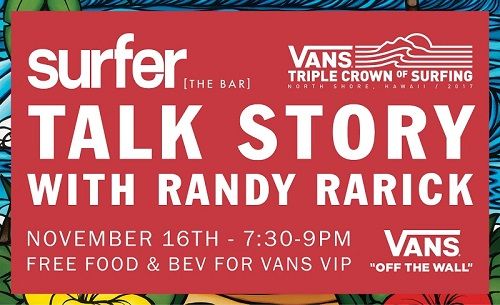 Randy Rarick was Born October 31st 1950 in Seattle.
Rarick relocated to Hawaii with his family when he was five, landing in Kaimuki.
Schooled in surfing at age 10 by legendary Waikiki beach boy Rabbit Kekai, Rarick was also a Boy Scout with perfect attendance at all meetings.
By steering away from the prevalent drug culture, he stayed focus and saved enough money to travel extensively after graduating.
Returning to Hawaii in 1975, Rarick joined forces with Hemming to form International Professional Surfers.
He acted first as competitor and director, then simply the director, until 1982 when Ian Cairns and the ASP gained control.
Rarick then helped create the Hawaiian Triple Crown, the premier leg in professional surfing, which he has managed for the last three decades.
Drop in with us for this special Talk Story Thursday, November 16 7:30pm – 9:30pm.
Free and open to the public.
Mahalo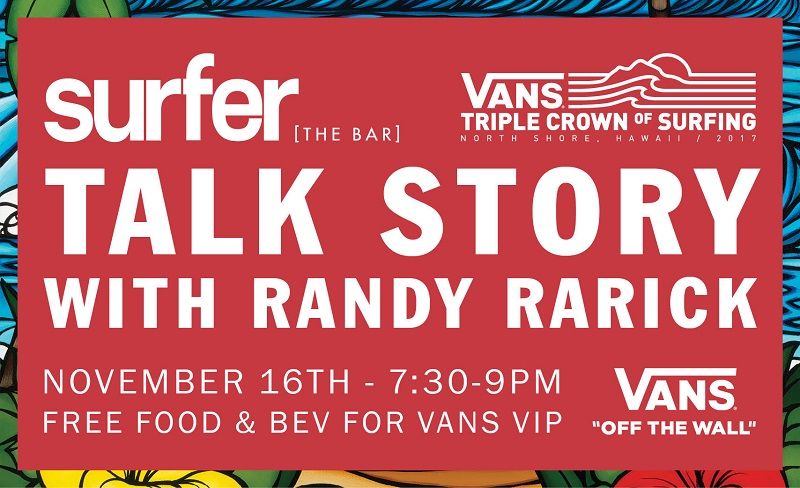 HIT UP THE TURTLE BAY RESORT WEBSITE FOR THIS EVENT AND MORE HERE