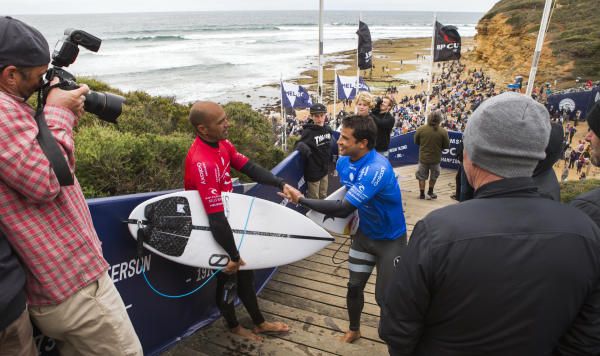 pc: WSL. surfs perfect today (Friday at Bells).
Round 3 completes as heavyweights fall in 4-to-6-foot surf at Bells
The Rip Curl Pro Bells Beach witnessed high drama today as a bevy of top seeds were knocked out of the competition in the back half of Men's Round 3. The event saw massive scores and hard-fought match-ups go down in four-to-six foot waves at the world renowned Bells Beach.
Mick Fanning (AUS), three-time WSL Champion and four-time event winner, blazed through Round 3 to eliminate event wildcard Dusty Payne (HAW). Fanning and Payne charged for waves in the opening heat of the day, but it was Fanning who solidified the win with two eight-point rides. The Australian will continue to chase a fifth Bells Title.
"Down here at Bells you can see the huge crowd and it's amazing, and you hear everything out there, which is really cool," Fanning said. "Just looking back on this whole grandstand and this natural amphitheater, it is such a beautiful place. This is one of my favorite events. I am just wanting to put on a performance and enjoy my time here."
The 2016 WSL rookie class came out swinging today with huge upsets in elimination Round 3 with Conner Coffin (USA), Caio Ibelli (BRA) and Davey Cathels (AUS) eliminatingJoel Parkinson (AUS), John John Florence (HAW) and Gabriel Medina (BRA), respectively.
Rip Curl Pro Bells Beach Remaining Round 3 Results:
Heat 7: Mick Fanning (AUS) 16.60 def. Dusty Payne (HAW) 11.57
Heat 8: Jordy Smith (ZAF) 15.33 def. Kai Otton (AUS) 13.26
Heat 9: Conner Coffin (USA) 16.27 def. Joel Parkinson (AUS) 13.26
Heat 10: Michel Bourez (PYF) 14.83 def. Kelly Slater (USA) 13.70
Heat 11: Caio Ibelli (BRA) 15.54 def. John def. John Florence (HAW) 15.50
Heat 12: Davey Cathels (AUS) 15.40 def. Gabriel Medina (BRA) 12.07
Rip Curl Pro Bells Beach Round 4 Match-Ups:
Heat 1: Italo Ferreira (BRA), Nat Young (USA), Julian Wilson (AUS)
Heat 2: Matt Wilkinson (AUS), Wiggolly Dantas (BRA), Mason Ho (HAW)
Heat 3: Mick Fanning (AUS), Jordy Smith (ZAF), Conner Coffin (USA)
Heat 4: Michel Bourez (PYF), Caio Ibelli (BRA), Davey Cathels (AUS)
Rip Curl Women's Pro Bells Beach Round 4 Match-Ups:
Heat 1:  Alessa Quizon (HAW) vs. Bianca Buitendag (ZAF)
Heat 2: Malia Manuel (HAW) vs. Stephanie Gilmore (AUS)
Heat 3: Nikki Van Dijk (AUS) vs. Tyler Wright (AUS)
Heat 4: Bronte Macaulay (AUS) vs. Tatiana Weston-Webb (HAW)