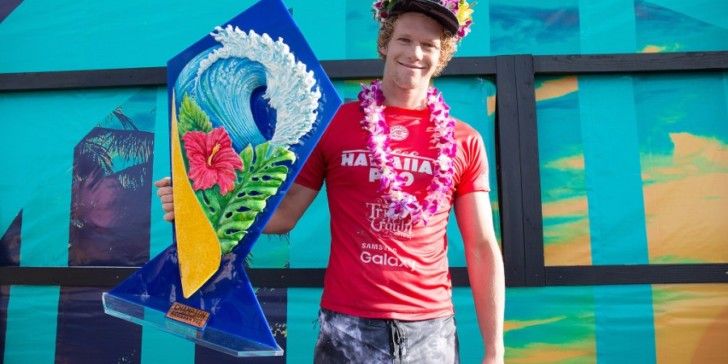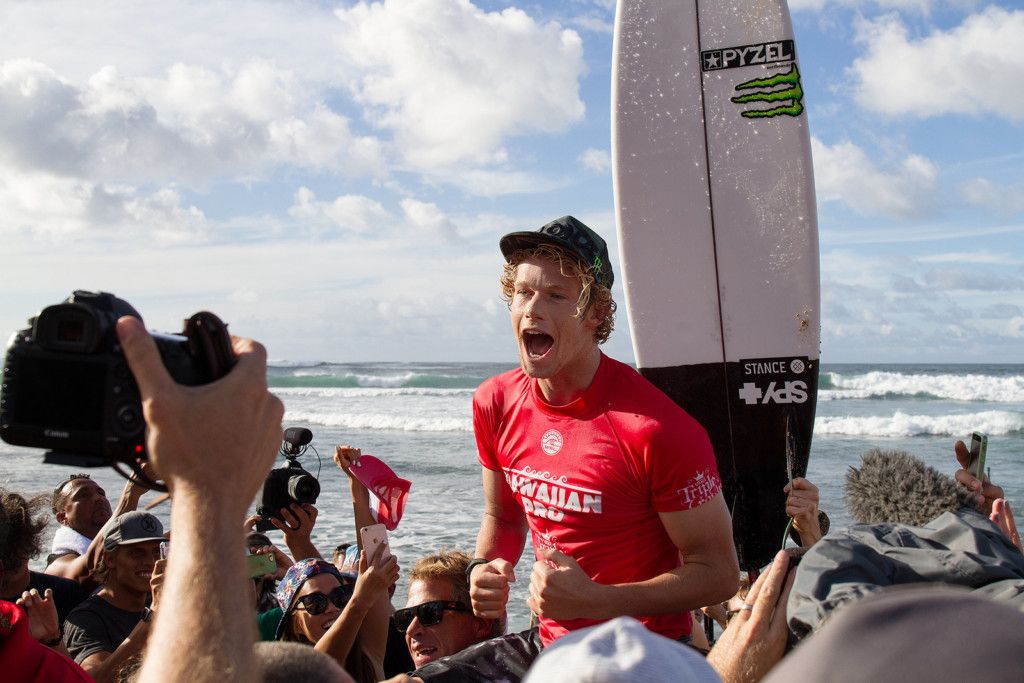 image: Heff
John John Florence (HAW) wins the first stop of the Vans Triple Crown, takes an early lead for the title. Image: WSL / Freesurf / Heff
| | |
| --- | --- |
| Event:    |     Hawaiian Pro, Men's QS10,000                                               |
| Location: |     Haleiwa Ali'i Beach, North Shore, Oahu     |
| Event Window: |     November 12 – 23 |
HALEIWA, Oahu/Hawaii – (Friday, November 18, 2016) — Newly crowned 2016 World Champion John John Florence (HAW) returned home to gift his community with yet another astounding victory today at the Hawaiian Pro, the first stop of the Vans Triple Crown and World Surf League (WSL) Qualifying Series (QS) 10,000 event. In one of the tightest Finals in competitive history, Florence broke a tie with Frederico Morais (PRT)for first place, winning with the highest individual wave score on a countback. Marc Lacomare (FRA) finished third and Adrian Buchan (AUS) was fourth."It's been the best year of my life for sure," said Florence atop the podium. "So happy to be back home and with my family and friends. I couldn't have done it without my mom, my brothers supporting me my whole life. The Johnson family, Pyzel has been a big help with everything. Thanks to everyone down here today, coming down and supporting us and cheering us on. The security team has been a great help, the Hawaiian Water Patrol, you guys are always doing a great job. Thanks to WSL, and I'm stoked."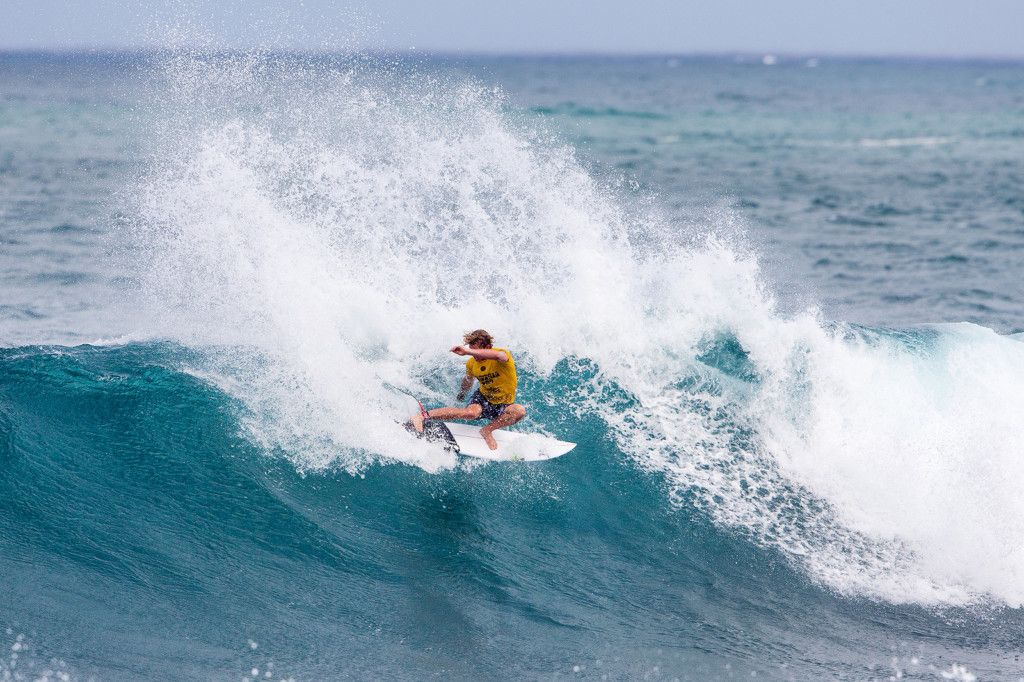 Florence_cestari
The start to 2016 saw Florence make the Quarterfinal at the Volcom Pipe Pro, then storm the Quiksilver in Memory of Eddie Aikau Big Wave Invitational, followed by a win at the Oi Rio Pro, 2nd places at both J-Bay Open and Billabong Pro Tahiti, then clinch the World Title and event win at the MEO Rip Curl Pro Portugal, and round things off with a win at the first event of the Hawaiian season.
"I want to win another World Title for sure," continued Florence. "I'd love to win the Triple Crown and I want to win Pipe. I want to win everything. So that's my goal right now, to be a really good competitive surfer. I think there's so much to learn about myself and learn how to compete still. I'm really excited looking towards next year for that."
Florence activated the heat as a three-wave set appeared on the horizon, taking off on the first one for a 6.83. Meanwhile Morais and Lacomare jumped on the succeeding waves for matching 8.33's from the judges and a tie for first, an early indicator of how the heat – and eventually the win – would progress. The four surfers went wave for wave in the 35-minute Final, with Florence taking the lead after posting an excellent 8.83 on his second wave.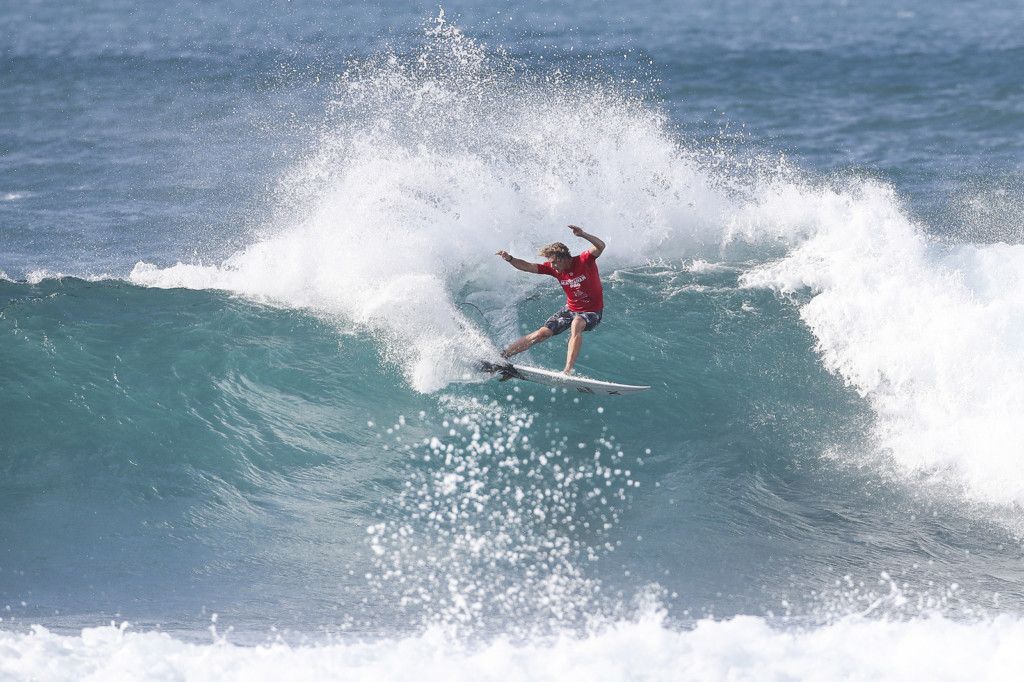 image: Heff
With total commitment, John John stood apart from competitors with his down-the-line speed, but Morais proved equally talented with aggressive maneuvers. Hailing from Cascais, Portugal, Morais impressed the beach crowd with a big frontside snap followed by two more major turns and a big air drop floater to shift the scenario. His calculated yet loose surfing scored him a 7.33 on his second wave, which tied him for first with Florence. Morais needed to secure a 7.34 to jump ahead of Florence and in the dying seconds of the heat had his final shot at it…coming incredibly close with a 7.33.
"That was crazy," Florence said post heat. "Freddy got two, his two waves were so, soclose. At that point it's so close you don't really know. I'm so stoked. I'd kind of just gotten over it, being on the beach was like, 'oh gosh I don't know what's going to happen.' I can't even believe I won, I'm so stoked. I came home and was just going to do Haleiwa for fun and to win it is amazing."
Morais jumped from 28 on the Qualifying Series up to the No. 10 position and is looking solid to now qualify for the 2017 Championship Tour. With a final at Sunset back in 2013, Morais looks toward the Vans World Cup with confidence.
"I'm feeling good, I'm relaxed," said Morais after the awards ceremony. "(This result) is heaps of points and it puts me in a good position to qualify for next year.
"I love Sunset, it's a really good wave. I've had fun there and I guess I have nothing to lose. I'm just going to enjoy myself and hope to get through some heats, make a final maybe."
"John John is such a great surfer, amazing. I matched him not even a few weeks ago in Portugal when he was crowned world champ and it was really nice to watch. He deserves it, he's probably the best surfer in the world right now and it's an honor to be matching the same scores here as him, and 2nd place is amazing."
RESULTS
Surfers shown 1st through 4th, all athletes from Hawaii unless otherwise noted.
1st – John John Florence (HAW), 10000 points
2nd – Frederico Morais (PRT), 8000 points
3rd – Marc Lacomare (FRA), 6700 points
4th – Adrian Buchan (AUS), 6300 points
SEMIFINALS, 1st and 2nd advance, 3rd=5th place, 4th=7th place
SF1: John John Florence, Marc Lacomare (FRA), Connor O'Leary (AUS), Davey Cathels (AUS)
SF2: Frederico Morais (PRT), Adrian Buchan (AUS), Jadson Andre (BRA), Joan Duru (FRA)
QUARTERFINALS, 1st and 2nd advance, 3rd=9th place, 4th=13th place
QF1: Marc Lacomare (FRA), Connor O'Leary (AUS), Kelly Slater (USA), Leonardo Fioravanti (ITA)
QF2: John John Florence, Davey Cathels (AUS), Mitch Crews (AUS), Gony Zubizarreta (ESP)
QF3: Jadson Andre (BRA), Frederico Morais (PRT), Griffin Colapinto (USA), Victor Bernardo (BRA)
QF4: Joan Duru (FRA), Adrian Buchan (AUS), Brett Simpson (USA), Ethan Ewing (AUS)
ROUND of 32, 1st and 2nd advance, 3rd=17th place, 4th=25th place
H1: Marc Lacomare (FRA), Gony Zubizarrreta (ESP), Samuel Pupo (BRA), Mihimana Braye (PYF)
H2: Kelly Slater (USA), Mitch Crew (AUS), Jeremy Flores (FRA), Keanu Asing
H3: Davey Cathels (AUS), Leonardo Fioravanti (ITA), Tomas Hermes (BRA), Sebastian Zietz
H4: John John Florence, Connor O'Leary (AUS), Robson Santos (BRA), Jack Freestone (AUS)
H5: Griffin Colapinto (USA), Brett Simpson (USA), Vasco Ribeiro (PRT), Evan Geiselman (USA)
H6: Frederico Morais (PRT), Joan Duru (FRA), Kai Otton (AUS), Jordy Smith (ZAF)
H7: Adrian Buchan (AUS), Victor Bernardo (BRA), Miguel Pupo (BRA), Nathan Hedge (AUS)
H8: Ethan Ewing (AUS), Jadson Andre (BRA), Diego Mignot (FRA), Cooper Chapman (AUS)