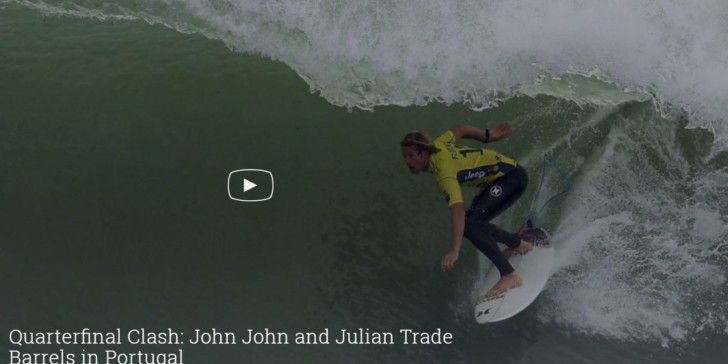 JOHN JOHN SECURES THE WSL 2016 WORLD TITLE

THE 4TH HAWAIIAN TO WIN A WORLD TITLE!

LAST TITLE FROM HAWAII WAS ANDY IRONS IN 2004!

MEO RIP CURL PRO PORTUGAL QUARTERFINAL FEATURES
JOHN JOHN FLORENCE, JORDY SMITH, KOLOHE ANDINO, JULIAN WILSON, CONNER COFFIN
1. Current Jeep Leaderboard frontrunner John John Florence (HAW) and Julian Wilson (AUS) went head-to-head in an amazing matchup and both found multiple excellent waves, scoring back-to-back barrels to keep the Portuguese fans entertained for whole duration of their 35-minute battle. Florence managed to squeeze out of an endless righthand barrel for a 9.30, the highest scored ride of the heat and walked away with the win. If Florence wins the event he secures the 2016 World Title. If he places 2nd and Jordy Smith doesn't win he also secures the title. See JJF wave HERE

2. Jordy Smith (ZAF), 28, kept his world title hopes alive with the standout Quarterfinal win of the day. Smith waited patiently to find his first good score of 7.40 mid heat and then In an exciting exchange, Hawaii's Sebastian Zietz started on the first wave of a set, but as he paddled back out was forced to witness Smith's impeccable timing on a super deep and long tube, the South-African claiming the event's first perfect 10 point ride for his effort. Smith will face Conner Coffin (USA) in Semifinal 2 and for Smith to keep his world title hopes alive, he needs to finish ahead of Hawaii's John John Florence here and take the title decider to Hawaii's Pipeline in December.

3. Kolohe Andino (USA), 22, got busy early to lock in two scores in the opening minutes of his quarterfinal battle against reigning WSL Champion Adriano De Souza (BRA), including a 7.67 for a super late take-off under the thick lip of a left-hander, threading the barrel to exit cleanly as the crowds erupted. The Californian later found an absolute gem of a tube for a near-perfect 9.67 and the first spot into the semis where he faces a much anticipated semi against John John Florence.

4. Rookie Conner Coffin (USA/Santa Barbara), 23, defeated Miguel Pupo (BRA) in the third Quarterfinal to secure his season's best result to date as the young Californian is guaranteed an equal third place in Peniche. In a slower paced matchup against the Brazilian, Coffin managed to find two good waves for a 12.66 heat total, enough to advance into the semis.

5. Julian Wilson (AUS), 27,  in Round 5 navigated the moving Supertubos lineup and selected two bombs, getting barreled for two impressive scores of 8.50 and 7.83, placing Michel Bourez (PYF) in a combination situation. Bourez was never able to find the right opportunities and eventually Wilson advanced to the Quarterfinals where he faces a crucial heat against John John Florence who can secure the world title if he wins this event.

6. Sebastian Zietz (HAW), 28, winning his Round 5 heat, Zietz would later go down in his Quarterfinal to Jordy Smith.

 – SMITH FINDS PERFECTION AT SUPERTUBOS
– FLORENCE KEEPS TITLE HOPES ALIVE WITH QUARTERFINAL VICTORY
– COFFIN SECURES CAREER-FIRST CT SEMIFINAL BERTH
Jordy Smith (ZAF) escaped a deep barrel to earn a Perfect 10 and defeat Sebastian Zietz (HAW) in his Quarterfinal match-up at the MEO Rip Curl Pro Portugal. Smith will advance to the Semifinals where he will face 2016 WSL Rookie Conner Coffin (USA).
Image: © WSL /  Cestari
| | |
| --- | --- |
| Location:    | Peniche/Cascais, Portugal |
| Event window: | October 18 – 29, 2016 |
| Today's call: | Round 5 & Quarterfinals complete |
| Conditions: | Six-to-Eight foot surf (2 – 2.6 metre) |
PRAIA DE SUPERTUBOS, Peniche/Portugal (Monday, October 24, 2016) – The Meo Rip Curl Pro Portugal, the penultimate stop on the 2016 Samsung Galaxy World Surf League (WSL) Championship Tour (CT), ran through the remaining three heats of Round 5 as well as the Quarterfinals at Supertubos to decide the Semifinal match-ups and set the stage for an exciting final day of competition.
Kolohe Andino (USA), 22, got busy early to lock in two scores in the opening minutes of his Quarterfinal battle against reigning WSL Champion Adriano De Souza (BRA), including a 7.67 for a super late take-off under the thick lip of a left-hander, threading the barrel to exit cleanly as the crowds erupted. The Californian later found an absolute gem of a tube for a near-perfect 9.67 and the first place into the Semifinals. De Souza, 2011 event winner, is eliminated in Equal 5th place.
"I was just trying to relax and stay calm but it was hard because I had to be turned on all day ready for my heat," said Andino. "I had a lot of pent up energy out there for sure. I just try not to worry about other people. I struggle with confidence a bit so I try to only worry about myself and just trust my abilities."
Current Jeep Leaderboard frontrunner John John Florence (HAW) and Julian Wilson (AUS) went head-to-head in an amazing match-up and both found multiple excellent waves, scoring back-to-back barrels to keep the Portuguese fans entertained for whole duration of their 35-minute battle. Florence managed to squeeze out of an endless righthand barrel for a 9.30, the highest scored ride of the heat and walked away with the win and his spot in the Semifinals. A win in Portugal will see Florence claim his maiden WSL Title. Wilson, currently in 6th place on the Jeep Leaderboard, goes home in Equal 5th place.
"This morning Connor (Coffin) and I paddled out first thing in the dark and it was pretty wild and raw, there was a couple of fun ones between some of the big closeout sets," Florence said. "We kept staying on hold and it was right on the verge of being all-time all day and finally for the last call it kind of cleaned up and there's some really fun peaks out there. When it's like that you got to surf it like a free surf, you're looking for any open wave, even the little ones stand up bigger than you think they are."
Earlier in the day Wilson dispatched Michel Bourez (PYF) in Round 5 before being eliminated in Equal 5th place. The Australian navigated the moving Supertubos lineup and found two impressive scores of 8.50 and 7.83, placing Bourez in a combination situation. Bourez wasn't able to find the opportunities and finished Equal 9th.
Rookie Conner Coffin (USA), 23, defeated Miguel Pupo (BRA) in the third Quarterfinal to secure his season's best result to date as the young Californian is guaranteed an equal third place in Peniche. In a slower paced match-up against the Brazilian, Coffin managed to find two good waves for a 12.66 heat total and his first CT Semifinal.
"I really like Portugal – it's a special place for me," Coffin stated. "I had a good results here on the QS (Qualifying Series) last year and that was a large part of me qualifying. Being in the Semifinals feels great and I'm looking forward to it."
Earlier in the day Coffin took on Jeremy Flores (FRA) in Round 5 and got the advantage, eliminating the Frenchman in Equal 5th place, his best result of the season.
Sebastian Zietz (HAW) opened his Quarterfinal account with a near-perfect ride on a long and throaty righthander for a 9.23 and a solid option for the win early on. Jordy Smith (ZAF), 28, waited patiently to find his own first good score of 7.40 and break out of the combination situation with fifteen minutes remaining in their heat. In an exciting exchange, Zietz started on the first wave of a set and got a little shade on a short ride, but as he paddled back out was forced to witness Smith's impeccable timing on a super deep and long tube, the South-African claiming the event's first perfect 10 point ride for his effort. Time ran out quickly from there and Smith claimed the last ticket for the Semifinals while Zietz takes home an Equal 5th place. If Florence makes the Final, Smith is the only surfer who can send the title race to Hawaii with a win.
"It was an incredible wave, I had a few opportunities, one left before and I didn't come out and that one massive right but it didn't have any exit, so I felt like sooner or later the door was going to open," Smith reflected. "I haven't had a barrel like that in so long, what a feeling to get it in a contest and especially when you need it the most!"
Zietz clinched his place in the Quarterfinals by eliminating Stuart Kennedy (AUS) in Round 5.
Contest officials will reconvene at 8AM Tuesday to reassess conditions for a potential final day of competition at the MEO Rip Curl Pro Portugal.
Very solid but easing surf for Monday with strong SSE becoming SE/ESE winds resulting in gradually improving conditions. Dropping swell mix for Tuesday with easing ESE winds. Smaller leftovers for Wednesday/Thursday with minor WNW swell to close out the final days of the waiting period. Surfline
The Meo Rip Curl Pro Portugal will run from October 18 – 29, 2016 and be LIVE via webcast on WorldSurfLeague.com and on the WSL mobile app.Meo Rip Curl Pro Portugal Round 5 Results:
Heat 1: Adriano de Souza (BRA) 9.90 def. Joel Parkinson (AUS) 7.57
Heat 2: Julian Wilson (AUS) 16.33 def. Michel Bourez (PYF) 6.06
Heat 3: Conner Coffin (USA) 7.26 def. Jeremy Flores (FRA) 6.17
Heat 4: Sebastian Zietz (HAW) 8.80 def. Stuart Kennedy (AUS) 8.43
Meo Rip Curl Pro Portugal Quarterfinal Results:
QF 1: Kolohe Andino (USA) 17.34 def. Adriano de Souza (BRA) 8.10
QF 2: John John Florence (HAW) 16.90 def. Julian Wilson (AUS) 13.57
QF 3: Conner Coffin (USA) 12.66 def. Miguel Pupo (BRA) 5.94
QF 4: Jordy Smith (ZAF) 17.40 def. Sebastian Zietz (HAW) 13.56
Meo Rip Curl Pro Portugal Semifinal Match-Ups:
SF 1: Kolohe Andino (USA) vs. John John Florence (HAW)
SF 2: Conner Coffin (USA) vs. Jordy Smith (ZAF)
Meo Rip Curl Pro Portugal Quarterfinal Results:
QF 1: Kolohe Andino (USA) 17.34 def. Adriano de Souza (BRA) 8.10
QF 2: John John Florence (HAW) 16.90 def. Julian Wilson (AUS) 13.57
QF 3: Conner Coffin (USA) 12.66 def. Miguel Pupo (BRA) 5.94
QF 4: Jordy Smith (ZAF) 17.40 def. Sebastian Zietz (HAW) 13.56
Meo Rip Curl Pro Portugal Semifinal Match-Ups:
SF 1: Kolohe Andino (USA) vs. John John Florence (HAW)
SF 2: Conner Coffin (USA) vs. Jordy Smith (ZAF)