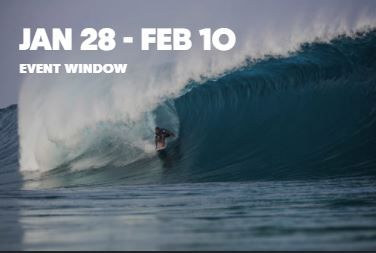 By Lauren Rolland WSL Hawaii
"I always really enjoy this event, it's here at home at my favorite wave, and that makes it such a great start to the year for me," said Florence, who earned his second World Title during the 2017 Billabong Pipe Masters in December. "The surf has been really good historically too. I think that's what I'm looking forward to most – the chance to surf Pipe on a good day, with just a few other guys out. It's definitely a fun event, and hopefully, I'll get to the Final with my brother and a couple of my friends."
Now in its ninth year, the Volcom Pipe Pro has seen only four winners claim the event title, with the competition being dominated by Florence's four victories in 2015, '13, '12 and '11; 11x World Champion Kelly Slater (USA) with two in '16 and '14; and Jamie O'Brien (HAW) and Soli Bailey (AUS) each taking home one win in '10 and '17 respectively.

Soli Bailey took out a heavy field of competitors at last year's event for the coveted 2017 win.WSL / KEOKI SAGUIBO
Bailey, the defending event winner, will be seeded into the Round of 64 with other top-name surfers like Hawaii's Sebastian Zietz and Ezekiel Lau, and California's Conner Coffin, who recently won the Vans World Cup QS10,000 at Sunset Beach in December. Rounding out the remaining CT athletes in the field are Joan Duru (FRA) and Ian Gouveia (BRA).
Hot off Florence's World Title victory for Hawaii in December, Finn McGill (HAW) of the North Shore became the 2017 Jeep World Junior Championship earlier this month in Australia and added to the Aloha State's winning streak. Out of eight possible World Champion titles that WSL recognizes, Hawaii currently holds half of them and is close to securing one more to tip the scale. Celebrated waterman Kai Lenny (HAW) leads the 2017/'18 Big Wave Tour and could lock in the title after the season wraps on February 28. Lenny will compete in the Volcom Pipe Pro following the Sunset Open, the region's first event of the 2018 QS season.
McGill, 17, is a proven front-runner at Pipe and made international acclaim after winning the 2016 Pipe Invitational for a slot into the year-ending CT stop, the 2016 Billabong Pipe Masters. Midway through 2017 he suffered a broken ankle, but focused on recovery and rehabilitation to make an appearance in the Vans Triple Crown of Surfing. With a strong comeback as the 2017 World Junior Champion and even more recently, winner of the Sunset Pro Junior, McGill is eager to compete against the planet's best Pipe surfers and earn a share of the $75,000 prize purse.

Finn McGill also earned a third-place finish at the 2017 Pipe Pro Junior.WSL / KEOKI SAGUIBO"I have a lot of confidence after Worlds, I just want to try to not get too ahead of myself and try to relax and just surf," commented McGill, who also said his ankle is feeling strong and almost back to 100 percent. "Most of the guys competing have way more experience than me out at Pipe, I just hope to catch some fun waves and make a couple heats."
Due to the high demand of entries for the Volcom Pipe Pro, contest organizers secured the fourth day of competition to increase the field from 112 to 144 athletes and features 42 percent local representation. Eighteen different countries will shake up Hawaii's highly skilled arena of watermen as Volcom continues to provide a unique opportunity for both local and international competitors.
The 2018 Volcom Pipe Pro will run on the four biggest and best days of surf within the holding period, determined by contest officials, and will be broadcast LIVE via WorldSurfLeague.com, the WSL app and Volcom.com/pipepro. Tune into Spectrum SURF Channel for their live and replay television coverage of the 2018 Volcom Pipe Pro on digital channels 250 SD and 1250 HD across the state of Hawaii.