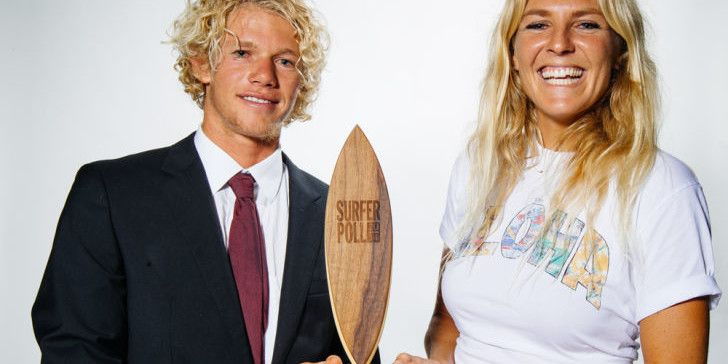 History was made at the 45th annual Surfer Poll Awards tonight with John Florence ousting long-time fan favorite Kelly Slater from the top of the Poll and six-time World Champion Stephanie Gilmore reclaiming her place at the top of the women's Poll. On the North Shore of Oahu, the stage was set for an illustrious event gathering the best surfers, filmmakers, and surf legends under one roof to honor the best films and performances of the year.
Florence's Surfer Poll win marks his first, although he's been threatening to take over for the past few years. Last year, in addition to taking second on the Poll, he claimed Best Performance and Movie of the Year and in 2012 he earned the prestigious A.I. Breakthrough Performer Award. His win this year puts an end to Kelly Slater's 10-year reign, having won a total of 19 Polls since his first win back in 1993.
"It feels great to win. I'm super stoked to finally get over Kelly. He's obviously the best surfer in the world and I've always looked up to him," said Florence. "I can't say enough good things about Kelly. In all honesty, I was really shocked to hear that I'd won. He keeps beating me by a hair, so I feel like hopefully I'm bucking the trend with this win."
Stephanie Gilmore reclaimed the top spot on the Women's Poll for her fourth Surfer Poll victory. The women have played musical chairs for the last few years with all of the Top 5 names carrying over, just in a slightly different order.
"Every single year we come to the Surfer Poll and we watch these videos of the maneuvers that guys like John John Florence, Kelly Slater, and Albee Layer have done," Gilmore said, "and we're inspired and we think: 'I wonder if it's even possible to go further? So for me, I still feel like I've got so much stuff to work on."
Sustainable Surf received the Agent of Change award and philanthropic donation from VIP table sales. See below for the rest of the 2014 Surfer Poll winners.
SURFER Poll Men's Top 10
1. John John Florence
2. Kelly Slater
3. Gabriel Medina
4. Mick Fanning
5. Jordy Smith
6. Dane Reynolds
7. Joel Parkinson
8. Julian Wilson
9. Kolohe Andino
10. Taj Burrow
SURFER Poll Women's Top 5
1. Stephanie Gilmore
2. Sally Fitzgibbons
3. Carissa Moore
4. Coco Ho
5. Alana Blanchard
A.I. Breakthrough Performer
Noa Deane
Best Barrel
Koa Smith, Skeleton Bay
Worst Wipeout
Myron Porter, The Right
Heavy Water
Grant "Twiggy" Baker
Best Documentary
Thundercloud, directed by Talon Clemow
Best Short
Cheese II, directed by Noa Deane and Shane Fletcher
Best Performance
Albee Layer in Attractive Distractions
Movie of the Year
Strange Rumblings in Shangri La, directed by Joe G
Go to Surferpoll.com now to watch the full show, see galleries from the red carpet and behind the scenes, and watch clips from the best moments of the night.
thanks to SurferMag! GO HERE