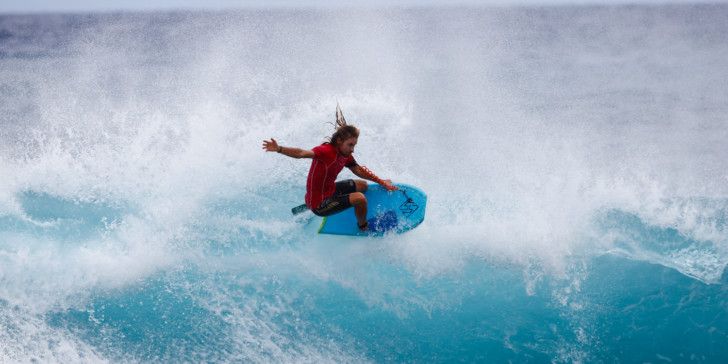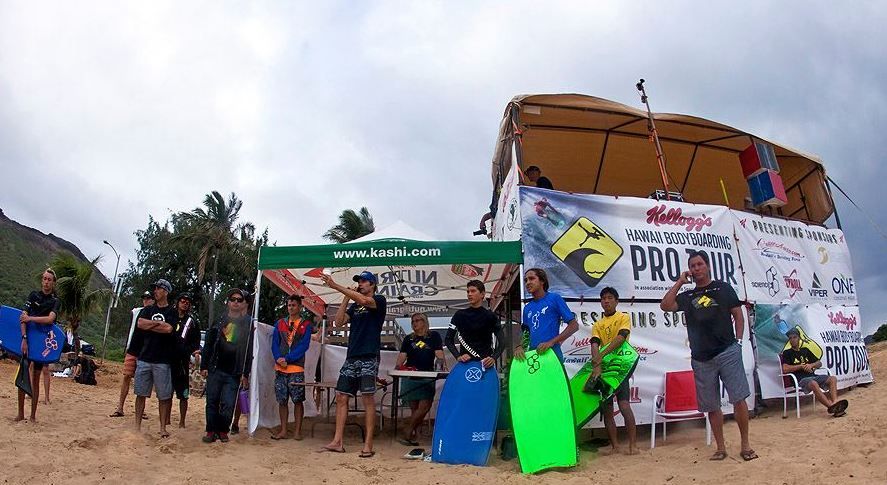 Sandy Beach, Oahu, HAWAII – (September 5, 2016) — Jeff Hubbard, wielding his powerful arsenal of carves and airs, won his second straight Hawaii Bodyboarding Pro Tour event today in 1-3 foot conditions at the Sandy Beach Challenge.
"Guys were ripping all day, and I was lucky to make it to the final against such a tough field," Hubbard said. "I landed a solid air reverse and after getting a backup score, I felt confident."
Hubbard's win is his second on the 2016 Hawaii Bodyboard Pro Tour. He won the Ala Moana Bowls Challenge on August 6.
"These are the best competitors in Hawaii," Hubbard said, "so it's great to compete and come out on top."
The Sandy Beach Challenge was an unprecedented 3-day event: the heats that did not run from the Ala Moana Bowls Challenge, due to a sewage spill near the contest zone, ran on the first day of action, with the second and third day consisting of the Sandy Beach Challenge.
"This contest was an accomplishment of teamwork," said Contest Director Ben Severson, noting that the two hurricanes that threatened to impact Oahu made planning extremely difficult.
"We willed the competition to be," said Tour Organizer Norm Skorge.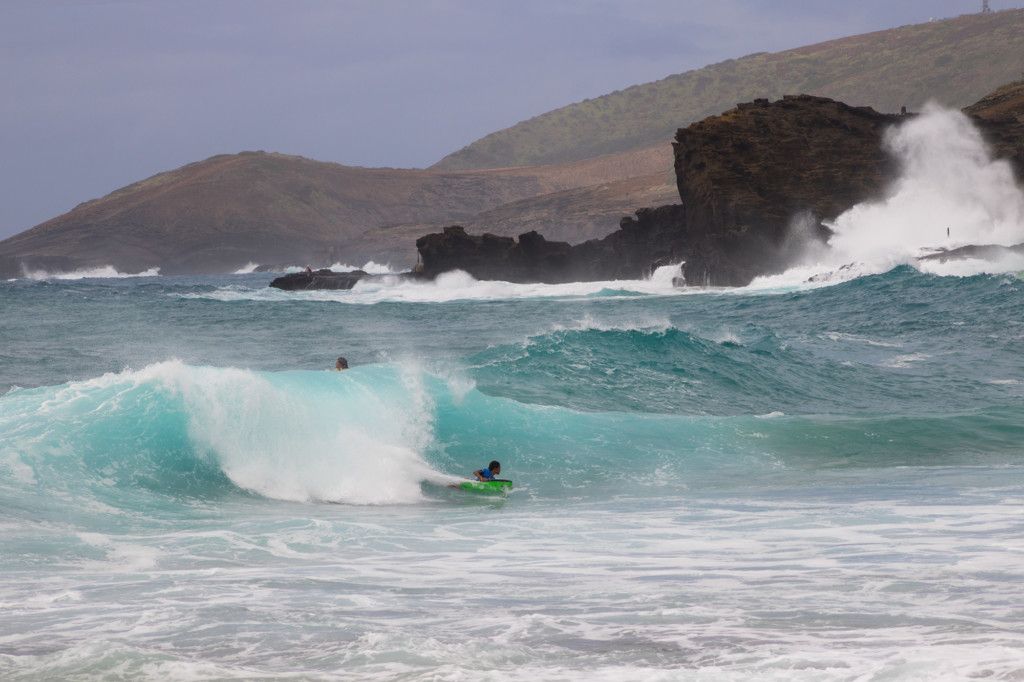 "We really didn't know what we were going to get," said 9-time World Champion Mike Stewart. "We dodged both hurricanes, and the forecast on Saturday was epic."
With today's win, Hubbard not only sits atop the ranks of the Hawaii Bodyboard Pro Tour; He also leads the Association of Professional Bodyboarders (APB) World Tour.
"Right now, Jeff is the guy to beat. It wasn't like he had a walk through to the final today," continued Stewart. "There were other guys who stood out today. Keahi Parker and Tanner McDaniel, they were both in the Final. Kawika Kamai did well all weekend. With the conditions, it was about who got the waves and who got the sections. Jeff is a smart competitor and is very capable. When you put those two together, he's hard to beat."
Other standouts included Kellen Yamasaki, who came out on top in a talented Juniors field consisting of Cordon Stapp, Tanner McDaniel and Kawika Kamai.
"I've been getting ready to battle it up with these legends and I knew they'd go hard against me," Yamasaki said. "Yesterday I was in my first final, and to get first in the Juniors today, I'm so stoked."
The remaining events in the 2016 Hawaii Bodyboarding Pro Tour:
Makapu'u DropKnee Challenge (October 29-30)
Millers Surf Big Island Challenge (mid-November)
Photo Caption/Credit:
JeffHubbard.jpg: Jeff Hubbard wins the Hawaii Bodyboarding Pro Tour's Sandy Beach Challenge, with brother Dave Hubbard coming in second. Photo: Chris Latronic
JeffHubbard2.jpg: An air reverse, followed by solid backup scores cemented Jeff's first place finish. Photo: Chris Latronic
SANDY BEACH CHALLENGE RESULTS
Men's Final
1 Jeff Hubbard
2 Dave Hubbard
3 Keahi Parker
4 Tanner McDaniel
Women's Final
1 Karla Costa
2 Asako Shiotsuki
3 Jessica Becker
4 Ayako Ancheta
Junior Final
1 Kellen Yamasaki
2 Cordon Stapp
3 Tanner McDaniel
4 Kawika Kamai
Drop Knee Final
1 Kawika Kamai
2 Sammy Morretino
3 Mack Crilley
4 Joshua Trotter
Stand Up Final
1 Mack Crilley
2 Sammy Morretino
3 Kawika Kamai
4 Bud Miyamoto
Masters
1 Jimmy Hutaff
2 Drake Hawelu
3 John Kamai
4 Rob Keyser