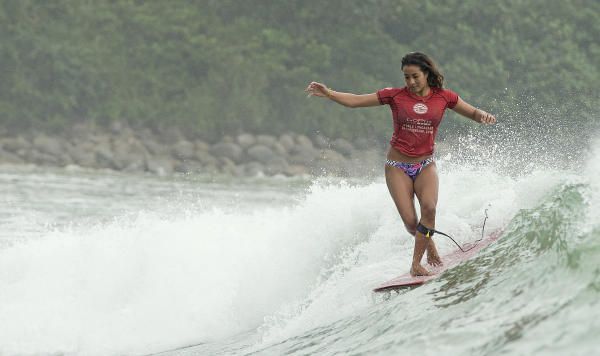 Photo: Kelia Moniz WSL (she had to withdraw due to injury: story below)
Stage Set for World's best at Jeep World Longboard Championships gets underway day one of the holding period in super fun contestable surf.
Go LIVE HERE
The Jeep World Longboard Championship hosted by Wanning has kicked off as a new swell arrived overnight.
Last year's winner Chelsea Williams (AUS) is the one to beat and after Claiming her maiden Title last year, but the fire is burning this year stronger than ever.
"Last year took a huge weight off my shoulders," Williams said. "I had been trying for nine years to get that World Title so it was amazing to finally get it. Now I'm back in Hainan and ready to go for it again."
Fresh off the best win of his career at the Taiwan Open of Surfing, Tony Silvagni (USA) will be looking to continue his good form at this event and put his name in the history books.
"Having a win at Jinzun Harbour has definitely given me confidence," Silvanti said. "I'm stoked to be back in Hainan, the people here are great, there is always excellent hospitality I just hope we get some sick waves like the last few years."
Brazil's Chloe Calmon (BRA) is back at Riyue Bay this year and has been working hard to put herself on top of the podium this year.
"I've been training hard," Calmon said. "it's so great to surf at this place with people like Chelsea (Williams) that I look up too. I know it will be hard to beat these girls but all I can do is give it my best."
Today saw the Jeep Asia Cup run in small but consistent waves at Riyue Bay that offered Asia's best longboarders an opportunity to show what they've got to the best in the world. Shohei Akimoto (JPN) won the Men's event while Hiroka Yoshikawa (JPN) took out the women's. The two highest finishing Chinese surfers have been offered wildcards into the World Longboard Championship a tradition WSL is very proud of.
In what will be her fourth wildcard entry into the World Longboard Championship, Youying Chou finished 3rd in the Jeep Asia Cup final. Chuo is a local favourite and will use her past experience in the event to take it to the world's best.
"I'm so excited," Chou said. "Last year I didn't do that well so to get the wildcard again is awesome. It was hard because the waves are slow today but it looks like it will be picking up in the next few days so I'm sure everyone will be ripping. I have so much fun with all these ladies so I can't wait for the championships to start."
Finishing in 3rd spot in the men's event was Toumei Chen. At age 40, the veteran will be competing in his third World Longboard Championship as a wildcard.
"I'm so happy," Chen said. "I'm 40 years old now so to get through and keep going is so good. Hopefully the swell builds tonight into tomorrow, so I can draw out some bigger turns. I can't wait to surf against the world's best again."
Day 1 of the Jeep World Longboard World Championship is set to get underway tomorrow morning at Riyue Bay with the forecast looking promising for the start of the event waiting period. All action will be live here at worldsurfleague.com and on the WSL App
Recent news.
Two-time WSL Longboard Champion Kelia Moniz (HAW) has been forced to withdraw from the upcoming Jeep World Longboard Championhip hosted by Wanning, China.
The 22-year-old Hawaiian, who's known as "Sister" among friends, was on a boat trip to the Maldives and injured her face after she slipped on the boats deck in heavy rain.
"A bunch of us were hanging on the back deck, it was pouring rain and the deck was pretty slippery, I got really unlucky and slipped straight on my face," said Moniz. "I knocked out a couple of my teeth and busted my lip in half. I wish the story behind it was little more interesting but no, I just slipped."
After seeking medical attention, Moniz was given the news that not only surfing, but also competing at this year's event would not be an option.
"The bone in my gum broke pretty badly, so the doctors have been stressing to me that staying away from any sports from he next two months is important if I want a normal smile again. They say about six-to-eight weeks for my bone to heal properly, but my lip is almost fully healed, and as for teeth, it'll be about eight months."
After making the Final in China four years running, the decision to miss this year's event has been a difficult one for Moniz to come to terms with.
"It's a real shame to miss this year's event. It's always such a good way to end the year and also bring in the new year. It's the only event I do all year so I really look forward to it and of course having that little battle with Chelsea Williams for the past four years. I'm sad I'm missing the fun this year."
"I think Riyue Bay is an incredible wave for a longboard event. It's open, there are cute little pockets for nose riding and it's a long wave. Of course I'm bias because it's a left point and I'm a goofyfooter. Chelsea will be hard to beat out there, she is such a talented surfer, a lot of power and style."
Fortunately for Moniz, and all surf fans, this year's contest will be webcast live on worldsurfleague.com, meaning not a minute of the action will be missed.
"I will definitely be glued to the webcast. I'm so happy I don't have to painfully just watch scores drop and we can all enjoy watching these ladies put on a show. You know I'll be cheering for my Hawaii sisters Geodee, Crystal, and Stacia. I can't wait to watch."
The Jeep World Longboard Championships hosted by Wanning will run from December 5-12. Watch live at the World Surf League website andWSL app.