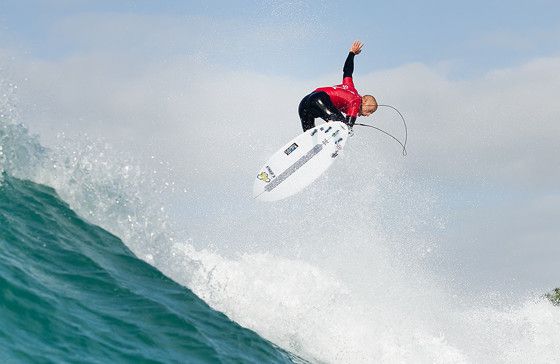 PHOTO: 11-time World Champion Kelly Slater (USA) posted the day's highest two-wave heat total to sail through his Round 1 heat against Matt Wilkinson (AUS) and Glenn Hall (IRL). Image: WSL / Cestari
| | |
| --- | --- |
| Location:    | Jeffreys Bay, South Africa |
| Holding period: | July 8 – 19, 2015 |
| Call: | Round 1 complete |
| Conditions: | 4′ – 6′ |
JEFFREYS BAY, South Africa (Friday, 10 July, 2015) – Competition got underway today at the J-Bay Open, stop No. 6 on the 2015 Samsung Galaxy World Surf League (WSL) Championship Tour (CT). An exciting opening day saw action and upsets at Jeffreys Bay as the world's best surfers ran through Round 1 in challenging four-to-six foot surf and recommence this season's hotly contested title race.
The top three surfers on the Jeep Leaderboard, Adriano de Souza (BRA), Filipe Toledo (BRA) and Owen Wright (AUS), all suffered defeat while defending champion Mick Fanning (AUS) and four-time event winner Kelly Slater (USA) sailed through to advance directly to Round 3.
Three-time WSL Champion Fanning (AUS) claimed a solid win with a 15.67 heat total. Fanning attacked the lineup with power and strength, showcasing his trademark smooth, polished lines. The Australian matched-up against replacement surfers Tomas Hermes (BRA) and Michael February (ZAF). February, trials runner-up, took his place in the competition as a replacement for rookie Matt Banting (AUS) who withdrew from the competition today after injuring his knee during a freesurf.
"It was a little tricky out there but I was lucky to get the job done," said Fanning. "It's really unfortunate for Matt (Banting). He's just starting to get on a bit of a roll on Tour and having a rookie year and an injury is pretty devastating so I feel for him. I hope he heals soon. Michael (February) is a great surfer, I love his unique style. I became aware of him last year, he was flying down the point doing great turns so I'm excited to see what else he can do out here."
11-time World Champion Slater (USA) posted an impressive 8.17 out of the gates with a full rotation for an early lead. Gliding effortlessly down the line Slater found a quick cover up for another big score, an excellent 8.83 and the highest single-wave score of the day. Slater first won the contest in 1996 and continued to dominate today against rivals Matt Wilkinson (AUS) and Glenn Hall (IRL), putting them both in a combination situation and taking the win with a 17.00 heat total.
"I feel really good and I took a lot of time off this week," said Slater. "I didn't chase that last swell and I just took some time for myself. I also felt really good in my freesurf yesterday. I just felt really calm and I watched it a couple hours beforehand to see where to sit and which waves to catch and who's doing what. I don't feel like anyone's been able to stand out today. I've got to do something, you know? Got to keep these guys on their toes while I'm here. I need good points right now"
A close battle unfolded between Kolohe Andino (USA), Jeep ratings leader De Souza (BRA) and wildcard Slade Prestwich (ZAF) in Heat 6. The World No. 1 held the lead through much of the 30-minute bout, but a big frontside air reverse in the final seconds from Andino was enough to turn the heat. The American stole his first Round 1 heat win on the CT this year with a 7.93, upsetting De Souza and Prestwich, who will both surf again in elimination Round 2.
"For some reason I've been really nervous this whole year and that heat I wasn't nervous at all," said Andino. "That's the best way you can be going into a heat, that's when you surf your best and I was stoked on that. It's fun out there, I got big sections but it's just not classic J-Bay and I think that's what everyone wants."
Wildcard Dane Reynolds (USA) delivered another major upset in Heat 4 of Round 1, taking out World No. 2 Toledo (BRA) and Adam Melling (AUS). Reynolds unloaded power turns in the tricky conditions to take the win, sending his opponents to elimination Round 2.
"Two 6's isn't an amazing heat score but in these conditions it's really hard to surf out there," Reynolds said. "I felt like I was out of rhythm on every wave but just luckily I got through them and got 6's. That ended up winning the heat because sometimes it does."
C.J. Hobgood (USA) earned his first heat win of 2015 today after defeating Australians Kai Otton (AUS) and World No. 3 Owen Wright (AUS) in Heat 3. Hobgood snatched victory from Wright in the dying moments to secure his place in Round 3 and claim his best result of the season.
"I just want to surf good and it was kind of a slow heat and Owen (Wright) has been going hard out there," said Hobgood. "Owen's surfing is so smooth. His turns look a lot bigger than mine so I know I have to catch bigger waves than him. Owen turns so hard in the pocket and he's such a big guy, and his technique off the bottom and off the top, I honestly try to mirror that."
The lone South African on the CT, Jordy Smith (ZAF), returned to competition today after missing the Fiji Pro due to a knee injury. The two-time event winner took to the water in front of his home-town crowd in Heat 11 of Round 1 where he faced Bede Durbidge (AUS) and rookie Ricardo Christie (NZL). Smith struggled to post any scores of significance, complaining of a back injury after the end of the heat, while Durbidge dominated, opening strong and taking the win with a 14.00 heat total.
"It's totally a different ballgame from this morning and there weren't many opportunities," said Durbidge. "Jordy (Smith) didn't really get a chance and Ricardo (Christie) neither. It was a tough one and hopefully we'll get some better waves later on in the event. I love J-Bay, it's definitely one of my favorite spots on tour. It's a great spot and great vibe, and one of the best right-handers in the world."
The final heat of the day saw defending WSL Champion Gabriel Medina (BRA) take on two-time J-Bay Open winner Joel Parkinson (AUS) and Keanu Asing (HAW). It was the Hawaiian rookie that ran away with the lead, leaving his more experienced opponents searching for excellent scores to get back in the heat. Parkinson threw everything at his final wave on the buzzer, delivering three major maneuvers on a solid wave, needing an 8.76. The Australian was awarded 8.10 and will have to surf again in Round 2 alongside Medina.
"Having Gabriel (Medina) and Joel (Parkinson) in that heat was tough, those are two world champions and that was a world-class heat," said Asing. "When I get those type of people in my heat it really brings the best surfing out in me. I'm just glad to say I can surf against these guys and I'm lucky enough to put up good scores against them and put up a good fight. I'm really enjoying my rookie year and this is better than what I dreamed of."
The J-Bay Open is webcast LIVE on WorldSurfLeague.com.
The world's best surfing is also broadcast LIVE on Fox Sports in Australia, MCS Extreme in France, EDGE Sports in China, South Korea, Malaysia and other territories and on Globo TV in Brazil.
 J-Bay Open Round 1 Results:
Heat 1: Michel Bourez (PYF) 12.00, Brett Simpson (USA) 7.84, Taj Burrow (AUS) 5.26
Heat 2: Julian Wilson (AUS) 13.93, Miguel Pupo (BRA) 12.27, Alejo Muniz (BRA) 5.60
Heat 3: C.J. Hobgood (USA) 13.70, Owen Wright (AUS )12.86, Kai Otton (AUS) 9.73
Heat 4: Dane Reynolds (USA) 13.33, Adam Melling (AUS) 7.00, Filipe Toledo (BRA) 5.33
Heat 5: Mick Fanning (AUS) 15.67, Michael February (ZAF) 11.33, Tomas Hermes (BRA) 7.66
Heat 6: Kolohe Andino (USA) 14.03, Adriano de Souza (BRA) 13.24, Slade Prestwich (ZAF) 10.33
Heat 7: Josh Kerr (AUS) 12.94, Dusty Payne (HAW) 10.14, Sebastian Zietz (HAW) 7.74
Heat 8: Kelly Slater (USA) 17.00, Matt Wilkinson (AUS) 9.33, Glenn Hall (IRL) 5.40
Heat 9: Adrian Buchan (AUS) 12.60, Nat Young (USA) 10.00, Wiggolly Dantas (BRA) 8.87
Heat 10: Fredrick Patacchia (USA) 14.90, Jadson Andre (BRA) 14.60, Italo Ferreira (BRA) 10.53
Heat 11: Bede Durbidge (AUS) 14.00, Ricardo Christie (NZL) 6.70, Jordy Smith (ZAF) 5.17
Heat 12: Keanu Asing (HAW) 13.93, Joel Parkinson (AUS) 13.27, Gabriel Medina (BRA) 9.00
J-Bay Open Round 2 Match-Ups:
Heat 1: Adriano de Souza (BRA) vs. Slade Prestwich (ZAF)
Heat 2: Filipe Toledo (BRA) vs. Michael February (ZAF)
Heat 3: Owen Wright (AUS) vs. Tomas Hermes (BRA)
Heat 4: Taj Burrow (AUS) vs. Alejo Muniz (BRA)
Heat 5: Nat Young (USA) vs. Brett Simpson (USA)
Heat 6: Italo Ferreira (BRA) vs. Dusty Payne (HAW)
Heat 7: Gabriel Medina (BRA) vs. Glenn Hall (IRL)
Heat 8: Joel Parkinson (AUS) vs. Ricardo Christie (NZL)
Heat 9: Jordy Smith (ZAF) vs. Adam Melling (AUS)
Heat 10: Jadson Andre (BRA) vs. Kai Otton (AUS)
Heat 11: Wiggolly Dantas (BRA) vs. Miguel Pupo (BRA)
Heat 12: Matt Wilkinson (AUS) vs. Sebastian Zietz (HAW)