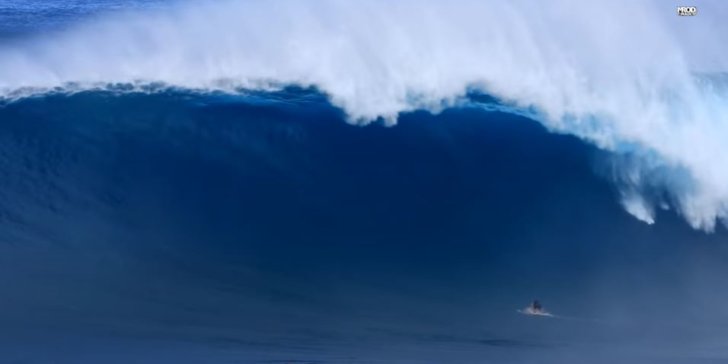 During the first day of the Jaws XXL "Marcio Swell" the wind turned onshore right around the peak of the swell at 2 'o clock.
When that happened an all tow in session started in some giant waves.
Seeing the swell pick up right infront of our eyes was special. The waves got up to 30ft Hawaiian with a few bigger sets.
The Walsh brothers Shaun and Dk were the first to start towing, they got some massive waves!
Shaun Lopez got a giant wave and so did the young Roberson brothers, Justin and Steve.
One of the biggest waves was ridden by Steve Roberson but he got clamped on the exit and got injured after that wave.
Zane Schweitzer was going XXL too on his backhand which is always impressive to see.
Even Chrislyn Simpson Kane aka "Sissie" got a few tow in waves, she was ripping this swell.
The wind continued to pick up so that ended the session for everyone.
On day two the waves were still giant; the tide was high early around sunrise and the swell turned a bit more north.
The bouys came down just a little bit in size and intensity but it was still 20ft plus early in the morning, it was a little jumbled, dis organized and wonky due to the incoming high tide.
The Walsh brothers, Shaun and DK alongside Trevor Carlson were on it right at first light. They all got great giant waves!
Then the Lenny brothers showed up, Ridge was towing Kai Lenny into some beautiful waves, like usual Kai made it look easy, like it was a regular size wave doing turns and surfing with great precision.
After about an hour or so their whole team left and called it a day. The tide dropped out then it started turning on! Nobody was really around for the second day of the swell.
Ty Simpson Kane and Zane Schweitzer were all alone for a few hours when the waves got much better.
It was still pumping, Ty must of gotten like 25 waves before the wind came up again.
The Pe'ahi Hui was getting some nice rides as well, with Mikey Reed and other big wave surfers who wanted a shot at Pe'ahi. Zane Schweitzer was in rhythm and got a few giant waves before the session came to an end.
What a memorable XXL swell that was.
All content shot in High Quality 4K on January 11th & 12th 2023
Enjoy the action and Aloha Nui ! Paradise It !
Filmed by PACIFIC ISLAND DRONE & MROD MAUI ©
Edited by MROD MAUI ©
IG : https://www.instagram.com/mrod_maui/
SUBSCRIBE, LIKE & SHARE ! MAHALO NUI LOA FOR WATCHING THESE VIDEOS !
Email : mrodmaui@gmail.com