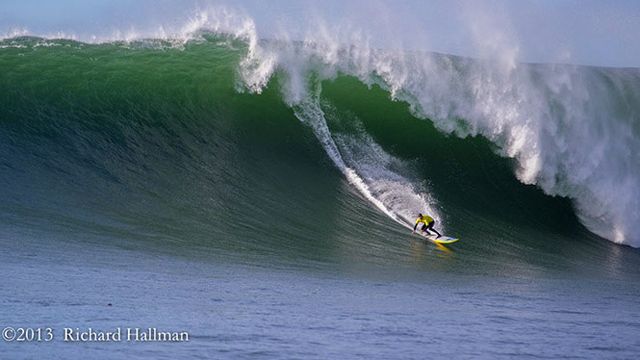 Surf News Network, 12 January, 2015. BIG-WAVE: The Nelscott Reef Trials, the qualifying event for the 2015/2016 World Surf League (WSL) Big Wave Tour, is currently on standby, with organizers monitoring conditions necessary in delivering 30-foot-and-above waves to the infamous cold-water reef in the Pacific Northwest.
A world-renowned big wave reef situated outside of Oregon's Lincoln City, Nelscott has hosted big wave competitions since 2010 and now exists as the sole qualifying event for the elite Big Wave Tour. The Nelscott Reef Trials welcomes a 24-man field of world-class athletes that will battle for four highly-coveted positions on the 2015/2016 Big Wave Tour (BWT).
"Nelscott has been a part of the Big Wave Tour for a few years now and it's an ideal venue to host our sole qualifying event for the 2015/2016 season," Pete Mel, Big Wave Commissioner, said. "We've seen some promising activity in the Pacific Northwest this year and we have a great field that will be contesting the event."
The Nelscott Reef Trials' 24-man field is comprised of 15 surfers from the current 2014/2015 BWT rankings (6th – 20th), two local wildcards in Keith Galbraith and Jeremy Rasmussen, one BWT wildcard to be determined and six entrants from the #ProveIt Video Trials – Nic Vaughan (Palos Verdes, California), Jamie Sterling (North Shore, Hawaii), Derek Dunfee (San Diego, California), Trevor Carlson (Hermosa Beach, California), James Taylor (Cape Town, South Africa) and Mark Matthews (Maroubra, Australia).
The #ProveIt Video Trials were an open event with applicants submitting videos of their five biggest and heaviest waves from three venues with special consideration given for existing BWT venues as well as more recent footage. The Trials were judged by a panel of five including the Surfers' Rep Greg Long, the reigning BWT Champ Grant Baker, Head Judge Kirk Tice, BWT Vice President Gary Linden and Commissioner Peter Mel.
The 2015/2016 Big Wave Tour will host two half seasons concentrating on the Northern and Southern Hemisphere swell cycles with venues in South Africa, Chile and Peru in the Southern Hemisphere leg and the Basque Country, Mexico and Maui in the Northern Hemisphere.
The 2015/2016 Big Wave Tour field will be made up of the Top 10 finishers from this season's BWT rankings, six BWT wildcards, four local wildcards and the top four finishers from the Nelscott Reef Trials.
The Nelscott Reef Trials window runs from December 1, 2014 to February 28, 2015.
For the WSL BWT GO HERE
For more on Jamie Sterling GO HERE