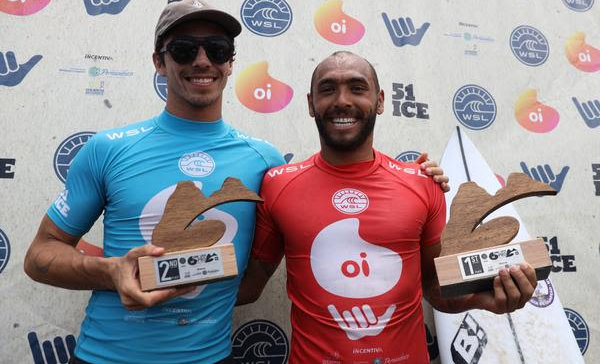 André overtook Yago Dora (BRA) in the final minutes to win the first QS 6,000 event of the year
Samuel Igo wins inaugural trophy in memory of Jean da Silva
(left) Runner-Up Yago Dora (BRA) and Event Winner Jadson André (BRA) on the winner's podium of the 2019 Oi Hang Loose Pro Contest at Cacimba do Padre in Fernando de Noronha, Brazil.
Credit: © WSL / Daniel Smorigo
CACIMBA DO PADRE, FERNANDO DE NORONHA, BRAZIL (Sunday, February 24, 2019) – Jadson André (BRA) claimed the first World Surf League (WSL) Qualifying Series (QS) 6,000 of the year over fellow Brazilian Yago Dora (BRA) in an emotional Final that went down to the wire. Both surfers put on a show for the fans on the beach that cheered on each athlete after completion of a big maneuver. However, Jadson looked sharp from the beginning of the day and seemed to have a little extra in the tank as he took down top names like Gabriel Medina (BRA), Cam Richards (USA) and ultimately Yago Dora on his path to the winner's podium at the Oi Hang Loose Pro Contest at Cacimba do Padre on the remote islands of Fernando de Noronha, Brazil.

André began the Final in his typical fashion by catching wave after wave to start the heat amounting several rides in the 6-point range. Yago countered by catching a nice barrel for a 7.10 and then threw a massive full rotation with tons of projection to earn a 9.00 from the judges.

While the majority of the goofy-footers stuck to the lefts, Jadson opted for the rights and was able to pull off explosive backhand maneuvers for a 7.93 and an 8.53 in the dying minutes for a 16.46 total for a come-from-behind victory.

With his win at the Oi Hang Loose Pro QS 6,000, Jadson André sits atop the 2019 Qualifying Series rankings with Yago close behind in 2nd place with 4,860 points.
"First of all, I have to thank God for this victory at such an exceptional event. At the end of the heat, with only two minutes to go, I needed an excellent wave and I just kept thinking about what Neco (Padaratz) told me years ago when he won this contest. He said he had dreamed about a righthander the entire event and in his Final, he was able to win on a right," said a visibly emotional André.

"Yago (Dora) practically had me blocked off from the lefts, but I had a feeling about the rights since the start of the contest. I broke my board going for an air, had to paddle in for a new one and on my first wave, this righthander came my way and I was able to pull off those two big turns for the score I needed. I knew I would get a big score if I stuck the landing," continued Jadson.

"I want to dedicate this win to the local community here in Fernando de Noronha. They've always treated me like family since I started coming here over 15 years ago. I've been suffering an illness since December and I only surfed like five times before this contest. Thanks to everyone that believes in me, my sponsors and my girlfriend who is my good luck charm at all the events she goes to," André concluded.

Yago also put on quite a performance on Finals day which included an impressive win over Championship Tour (CT) surfer Italo Ferreira (BRA) in Heat 2 of the Semifinals. Ferreira scored an 18.20 heat total in his victory over Aritz Aranburu (ESP) in the Quarterfinals and looked like the surfer to beat. However, Dora won their battle in the air with his own aerial prowess on the lefts punting huge air after huge air.

"It's a shame how things turned out in the end. I didn't think Jadson would get the score on that last wave, but obviously the judges thought so," said Dora. "But Jaddy's been surfing great all contest, he did his job and got the win. This contest was amazing, but I'm a little upset because I felt like I had the victory taken away from me at the end. But regardless, competing here in Noronha is a blessing and I've always loved this place."
 Yago Dora (BRA)
Credit: © WSL / Daniel Smorigo
After catching one of the best waves during the year-end season in Hawaii, Cam Richards (USA) displayed a remarkable skill-level at Cacimba do Padre by throwing some of the biggest airs of the competition. Despite being eliminated by the eventual contest winner, Richards was still pleased with his performance.

"It's a shame that I fell on those airs at the end, but it's been such a fun event," said Richards. "I loved coming here and I'll definitely be coming back. I'd like to compete here next year, but I really want to do some filming here before that. It's so beautiful here and I've become a big fan already. I didn't think I'd get this far in the event so I'm still pretty stoked with a 3rd place finish."
Cam Richards (USA)
Credit: © WSL / Daniel Smorigo
In addition to the Finalists, Samuel Igo (BRA) was also invited up to the winner's podium to receive the inaugural trophy in memory of Jean da Silva for earning the event's highest scores which included a perfect 10-point ride and the highest heat total of 19.00 (out of a possible 20 points). Jean da Silva passed away two years ago and had a special connection with the waves at Cacimba do Padre which included an event win in 2006.
 Samuel Igo (BRA) winning the inaugural trophy in memory of Jean da Silva.
Credit: © WSL / Daniel Smorigo
About the WSL The World Surf League (WSL) is dedicated to celebrating the world's best surfing on the world's best waves through a variety of best-in-class audience platforms. The organization, headquartered in Santa Monica, is a global sport with regional offices in Australasia, Africa, North America, South America, Hawaii, Japan and Europe.

The WSL has been championing the world's best surfing since 1976, annually running more than 180 global events across the Men's and Women's Championship Tours, the Big Wave Tour, Qualifying Series, Junior and Longboard Championships, as well as the WSL Big Wave Awards. The League possesses a deep appreciation for the sport's rich heritage while promoting progression, innovation and performance at the highest levels, and in doing so crowns the undisputed Men's and Women's World Champions across all tours.

Showcasing the world's best surfing on its digital platform at WorldSurfLeague.com, the WSL has a passionate global fan base with millions tuning in to see world-class athletes like Kelly Slater, Stephanie Gilmore, Tyler Wright, John Florence, Lakey Peterson, Paige Alms, Kai Lenny, Carissa Moore, Gabriel Medina, Courtney Conlogue, Mateus Herdy, Kirra Pinkerton, Steve Sawyer, Soleil Errico and more battle on the most dynamic field of play of any global sport.

For more information, please visit WorldSurfLeague.com