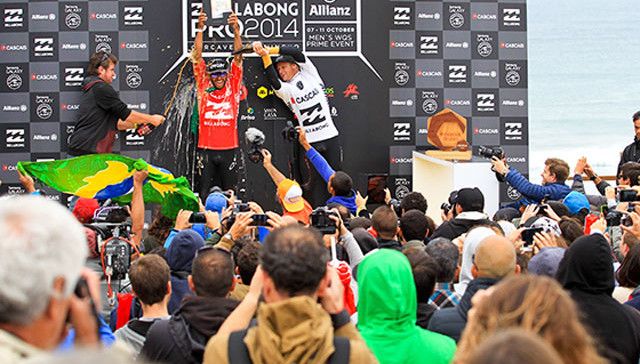 ASP Prime Cascais Billabong Pro
ASP Men's QS Prime  Cascais, Portugal  7 – 11 October, 2014
Andre now takes the ASP QS ratings lead
Surf News Network 11 October, 2014 : Praia de Guincho, Cascais : Jadson Andre (BRA) 24, has won the ASP Prime Cascais Billabong Pro over Stu Kennedy (AUS) 24 in a one way final disputed in 2-to-3-foot waves. Andre had a tough road to the final, but managed to beat Jordy Smith (ZAF) for the second time in a row after their semifinal bout in France, before dispatching of fellow Brazilian Dantas in the semis. The explosive goofyfooter kept building momentum at Guincho culminating with a dominant performance in the final to take the win. "Oh man, it feels great! I don't really know what to say, I just want to say thank you guys for everything, you have made my life, thanks everyone here for the support." Andre adressed the crowds during the award ceremony. "I was paying a lot of attention during the expression session before the final, and I saw the tide was getting lower, so I was sticking to my game plan of catching a lot of waves and keep building scores, and I'm so stoked that it worked out." With his win in Cascais, Andre takes the lead in the QS rankings to solidify his position as a WCT surfer in 2015. Andre also jumps in the lead of the Portuguese Waves Series – Cascais Trophy before the third and final event in Peniche, and has a strong chance of securing the bonus $50k prize purse up for grabs. Stu Kennedy (AUS) 24, was the Australian revelation in Cascais. After a slow start in the earlier rounds, Kennedy took his surfing to the next level to consecutively eliminate Fredrick Patacchia (HAW), Jeremy Flores (FRA) and Julian Wilson (AUS), three current WCT competitors on his way to the final. "It feels great to take down some of the big names," Kennedy said. "Hopefully after this it will burst my profile a bit more and I'm able hopefully to get some sponsor and keep doing this grind to get to the tour !" For the first time this week, Kennedy seemed out of rhythm in the final and couldn't stop the continuing assaults from Andre. His best result of the season, a runner-up finish in Cascais will vault the young Australian up to 22nd in the QS race before the last few events in Brazil and Hawaii. "It's up there with some of the best results I've ever got, I won a 6-Star a few years ago but haven't been on the podium in a while so it means a lot," Kennedy continued. "I'm not doing Brazil, so I'll just leave it up to Hawaii, but I'm not putting the stress on myself to qualify."surfersvillage.com – Jadson Andre wins back-to-back Cascais titles – Surfing News, Surfing Contest, All the surf in one website
One of the event standouts all-week, Wigolly Dantas (BRA) 26,  dispatched of fellow Brazilian Italo Ferreira (BRA) early this morning to reach the semifinals. Lethal on his forehand, Dantas has been dismantling the lefts on offer at Guincho, consistently posting high scores in each all of his matchups.
"It's funny cause five years ago everyone in Brazil said I couldn't surf on my forehand," Dantas commented. "I trained for three years non-stop and I showed them in Saquarema that I could get a result on lefts, now I just want to continue to improve. I love this wave, my girlfriend lives here and I surf here all the time. Portugal is amazing, everytime I come we get solid waves and I'm definitely more confident in bigger conditions."
Dantas's great run was halted by event winner Andre in the first semifinal, unable to keep his momentum going. An equal third place in Cascais vaults the young Brazilian to third on the rankings and puts him right in the mix for a maiden qualification for the coveted Samsung Galaxy ASP World Championship Tour in 2015.
"It's the best feeling in the world to know that I've qualified for the WCT next year," an ecstatic Dantas continued. "I'm a bit sad that I lost here, but to know that I'm finally in after a long 5 years of trying really hard feels really good, next year is going to be great. I love big waves and barrels and the waves on the WCT will be perfect for my surf, it's going to be mental."
Current World No. 17 Julian Wilson (AUS) 25, found momentum on Day 4 of the Cascais Billabong Pro and came out swinging on the morning of finals day to eliminate the last European in contention Michel Bourez (PYF).
"The final was a bit frustrating for sure, this event we've seen all sorts of conditions from huge to now really small," Wilson said. "It's been really fun, it's been good to make some heats, get back in the game a bit."
Wilson couldn't however stop event runner-up Kennedy in their semifinal matchup and had to settle for an equal third place in Cascais. A good confidence boost Wilson will carry into Stop No. 10 on the WCT, the upcoming Moche Rip Curl Pro Portugal in Peniche.
"I got to surf a lot of heats here and I feel very comfortable and will take some confidence with me to Peniche for sure," he continued. "I really enjoy the waves over there so it was good to come over here and have a bit of a warm up."
The Cascais Billabong Pro also rounded up the 2014 European QS season, and after a final day of action in Guincho where Flores and Bourez could potentially net the European Title, it was Joan Duru (FRA) 25, who was crowned the 2014 European Champion, with a runner-up finish in Azores and a 9th place in Pantin.
The Cascais Billabong Pro is supported by the Câmara Municipal de Cascais (Cascais City Council), Billabong, Allianz, Turismo de Portugal (Portuguese Waves Series), EDP, Moche, Jogos Santa, Casa, CTT (Portuguese Post Office), Brisa, Hertz, Buondi and Hotel Viva Marinha among others.
CASCAIS BILLABONG PRO FINAL RESULTS:
1 – Jadson Andre (BRA) 15.76
2 – Stu Kennedy (AUS) 10.13
CASCAIS BILLABONG PRO SEMIFINAL RESULTS:
SF 1: Jadson Andre (BRA) 15.10 def. Wigolly Dantas (BRA) 11.70
SF 2: Stu Kennedy (AUS) 16.17 def. Julian Wilson (AUS) 12.34
CASCAIS BILLABONG PRO QUARTERFINAL RESULTS:
QF 1: Wigolly Dantas (BRA) 12.66 def. Italo Ferreira (BRA) 12.33
QF 2: Jadson Andre (BRA) 16.77 def. Jordy Smith (ZAF) 12.54
QF 3: Stu Kennedy (AUS) 16.03 def. Jeremy Flores (FRA) 12.00
QF 4: Julian Wilson (AUS) 13.73 def. Michel Bourez (PYF) 11.40