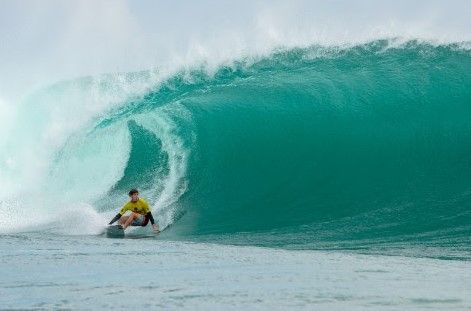 –  EVENT RUNS IN SWELL OF THE YEAR IN INDONESIA
– ROBINSON SCORES NEAR-PERFECT 19.90 OUT OF 20 IN FINAL
Cover Shot of the Lone Star Aussie Finalist and Winner: Jack Robinson, winner of the 2018 Rip Curl Cup at Padang Padang.
Credit: © Conner
Bali,  Indonesia – 

Thursday, 19th July 2018

: 
Patience was rewarded at Padang Padang 
Thursday
 for the Finals of the 2018 Rip Curl Cup. After playing coy last year and withholding the world-class waves required to hold the WSL specialty event, Padang Padang returned with a vengeance in 2018, producing one of the most spectacular two days of barrels ever seen at The Rip Curl Cup.
Jack Robinson was also rewarded for his patience. The 20-year-old barrel maestro has been invited to the Rip Curl Cup since the age of 15, but never made it to Finals Day until 2018. On the heaviest day at Padang in recent memory, Robinson went on a tuberiding tear, scoring three 9-point rides and a perfect 10 en route to perhaps the most impressive achievement of his young career.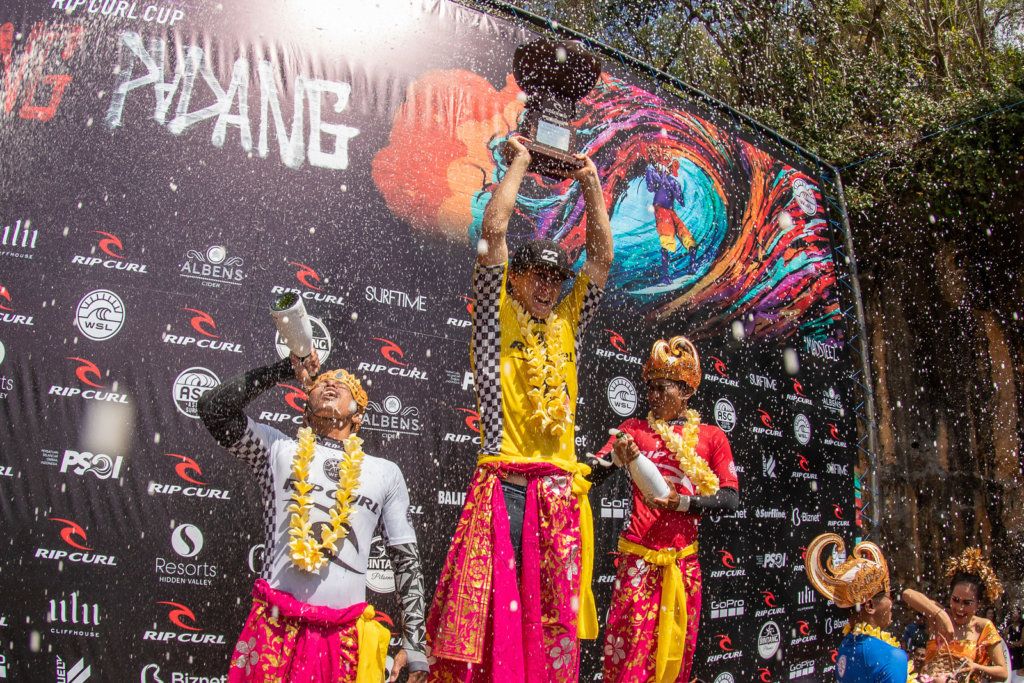 Image Lawrence
Robinson's 19.90 Finals total was the highest of the event and left his fellow finalists in a combination situation they could never recover from. Uluwatu local and Trials surfer Agus Setiawan finished in second place with 17.15, followed by Bol Adi Putra (IND) with 15.75 and 2016 winner Mega Semadhi (IND) with 11.00.
"It was worth the wait," said the young Western Australian Robinson. "This is one of the best contests all year and one of my Top 3 for sure. It might not be a QS or a CT, but it's against the best guys at one of the best waves."
Several of Robinson's double barrels 
on Thursday
 recalled Jamie O'Brien winning the Rip Curl Cup in 2009, the last time a swell this monstrous rocked Bali.
"This was the best waves I've seen at Padang since Jamie O'Brien won it back in 2009," said Robinson, a regular visitor to Bali during Rip Curl Cup season. "I was a little kid watching it then and I always wanted to be in it from that day on. Jamie was a big influence."
After completing Rounds 1 and 2 at Padang Padang 
on Sunday
, eight surfers remained for 
Thursday's
 Finals Day. Things kicked off with a bang as Semifinal 1 saw more 9s and 10s than the entire two opening rounds. Spitting tube after tube roared through the Padang reef, making the judges in the tower moan with envy.
Semifinal 1 belonged to the locals, as Agus Setiawan and Bol Adi Putra finished first and second, respectively, and eliminated Day 1 standout Jacob Willcox (AUS) and Brazilian tube assassin Bruno Santos.
The highlight of Semifinal 1 was Bol Adi Putra's incredible double barrel for a 9.55 that saw him soul arch through the gaping inside double-up, get spat out across the reef, emerge from the spit and ollie over the nose of a jet ski caught on the shoulder.
"The wave was spitting and I couldn't see anything, so I just jumped," said Bol. "Luckily I jumped high enough to clear the ski."
In Semifinal 2 Jack Robinson went to work, hooking inverted backside snaps under the lip and clinging to the ceiling of several breathing Padang caves for the heat win. Nipping at his heels was defending Rip Curl Cup Champion Mega Semadhi, who also booked his ticket to the Finals.
The Final featured three Padang local surfers alongside Robinson, the lone international and the lone regularfoot, sparring with the treacherous caverns on his backhand. For both Semadhi and Adi Putra (below) it was their record fifth Rip Curl Cup Finals appearance, and both local legends were vying to become the first three-time champion in Rip Curl Cup history.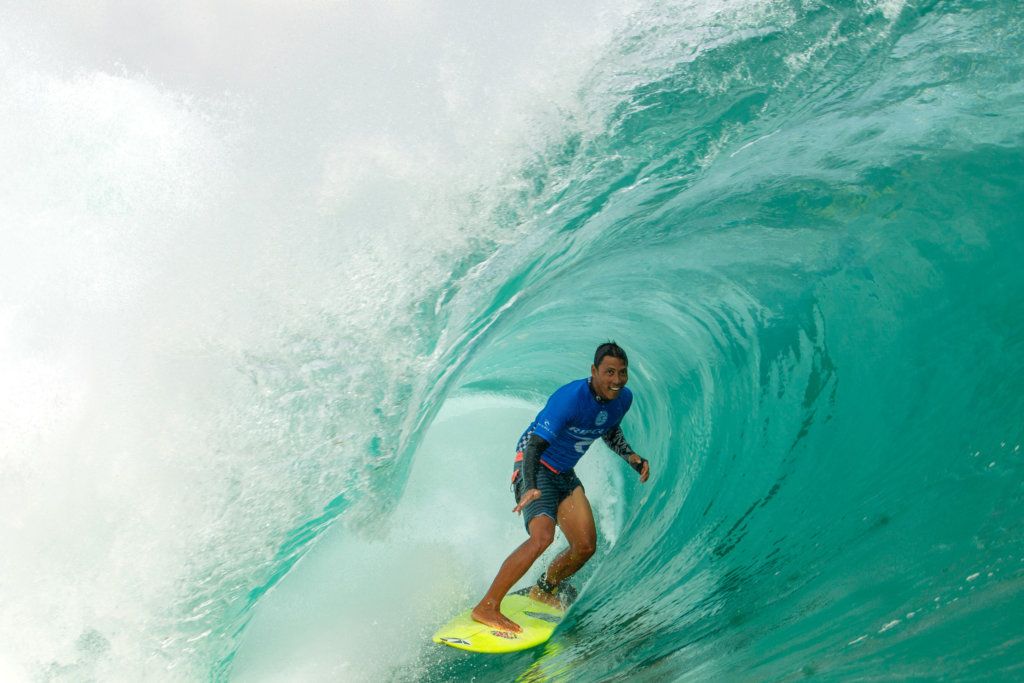 Made "Bol" Adi Putra, 3rd-place. Photo: Ridenour
In addition to the maxing swell, a slight side chop and rising tide heading into the Final added an extra degree of difficulty to emerge from the tight end section. The tricky exits would prove pivotal in the Final, as several would-be high 9s and 10s ended prematurely.
In the decisive set of the Finals, Robinson snatched up the first wave and scored an impossible 9.90. All three locals followed with incredible screaming tubes of their own, but all got clipped or bucked off before finding an exit. Defending Champion and Padang local Mega Semadhi in particular had a surefire 10 but was axed by the lip.
Robinson would go on to back up his 9.90 with another impossibly long ceiling climber before getting spat out in the channel. The judges had already dropped the 9.90 and had nowhere to go but up. Robinson had a perfect 10 and the field was comboed and essentially all needing two perfect 10s. The local boys continued to put up a good fight, including a 9.5 from Bol, but in the end the day belonged to the young man from WA.
It was all smiles from all four finalists on the podium, who all knew they had just feasted on the best day of waves at Padang in years.
"I'm feeling pretty lucky," Semadhi said on the winner's podium. "I've got the whole collection of Finals trophies: fourth, third, second, and first. It was such an amazing two days of surfing. Everyone got so barreled. You can't ask for more."
For Robinson, a longtime annual visitor to Bali, it was just another day of trading epic waves with his Indonesian mates.
"We're pretty much neighbors," Robinson said. "I live down in West Oz, only three hours away. It's the same ocean, and I've been coming here and surfing with my friends since I was a little kid. To be able to surf a day like this at Padang with all of them, it doesn't get any better than this."
FINAL
1st Jack Robinson (AUS) 19.90
2nd Agus "Blacky" Setiawan (IND) 17.15
3rd Made Adi Putra (IND) 15.75
4th Mega Semadhi (IND) 11.00
Semifinal 1
1st Agus "Blacky" Setiawan (IND) 19.85
2nd Made Adi Putra (IND) 19.05
3rd Jacob Willcox (AUS) 18.15
4th Bruno Santos (BRA) 13.10
Semifinal 2
1st Jack Robinson (AUS) 18.60
2nd Mega Semadhi (IND) 17.85
3rd Josh Kerr (AUS) 15.40
4th Garut Widiarta (IND) 14.65