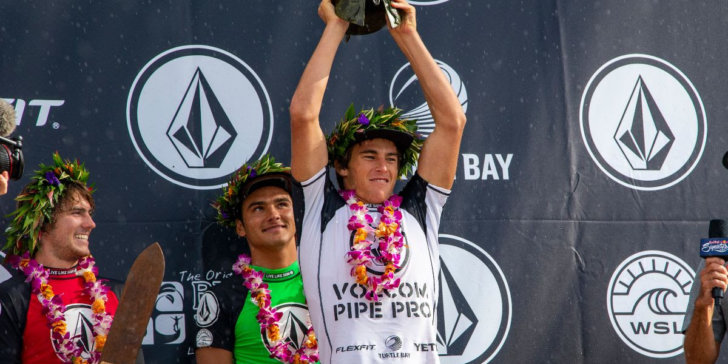 – Robinson Becomes Sixth Volcom Pipe Pro Champion, Second International Victor
– Barron Mamiya Gets 2019 Rolling With Runner-up
– Australia's Reef Heazlewood, Volcom Team Rider Balaram Stack Earn Finals Appearance

Jack Robinson (AUS), 2019 Volcom Pipe Pro QS 3,000 winner.
CREDIT: © WSL / Keoki
Banzai Pipeline, North Shore, Oahu, Hawaii
Volcom Pipe Pro Men's QS 3,000
Event Complete – Congratulations, Jack Robinson
BANZAI PIPELINE, Oahu/Hawaii (Tuesday, February 5, 2019) – Jack Robinson (AUS) was crowned the 2019 World Surf League (WSL) men's Qualifying Series (QS) Volcom Pipe Pro QS 3,000 champion outright in pristine, 6-to-8 foot (10-foot plus wave faces), occasional plus, WNW swell at Pipeline and Backdoor over a heavily-stacked finals day field. The 22-year-old fulfilled a part of his destiny with this victory, known for charging waves of consequence from a young age at his home of Western Australia. But, he's also put his time in at the mecca here on Hawaii's North Shore and finally capitalized on that experience."

"I'm on top of the world, couldn't have more confidence to start the year off with a win here — it's about as good as it gets," Robinson said. "It's the hardest contest all year and Pipeline I feel like chooses guys. If a wave comes it comes. You have to be so on to win this contest. You can do all the preparation in the world to be ready, but if the wave doesn't come to you then you're left on the outside looking in. Thank you to everyone for coming out and supporting me. I couldn't do this without my dad, my friends, my girlfriend — all the local boys here make me feel at home."

Robinson brought his fearless approach to finals day and posted the event's highest heat total in the process — a 19.57.
Credit: WSL/ Heff
Robinson took on Oahu, Hawaii's, own Barron Mamiya, fellow Australian Reef Heazlewood, and the first Volcom team rider to make a Final at this event, and known Pipe charger, Balaram Stack (USA). An early start for Robinson garnered him a 7.00 (out of a possible 10) before Mamiya topped that with a 7.50. Heazlewood got in the mix with an excellent 8.00 to take the lead, but Robinson was quick to respond and threw himself over the ledge on a Backdoor bomb to post a 7.87 and ultimately claim the victory. Now, Robinson looks to carry this momentum into the rest of 2019.
"I feel confident and just want to get to the World Tour already," Robinson added. "That's where I'm meant to be I feel. It's going to be a lot of hard work to get there, but I feel like it's time."
The 2019 Volcom Pipe Pro champ also posted the event's highest heat total of a near-perfect 19.57 (out of a possible 20) in Round 5 to start the day's proceedings.

Mamiya found the day's gems and nearly pulled off a win for his home island of Oahu, Hawaii.
Credit: WSL/ Heff
Runner-up Mamiya, along with Robinson, posted a Perfect 10 en route to his terrific finish and set himself up for a big year on the QS. The 19-year-old also earned the Banzai Bowl "Life in the Bowl" award for best barrel with that Perfect 10. It marks a great start for the young, upcoming QS threat as he has his goals set high heading into a full season — his first full-time year away from the Pro Juniors.
"I think I had a great day even though I didn't win, obviously I wanted to, but I had three really great heats that I'm really excited about," Mamiya said. "Pipeline is a very special wave to me and I've always studied the best guys out here like John (John Florence), Jamie (O'Brien), and Kelly (Slater), and I just want to surf like them out here. Last year I had a hard year and didn't make any heats really, but this is a big confidence booster and I'll look to keep backing this up."

Australian Heazlewood was relentless throughout the competition and it showed with a Finals appearance.
Credit: WSL/ Keoki
Starting the year off with a bang, Heazlewood is also on the watchlist for 2019 threats and proved it today — taking down defending event champion Joshua Moniz (HAW) in the Quarterfinals en route to his third-place finish. Now, the Australian plans for a big run at home with two QS 6,000-level events awaiting, along with another QS 3,000.
"Just kept getting through and thinking, one more heat, one more heat," Heazlewood said. "Then the next thing I know I'm in the Final. It felt like just another heat, but with the best guys out there which was awesome — couldn't have wanted anything less. It was just beautiful conditions and to spend so much time out there was awesome. I can't believe that it's worked out this way and now I just want to keep it rolling throughout the year."

Stack, no stranger to Pipeline foam balls.
Credit: WSL/ Heff
One of Pipeline's most notable winter season chargers, Stack, made his first-ever QS Final in dynamic fashion with a buzzer-beater in the Semifinals to join eventual third-place finisher Heazlewood. The Final didn't quite come together for the New York, N.Y., born-and-raised surfer but it was a dream come true for Stack to represent for the house he's stayed in for countless winters on the North Shore.
"This was beyond any of my expectations and it's crazy just having everyone here for my first Final," Stack said. "It's my favorite wave in the world and you couldn't ask for much more. I'm taking this home forever. Right when I was going down for the heat every time, all the boys just yelling was probably the best part (laughs). That was just incredible and those boys were pushing it all event so to share that with them was great."

Kalani David (R) embracing Jeannie Chesser (Center), accepting the Todd Chesser Award
Credit: WSL/ Keoki
Finishing off notable moments, North Shore, Oahu's, own Kalani David earned the prestigious Todd Chesser Charger of the Event Award, presented by the late Chesser's beloved mother Jeannie for showing heart and remaining humble both in and out of the water while putting on a great display of surfing.
For more information about the Volcom Pipe Pro, visit worldsurfleague.com and volcom.com.
About Volcom
Inspired by the creative spirit, Volcom was founded in 1991 and creates products for the persistent who are true to their passions. We were born to chase what we are true to. It's not that we want to… WE HAVE TO. We have a vision that turns obstacles into opportunity, creative courage to tempt the impossible… And embrace the strange. Telling us to push further…To try again. Endlessly seeking elevation, we are all connected by this same internal force. Forever we chase that intoxicating moment when our vision is realized…The world around us goes quiet…And for brief moments, we are more than alive. Volcom, True To This.
About Red Bull TV
Red Bull TV features beyond ordinary live events and videos featuring inspirational stories covering sports, music and lifestyle entertainment. Anytime, anywhere. Red Bull TV is available on the web, connected TVs, gaming consoles, mobile devices, and more.
Volcom Pipe Pro Final Results:
1 – Jack Robinson (AUS) 14.87         3,000 points
2 – Barron Mamiya (HAW) 12.67    2,250 points
3 – Reef Heazlewood (AUS) 9.57     1,680 points
4 – Balaram Stack (USA) 6.93           1,580 points
Volcom Pipe Pro Semifinal Results:
All surfers from Hawaii (HAW) unless otherwise noted 
1st and 2nd advance, 3rd place=5th, 4th place=7th 
SF 1: 1st Reef Heazlewood (AUS), 2nd Balaram Stack, 3rd Brodi Sale, 4th Miguel Tudela
SF 2: 1st Jack Robinson (AUS), 2nd Barron Mamiya, 3rd Cody Young, 4th Sebastian Zeitz
Volcom Pipe Pro Quarterfinal Results:
All surfers from Hawaii (HAW) unless otherwise noted 
1st and 2nd advance, 3rd place=9th, 4th place=13th 
QF 1: 1st Miguel Tudela (PER), 2nd Reef Heazlewood (AUS), 3rd Joshua Moniz, 4thTorrey Meister
QF 2: 1st Balaram Stack (USA), 2nd Brodi Sale, 3rd Aritz Aranburu (ESP), 4th Keanu Asing
QF 3: 1st Jack Robinson (AUS), 2nd Sebastian Zeitz, 3rd Skip McCulloch, 4th Soli Bailey (AUS)
QF 4: 1st Barron Mamiya, 2nd Cody Young, 3rd Gatien Delahaye (FRA), 4th Kalani David
Volcome Pipe Pro Round 5 Results:
All surfers from Hawaii (HAW) unless otherwise noted.
1st and 2nd advance, 3rd place=17th, 4th place=25st
Heat 1: 1st Joshua Moniz, 2nd Aritz Aranburu (ESP), 3rd Benji Brand, 4th Tyler Newton
Heat 2: 1st Torrey Meistser, 2nd Brodi Sale, 3rd Makai McNamara, 4th Billy Kemper
Heat 3: 1st Balaram Stack (USA), 2nd Reef Heazlewood (AUS), 3rd Wyatt McHale, 4thCristobal De Col (PER)
Heat 4: 1st Keanu Asing, 2nd Miguel Tudela (PER), 3rd Nolan Rapoza, 4th Kyuss King (AUS)
Heat 5: 1st Sebastian Zietz, Gatien Delahaye (FRA), 3rd Nicholas Squiers (AUS), 4thSheldon Paishon
Heat 6: 1st Jack Robinson (AUS) , 2nd Cody Young, 3rd Makuakai Rothman, 4th Keijiro Nishi (JPN)
Heat 7: 1st Barron Mamiya, 2nd Soli Bailey (AUS), 3rd Marc Lacomare (FRA), 4th Dusty Payne
Heat 8: 1st Kalani David, 2nd Skip McCulloch (USA), 3rd Kiron Jabour, 4th John Mel (USA)