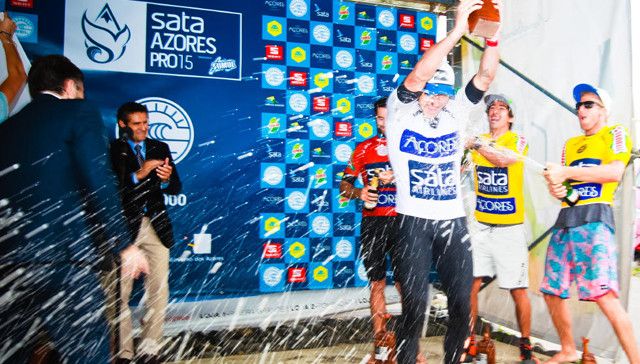 SATA Azores podium © WSL/Masurel
SATA Azores Pro 
World Surf League QS10,000 Men's event
Praia de Santa Barbara, Sao Miguel Azores Islands
22 – 27 September 2015
Freestone defeats Dion Atkinson to take the QS10,000-rated event
Surf News Network, 25 September, 2015. Praia de Santa Barbara, Sao Miguel Azores Islands – Jack Freestone (AUS), 23, has won the SATA Azores Pro over compatriot Dion Atkinson (AUS), 29, in an exciting final disputed in clean four-to-five foot surf at Praia de Santa Barbara.
In the final, Atkinson got active first and belted an excellent 8.67 on a beautiful left with a couple of radical turns. Freestone wasted no time in answering but limited by his choice of wave, could only belt a 7.17 and spent most of the first half of the heat chasing another high score. With 15 minutes on the clock, Freestone found a gem of his own and performed two critical turns for an excellent 8.33 and the heat lead.
The remainder of the heat witnessed an anxious Atkinson paddle into no less than six waves but eventually all his efforts were invested in vain and Freestone claimed the prestigious Azorean title.
"I'm so happy, those last twelve minutes watching Dion getting all the waves, I was so anxious," an emotional Freestone said. "I'm so psyched, I just can't believe I won this event, I've finally won a QS10,000. It's really satisfying to get up there on the rankings, it's a huge weight off my shoulder, and a lot of work has gone into it. I had a really good time in the Azores, staying in the marina it was beautiful there and we always surf the funnest waves so yeah it's been amazing."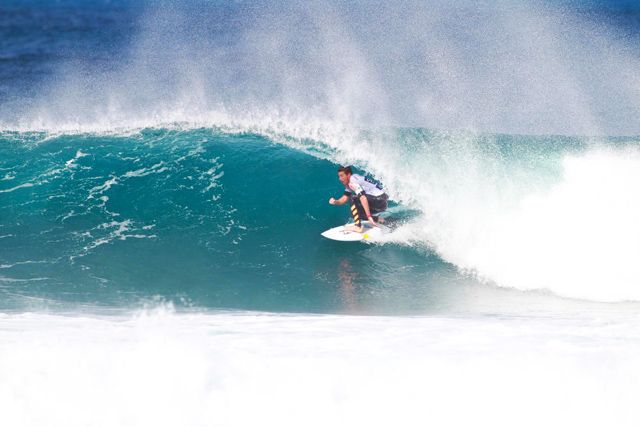 Jack Freestone © WSL/Masurel
Atkinson struggled to launched his finals day campaign with a tough opening heat against Adam Melling (AUS) 30, but found his rhythm in the quarters, posting two consecutive massive wins and big scores on the way to the final. Unfortunately the former CT competitor couldn't maintain his momentum and placed runner-up.
"Today has been so fun, it's so good that feeling that you get your surfing in the right place and there's been a lot of waves," Atkinson said. "Unfortunately I didn't win but it still feels like there's a lot of positive to come out of it. Obviously my goal is to get straight back on tour, I had a very slow start of the year, but finally I feel like it's all behind me and I want to keep doing good surfing. I watched Adam Melling win the Portuguese Waves Series a few years ago and it was fun to see, so fingers crossed I'll put on a good show in Cascais and we'll see what happens !"
In the first semifinal, Sebastian Zietz (HAW), 27, didn't find the excellent righthanders he had scored on all morning and while Atkinson built momentum on the lefts, Zietz stuck to an option that didn't pay off. Right on the bubble of requalification via the Samsung Galaxy Championship Tour, Zietz collects an important 6,500 ranking points to launch his QS campaign only a few weeks away from the Hawaiian home stretch of Haleiwa and Sunset.
"It was super fun to make a couple of heats," Zietz said. "It's good to get some momentum going and hopefully I can keep it up. Waves have been super rippable and some barrels today, looking at the sandbar there were some big opened barrels down there but I decided to surf where my opponent was and tried to outsurf him, but in the end I probably should have gone where the waves were best."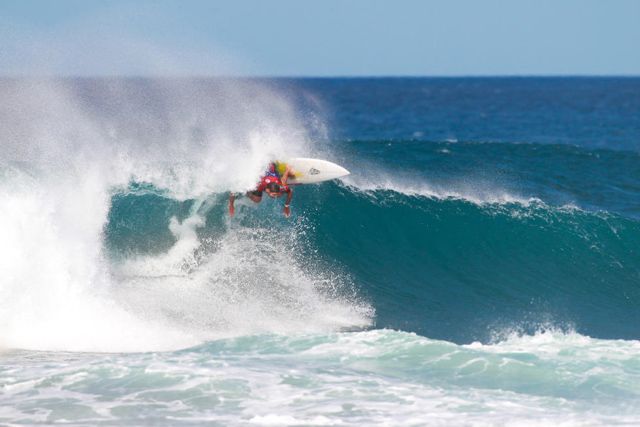 Dion Atkinson © WSL/Masurel
In the following heat, Miguel Pupo (BRA), 23, was leading with two average scores for most of the heat, before Freestone launched into two successive airs to put Pupo in a combination situation on the 5 minute mark. Pupo, who had earlier found the second perfect 10 point ride of the event with a solid backhand barrel his in quarterfinal matchup against Kolohe Andino (USA), 21, couldn't find the magic peak and placed equal third.
"I had planned to go surf the little right corner, but I knew Jack was going to sit further down the beach were we saw a couple of good waves before our heat so I didn't want to give him a chance to be alone and score a perfect barrel," Pupo said. "I had a good result in Trestles and I'm doing ok on the CT, but I decided to come here with my filmer and come freesurf a lot and do the event at the same time. I was staying with friends here and a super cool crew so we had a great time."
With his win today, Freestone claims an early lead in the Portuguese Waves Series – Cascais Trophy rankings and will take his act to the upcoming Allianz Billabong Pro Cascais, starting next Monday in mainland Portugal.
The SATA Azores Pro is scheduled from September 22-27, 2015 at PRAIA DE SANTA BARBARA, Sao Miguel – Azores Islands. For all results, photos, video highlights and press releases, log on to worldsurfleague.com.
The SATA AZORES Pro is organized by DAAZ Eventos with the support of the following event partners:  SATA Airlines, Governo Regional dos Acores, Turismo dos Açores, Câmara Municipal da Ribeira Grande, SUMOL, SEAT , MOCHE, amongst other.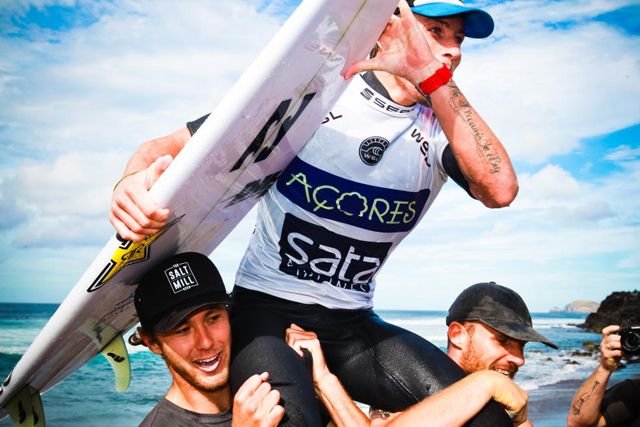 Jack Freestone © WSL/Masurel
SATA AZORES PRO FINAL RESULTS:
1 – Jack Freestone (AUS) 15.50
2 – Dion Atkinson (AUS) 15.00
SATA AZORES PRO SEMIFINAL RESULTS:
SF 1: Dion Atkinson (AUS) 15.67 def. Sebastian Zietz (HAW) 11.57
SF 2: Jack Freestone (AUS) 16.23 def. Miguel Pupo (BRA) 11.00
SATA AZORES PRO QUARTERFINAL RESULTS:
QF 1: Dion Atkinson (AUS) 15.77 def. Hizunome Bettero (BRA) 14.90
QF 2: Sebastian Zietz (HAW) 18.37 def. Pedro Henrique (PRT) 15.40
QF 3: Jack Freestone (AUS) 17.40 def. Bino Lopes (BRA) 17.23
QF 4: Miguel Pupo (BRA) 16.50 def. Kolohe Andino (USA) 9.50
SATA AZORES PRO ROUND OF 16 RESULTS:
Heat 1: Dion Atkinson (AUS) 7.33 def. Adam Melling (AUS) 2.33
Heat 2: Hizunome Bettero (BRA) 13.00 def. Brent Dorrington (AUS) 8.67
Heat 3: Pedro Henrique (PRT) 17.10 def. Alex Ribeiro (BRA) 3.17
Heat 4: Sebastian Zietz (HAW) 12.10 def. Wigolly Dantas (BRA) 9.93
Heat 5: Jack Freestone (AUS) 14.00 def. Carlos Munoz (CRI) 7.10
Heat 6: Bino Lopes (BRA) 11.93 def. Aritz Aranburu (ESP) 8.37
Heat 7: Kolohe Andino (USA) 13.33 def. Timothee Bisso (GLP) 3.90
Heat 8: Miguel Pupo (BRA) 11.77 def. Eric Geiselman (USA) 9.83