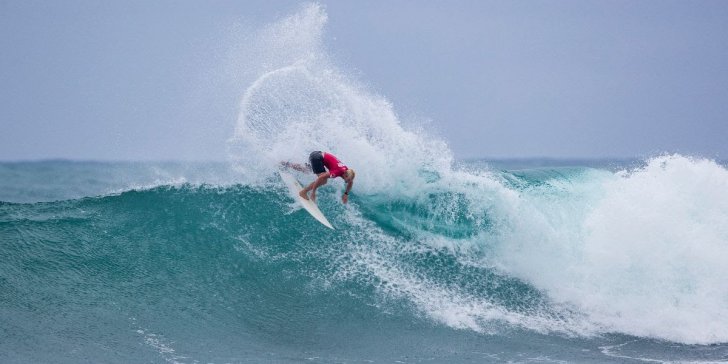 Jordy Smith Intent on Earning First VTCS Title
Former Winner Wade Carmichael into Round 4
Pictured: Nat Young (USA) demonstrates he belongs among the world's best with today's excellent surfing.
Credit: © WSL / Heff
Haleiwa, Oahu/HAWAII — (Sunday, November 17, 2019) — The third consecutive day of competition at the Hawaiian Pro unfolded as top-seeded surfers stole the show, each adding a new level of drama and expertise to the World Surf League (WSL) Men's Qualifying Series (QS) 10,000 event. Triple overhead conditions ripped through Haleiwa Ali'i Beach as the Vans Triple Crown of Surfing heated up with high-action surfing, including next-to-perfect performances from Jack Freestone (AUS) and Nat Young (USA).
Freestone put it on rail to garner the best wave of the day, an excellent 9.17 (out of a possible 10) for a massive opening carve and snap off the lip that checked all the boxes for speed, power and flow. The Australian is coming off a successful run in Europe, where a third place in France and fifth in Portugal put him back in a position to requalify on the 2020 Championship Tour (CT).
Pictured: Jack Freestone (AUS) moved on today after dropping a 9.17 in Round 3 Heat 6.
Credit: © WSL / Heff
Freestone looked potent in the challenging conditions, but with only a 5.60 as a backup score, he left the door open for Ian Gouveia (BRA) to overtake the lead. With a spring-loaded style, the Brazilian earned a two-wave total of 14.83 to Freestone's 14.77 and the heat win.
A second-generation professional surfer, Gouveia's father, Fabio, was the first Brazilian to ever win a CT event in 1991, which happened to be the Vans World Cup of Surfing at Sunset Beach. For Gouveia, his first run on the CT came in 2017 after a good European QS leg and strong finish at the Vans World Cup in 2016. Now back on the QS at No. 32, he is fighting to regain a spot among the world's elite and will be counting his results here in Hawaii at the final competitions of the year.
World title contender Jordy Smith (ZAF) ended the day a step above the rest after landing a massive floater followed by a dramatic airdrop with the lip for a 7.33. A new part-time resident of the North Shore, Smith continues to put in countless hours freesurfing the 'Seven Mile Miracle', proving there is no substitute for hard work and dedication when it comes to the heavy North Pacific energy.
Pictured: Jordy Smith (ZAF) carves out a heat win as one of the competition veterans in the 2019 Vans Triple Crown.
Credit: © WSL / Heff
"There's some good waves out there when you get them, if you can pick the second wave of the set, cleaner walls," said Smith on the tricky conditions. A standout in professional surfing for years, he has yet to clinch the elusive Vans Triple Crown title. With a win in 2016 at the Vans World Cup of Surfing, he is eyeing a maiden win this season. "It'd be awesome," he continued. "I've been the bridesmaid a bunch of times. It'd be really cool to get that victory."
Event wildcard Kyuss King (AUS) went against Smith, Carlos Munoz (CRI) and O'Neill Massin (PYF) with an energetic surfing beyond his years. The field stacked against him however, and despite the teen's respectable efforts he was unable to advance. Munoz had two good scores — a 6.27 and 6.13 — that he stamped with an exclamation point for a bid into Round 4.
One of the most charged heats of Round 2 saw former CT surfer Nat Young (USA) drop a 9.13 for a combination of committed, vertical turns on his backhand. He added another excellent ride to the scoreline, an 8.23, for the lead on fellow goofy-footer Tanner Gudauskas (USA), who showed great wave selection for a 13.97 heat total. Meanwhile Vasco Ribeiro (PRT) and Hawaiian challenger Josh Moniz (HAW) were eliminated from competition.
Pictured: Nat Young (USA) was in-form and on-point today with wave selection.
Credit: © WSL / Heff
"It was super fun," Young said of his near-perfect ride. "I got a couple weird waves but it's really clean when you pick the right ones. There's nothing better than some of these waves at Haleiwa, probably the most rippable bigger wave I've ever surfed, just fun when you get to surf and catch waves like that."
Hailing from the legendary surf town of Santa Cruz, California, Young surfed five successive years on the CT from 2013 to 2017 and consistently competes at a high level among the world's best. However, with re qualification continuing to escape him in recent years, he is taking a new approach to competition.
"I don't really feel any pressure to be honest with you," he said post-heat. "I've been in this position for three years and stressing out three years in a row, so right now there's no reason to stress, it doesn't do any good. I just want to surf, and it looks like the forecast is good."
Maui's Eli Hanneman (HAW) is one of the few local athletes surviving from Round 1 and had a clean performance today in the churning conditions. The 17-year-old stomped a grab-rail air reverse and earned a 6.50 for the single maneuver. While his air game looked deadly, Hanneman caught the attention of judges, fans and commentators alike by adding another 6.50 to his scoreline by switching things up with a big power turn. Hanneman moves onto Round 4 in his first-ever Vans Triple Crown and is one of only five rookies remaining in the Hawaiian Pro.
Pictured: Eli Hanneman's (HAW) progressive style was in a league of its own today.
Credit: © WSL / Heff
"It's pretty crazy to finally be in one," said Hanneman on his first experience in the Vans Triple Crown. "I've always watched them and it's definitely a big part of the Hawaii surf community. Everyone knows the Triple Crown, it's pretty sick to make a few heats."
When asked about his strategy, the young gun disclosed his approach: "Airs were definitely a big part of [my mindset], just because I'm way smaller than everyone so I have to find ways to stand out in my own way. I'd love to go out there and just do turns but I don't think it's going to cut it for the level that these guys are at. I just wanted to make one heat here, but I made two so I'm pretty stoked. I just want to show people what I can do. I feel like I have more in me so I'm stoked."
Haleiwa is a rite of passage for both local and traveling surfers. It equalizes the playing field since challenging conditions pit competitors against the ocean, rather than one another. One athlete from Round 3 that epitomized this was former Hawaiian Pro winner Wade Carmichael (AUS). Surfing with authority, he quickly built momentum with a 6.33 and 5.57 for heavy-hitting turns that proved his prowess at Haleiwa Ali'i Beach.
Pictured: Wade Carmichael (AUS) justified his prior win at Haleiwa with hacks like this.
Credit: © WSL / Keoki
"That was a great feeling and kind of kicked off my career," Carmichael said of his victory in 2015. "To be back is really good because there's swell on the horizon too, so it's just going to be a lot of fun and I'm going to enjoy all of it."
In the same heat, CT hopeful Jorgann Couzinet (FRA) put it all on the line after getting to his feet on the horn but missed advancement by just 1.50 points to Tomas Hermes' (BRA) 11.00 heat total. One of the biggest upsets of the day, Couzinet — who came into the Hawaiian Pro ranked No. 7 on the QS — ended the competition in 33rd place with 1,100 points and will now count on the Vans World Cup of Surfing to increase his positioning.
The Vans Triple Crown has been running for 37 consecutive years on Oahu's North Shore and determines the best competitive surfer at three defining and world-class waves: Haleiwa, Sunset and Pipeline. The Hawaiian Pro at Haleiwa Ali'i Beach has a holding window from November 13 – 24 and will see a winner emerge to take the lead on the VTCS rankings. The second stop of the series is the Vans World Cup of Surfing at Sunset Beach from November 25 – December 7, and the final event is the Billabong Pipe Masters at Banzai Pipeline from December 8 – 20.
Witness the action LIVE via state-of-the-art broadcast on WorldSurfLeague.com, VansTripleCrownOfSurfing.com, Facebook.com/wsllive and on the free WSL app. Or tune into Spectrum SURF channels 20 and 1020HD, which will televise the action LIVE and in replay across the state of Hawaii.
About Vans
Vans®, a VF Corporation (NYSE: VFC) brand, is the original action sports footwear, apparel and accessories brand. Vans® authentic collections are sold in 84 countries through a network of subsidiaries, distributors and international offices. Vans® has over 2,000 retail locations globally including owned, concession and partnership doors. The Vans® brand promotes creative self-expression in youth culture across action sports, art, music and street culture and delivers progressive platforms such as the Vans Park Series, Vans Triple Crown of Surfing®, Vans Pool Party, Vans Custom Culture, and Vans' cultural hub and international music venue, House of Vans.
Vans, "Off The Wall" Since '66