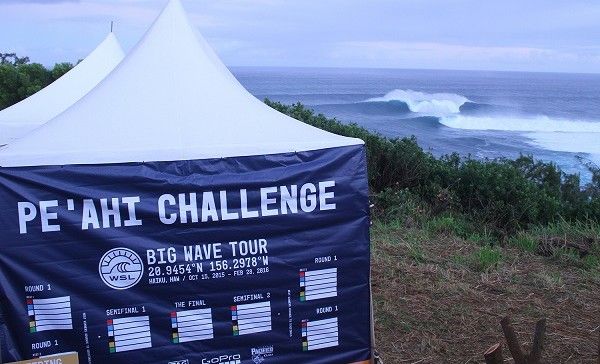 ….BIG WAVE SURFERS LIVE AT PE'AHI CHALLENGE (Full story coming).
PE'AHI CHALLENGE DONE IN MASSIVE CAT. GOLD SURF (45+ PEAK FACES)
2015 Pe'ahi Challenge – World Surf League
Heat 1
4.53 Avg Wave Score
−
Mammoth surf greeted competitors for the Pe'ahi Challenge!
Image: WSL / Scholtz
 PE'AHI, Maui/Hawaii (Sunday, December 6, 2015) – The WSL Big Wave Tour (BWT) Pe'ahi Challenge has been called ON commencing at 8am this morning in massive 40' faces at the infamous big wave location. This marks the first BWT event at Pe'ahi, famously known as 'Jaws,' with competitors paddling into the gigantic swell – no tow-assist will be given.
"We're looking at true Pe'ahi this morning with forty-to-fifty-foot-plus faces coming in this morning," WSL Big Wave Commissioner Pete Mel said. "It's what we were hoping for with the rise in bouys yesterday afternoon and everyone is excited for what's in store. It will ease up throughout the day, even as the morning progresses, but still provide us plenty of incredible waves to crown a champion this afternoon."
We picked up a couple more satellite passes measuring wave heights in the now weakening storm, including one measurement of 35-38' seas (slightly above model guidance) around 1200 miles northwest of Hawaii. So no real change on swell size/arrival time from our last update. Swell peak still looks likely to be somewhere around 2AM for Maui, with the largest waves showing at Pe'ahi first thing Sunday morning in the 30-40' range (face size) on the sets. I think max sets near 45' on the face are still possible first thing. The swell will trend down through the afternoon, but still in the 20-35' range on the face into the early afternoon. Surfline.
The Pe'ahi Challenge will be webcast LIVE, starting at 7:30am on WorldSurfLeague.com with an expected 8am start. Additionally, the Pe'ahi Challenge will be broadcast LIVE on Oceanic Time Warner Cable in Hawaii as well as FUEL TV in Australia.
First in the water for Heat 1, Round 1 of the Pe'ahi Challenge, Gabriel Villaran (PER), Nathan Fletcher (USA), Carlos Burle (BRA), Dave Wassel (USA), Billy Kemper (HAW) and Nic Vaughan (USA) will take on the incredible waves on hand.
UPCOMING PE'AHI CHALLENGE ROUND 1 MATCH-UPS:
Heat 1: Gabriel Villaran (PER), Nathan Fletcher (USA), Carlos Burle (BRA), Dave Wassel (USA), Billy Kemper (HAW), Nic Vaughan (USA)
Heat 2: Makuakai Rothman (HAW), Greg Long (USA), Patrick Gudauskas (USA), Aaron Gold (HAW), Shaun Walsh (HAW), Trevor Carlson (HAW)
Heat 3: Nic Lamb (USA), Grant Baker (ZAF), Yuri Soledade (HAW), Mark Healey (HAW), Albee Layer (HAW), Tyler Larronde (HAW)
Heat 4: Anthony Tashnick (USA), Natxo Gonzalez (EUK), Koa Rothman (HAW), Shane Dorian (HAW), Ian Walsh (HAW), Kei Lenny (HAW)
PE'AHI CHALLENGE OFFICIAL INFORMATION:
Please be aware there is no public access available to the Pe'ahi Challenge Big Wave Tour competition being held December 6 at the Maui surf break also known as Jaws. The cliff edges surrounding the break are private property and the event permits limit the number of personnel and vehicles in the area due to safety and environmental concerns. Big wave fans can catch all the action live on the webcast at WorldSurfLeague.com and on Oceanic Time Warner Cable in Hawaii (check listing for channel) starting at 7:30 AM Hawaiian time as well as FUEL TV in Australia.  There are also two viewing parties on Maui at the venues noted below which will have the contest steaming on big screen TVs and a great place to enjoy the event in a festive, safe environment. Police and event security will be controlling all vehicle and pedestrian access to the property and the pubic is asked to avoid the Hana Highway area east of Paia on Sunday to reduce traffic congestion.
Official Pe'ahi Challenge viewing party locations:
Charley's Restaurant & Saloon
142 Hana Hwy, Paia, HI 96779
Phone:(808) 579-8085
http://charleysmaui.com
LuLu's Lahaina Surf Club & Grill
1221 Honoapiilani Hwy, Lahaina, HI 96761
Phone: (808) 661-0808
https://www.facebook.com/LulusLahainaSurfClubGrill/