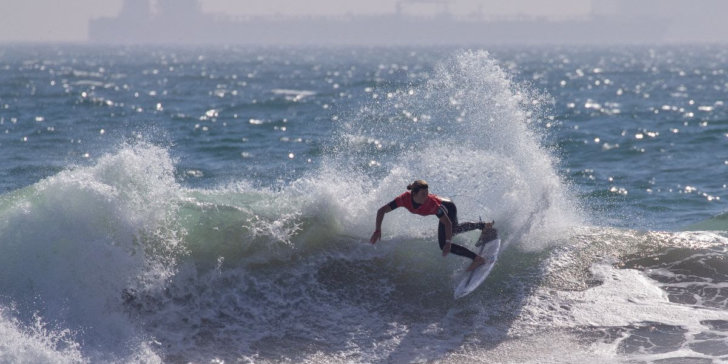 Men and Women Deliver Big Performances at US Open Huntington Beach pres. by Shiseido
Some of the World's Best Women Debut Brilliantly, Men Surge to Finish Round 1
Kirra Pinkerton Represents Strong for Southern California
Former CT Competitors Dimity Stoyle, Coco Ho Come Out Swinging
Kanoa Igarashi Dismantles Hometown Lineup in Debut Amid International Standouts
2 Renown Hawaii Talents, Mason Ho and Billy Kemper are out.
Front Page: Coco Ho (HAW) making easy work of the tough afternoon conditions on offer. Credit: WSL/ Morris
World renowned competitor Coco Ho (HAW) made her Challenger Series debut following her brother, Mason's, elimination earlier today and claimed a big win over next generation surfers. Ho's backhand attack was on full display and ultimately led her to victory in tough, afternoon conditions as the prevailing winds jumbled the lineup.
"(The waves) kind of picked up in a weird way so I was aiming at that left but I didn't want to get too one dimensional," said Ho. "That's how my dad taught to me surf when he would point out rips so it's almost subconscious to me to take my time and position my board to use that rip as the lip. Especially knowing it was changing while I was still out there. And these young girls are ripping so I was definitely on my toes in that heat."
Also notching clutch Round 1 victories, South Africa's Sarah Baum, Portugal's Yolanda Hopkins, and Keala Tomoda-Bannert (HAW) who all advance on to Round 2.
 Former World Junior Champion Kirra Pinkerton (USA) made her Challenger Series (CS) debut worthwhile. Credit: © WSL/ Kenny Morris
HUNTINGTON BEACH, Calif./USA (Tuesday, September 21, 2021) – The US Open of Surfing Huntington Beach presented by Shiseido, a World Surf League (WSL) Challenger Series (CS) witnessed more impressive competition from some of the world's best surfers in two-to-three foot swell. Men's Round 1 finished in its entirety before action shifted to women making their US Open debut in immaculate form.
Kirra Pinkerton Blasts Through Challenger Series Debut
Team USA Olympian and Championship Tour (CT) No. 6, Caroline Marks comes into the US Open fresh off a Regional Qualifying Series (QS) victory at the Nissan Super Girl Surf Pro and brought that momentum into her Round 1 Heat 1 win. However, it was San Clemente, California, competitor Kirra Pinkerton who raised the bar for American's surfing, and the 18-year-old found redemption after an early exit in Oceanside, California, and earned a massive Round 1 victory to begin her momentum swing.
"Every time I paddle for a wave that I think will be a good wave, I think my adrenaline kicks in a little more," said Pinkerton. "The waves were slower as well so I wanted to make sure I got priority over the other girls. Hopefully I can keep that going and make it through all my heats this week."
Pictured: Dimity Stoyle (AUS) all business heading into her first Challenger Series appearance. Credit: WSL/ Morris
Former CT competitor Dimity Stoyle (AUS) displayed her world-class forehand attack for all those in attendance and watching online with an incredible 15.10 (out of a possible 20) heat total. The iconic wave of Snapper Rocks, Australia, helped shape her dominant forehand and has stuck with the same equipment she feels comfortable on to lead her to a big result.
"I was 'shimmy-ing' right through that," laughed Stoye, who DJs under the pseudonym 'Shimmy Disco'. "It's so good to be back here and so long since I've surfed Huntington. I was actually so nervous, it was crazy. I haven't surfed an event in so long and the waves have been pumping at home on the Gold Coast and I just want to perform."
Fellow Australians including former CT competitors Keely Andrew, Macy Callaghan, and qualification hopeful Kobie Enright also put on a clinic while 2020/21′ CT Rookie of the Year Isabella Nichols (AUS) was eliminated from competition.
Huntington Beach Hero Kanoa Igarashi Surges in Men's Event
Pictured: One of Huntington Beach's own showed he's ready for a charge toward his third US Open title. Credit: WSL/ Morris
Olympic Games Tokyo 2020 Silver Medalist and two-time US Open victor Kanoa Igarashi (JPN) lit up his home break of Huntington Beach in phenomenal form. The 23-year-old grew up in these waters and looks to join the elite company of Tom Curren and Rob Machado with three US Open titles while enjoying every moment of being home – though the well-traveled competitor always has his thoughts on the road.
"Living here in Huntington Beach we have a few options to surf but I always surf southside," said Igarashi. "I've spent a lot of time out here and it's given me a lot of waves. Surfing makes the world boundaryless for us and I've been lucky to travel around the world, and surfing's the international language. I love surfing, that's why I compete here in the US Open, I love competing and it all blends together."
Pictured: At age 35, Willian Cardoso (BRA) is not showing any signs of slowing down. Credit: WSL/ Nichols
Willian Cardoso (BRA) returns to the Huntington Beach Pier arena in search of rejoining the Championship Tour (CT) elite after falling off Tour in 2019. The 35-year-old hasn't lost his vigor in the jersey and proved that in his Round 1 Heat 20 debut with a solid 7.83 in the conditions on offer – over taking higher-seeded competitors Matthew McGillivray (ZAF), also advancing, and Ian Gentil (HAW).
"After I fell on my first wave I thought I was going to lose," expressed Cardoso. "I saw a wave in the middle of the zone that I thought could help me get a couple scores, and if they came through I knew I could do my job. It would make me so happy (to make the CT again). The last year and a half at home was such a good experience being with my son every single day and that's making me stronger to be here."
Fellow Brazilian Edgard Groggia also made a big debut of his own alongside San Clemente's, California, Kade Matson as they eliminated former CT competitor Wade Carmichael (AUS) and France's threat Charly Quivront.
Pictured: Maxime Huscenot (FRA) showed his fearlessness in the face of pounding shorebreak. Credit: WSL/ Morris
But, France's hopes weren't dwindled with Maxime Huscenot delivering an impeccable performance in Round 1 Heat 22. The Frenchman overpowered East Coast threats Evan Geiselman (USA), also advancing, and Michael Dunphy (USA) along with Brasil's rising talent Lucas Vicente. This marks Huscenot's 12th US Open appearance, his best result a Quarterfinals finish, and he remains hungry for a big result.
"If I have priority and I notice that the other direction has a possibility, and I can keep a surfer off the wave when it's slow like that, I will do that to take away their opportunity," explained Huscenot. "I didn't get many waves in the freesurf, maybe three waves in an hour and a half just with everyone out there, so I knew in my heat I'd get to be more active.
Also advancing into Round 2, Australia's duo of QS standout Jordy Lawler and aerial expert Reef Heazlewood took down their heat wins as Brasil's Joao Chianca – brother to Big Wave Tour competitor Lucas – also joins these standouts with an advancing position.
The Ultimate Surfer
Pictured: Brianna Cope (HAW) will be in the final showdown of The Ultimate Surf with her US Open debut set for tomorrow. Credit: ABC
The Ultimate Surfer season finale, which airs tonight, September 21, at 10pm ET/PT on ABC, features US Open of Surfing Huntington Beach pres. by Shiseido competitors Ezekial Lau (HAW), Brianna Cope (HAW), and Tia Blanco (PRI), alongside 11X World Champion Kelly Slater, who surprises the finalists with a once-in-a-lifetime coaching session. After a neck-and-neck race at the Final Surf Off, one man and one woman are crowned The Ultimate Surfers, winning $100,000 and the opportunity to compete on the WSL CT.
A 7:30am PDT call will determine a likely 8:05am PDT start for women's Round 1 Heat 11 with men's Round 2 on standby.
Global partners for the US Open of Surfing Huntington Beach pres. by Shiseido include Michelob Ultra, Jeep, Hydro Flask, Expedia, Red Bull, Oakley Sunglasses, and BFGoodrich join with event partners Frontier, Flying Ember, US Army, Apple Test, Fu Wax, Super73, Regional, DraftKings, and Waterloo along with local sponsor Visit Huntington Beach representing for Surf City USA.
Watch LIVE
Watch the US Open of Surfing presented by Shiseido LIVE September 20 – 26 on WorldSurfLeague.com and YouTube, as well as the free WSL app.
COVID-19 Safety Protocol Update
The health and safety of athletes, staff, and the local community are of the utmost importance and the WSL has been working closely with local authorities to put a robust set of procedures in place. This includes testing and advance screening protocols, physical distancing and limited personnel on-site.
US Open of Surfing Huntington Beach pres. by Shiseido Women's Round 1 (H1-11) Results:
Heat 1: Caroline Marks (USA) 11.10 DEF. Daniella Rosas (PER) 9.50, Tia Blanco (USA) 9.36, Natasha Van Greunen (ZAF) 6.67
Heat 2: Kobie Enright (AUS) 12.73 DEF. Vahine Fierro (FRA) 12.43, Meah Collins (USA) 9.67, Savanna Stone (HAW) 7.43
Heat 3: Kirra Pinkerton (USA) 12.34 DEF. Dominic Barona (ECU) 11.54, Tessa Thyssen (FRA) 9.23, Maud Le Car (FRA) 6.97
Heat 4: Dimity Stoyle (AUS) 15.10 DEF. Gabriela Bryan (HAW) 13.00, Autumn Hays (USA) 8.60, Chelsea Tuach (BRB) 8.20
Heat 5: Keely Andrew (AUS) 11.40 DEF. Leilani McGonagle (CRI) 10.34, Zoe Benedetto (USA) 9.83, Luana Silva (HAW) 9.40
Heat 6: Sarah Baum (ZAF) 9.87 DEF. Pauline Ado (FRA) 9.44, Holly Wawn (AUS) 8.73, Ellie Brooks (AUS) 7.63
Heat 7: Macy Callaghan (AUS) 12.60 DEF. Teresa Bonvalot (PRT) 11.00, Samantha Sibley (USA) 10.66, Kailani Johnson (IDN) 7.36
Heat 8: Coco Ho (HAW) 12.76 DEF. Sawyer Lindblad (USA) 11.03, Minami Nonaka (JPN) 9.73, Carolina Mendes (PRT) 7.30
Heat 9: Yolanda Hopkins (PRT) 9.37 DEF. Garazi Sanchez-Ortun (EUK) 9.26, Isabella Nichols (AUS) 7.50, Chiasa Maruyama (USA) 6.74
Heat 10: Keala Tomoda-Bannert (HAW) 12.26 DEF. Ariane Ochoa (EUK) 9.53, Sol Aguirre (PER) 8.56, Mahina Maeda (JPN) 8.33
US Open of Surfing Huntington Beach pres. by Shiseido Men's Round 1 (H19 -24) Results:
Heat 19: Jordan Lawler (AUS) 12.66 DEF. Alonso Correa (PER) 12.10, Weslley Dantas (BRA) 11.03, Billy Kemper (HAW) 10.10
Heat 20: Willian Cardoso (BRA) 12.70 DEF. Matthew McGillivray (ZAF) 11.67, Ian Gentil (HAW) 10.73, Dylan Lightfoot (ZAF) 7.37
Heat 21: Edgard Groggia (BRA) 12.40 DEF. Kade Matson (USA) 12.37, Wade Carmichael (AUS) 9.93, Charly Quivront (FRA) 9.47
Heat 22: Maxime Huscenot (FRA) 12.30 DEF. Evan Geiselman (USA) 11.60, Lucas Vicente (BRA) 11.50, Michael Dunphy (USA) 11.07
Heat 23: Reef Heazlewood (AUS) 12.13 DEF. Joao Chianca (BRA) 11.56, Crosby Colapinto (USA) 10.37, Mason Ho (HAW) 9.33
Heat 24: Kanoa Igarashi (JPN) 15.00 DEF. Shane Sykes (ZAF) 8.70, Slade Prestwich (ZAF) 7.43, Tristan Guilbaud (FRA) 7.26