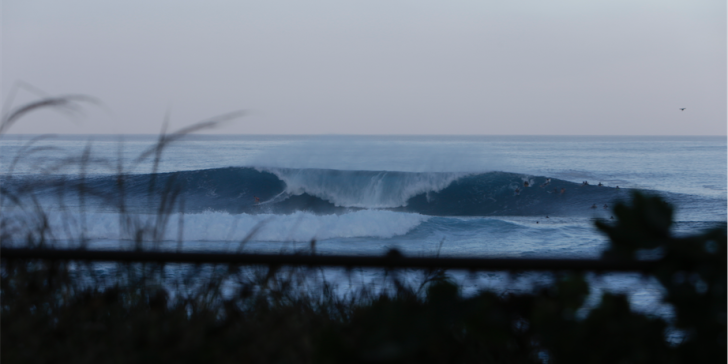 The lineup at Pipe this morning. Image: WSL/Freesurf/Heff
| | |
| --- | --- |
| Event / Location:   | Volcom Pipe Pro, Banzai Pipeline, North Shore, Oahu |
| Dates: | January 28 – February 7, 2016 |
Rating:                            WSL Men's QS3,000
Banzai Pipeline, North Shore, Oahu, HAWAII – (Friday, January 29, 2016) — Day 1 of the Volcom Pipe Pro has been called on with an 8am start in solid 8-10 foot WNW surf and light offshore easterly winds. After giant wash through surf called for a lay day yesterday, athletes and contest organizers are excited for a full day of action at Pipeline.
The competition is expected to last until 4pm with Round 1 in the water first, followed by the Volcom Qualifier 6-man 30-minute heat, which includes the all-Hawaiian match up of Tom Dosland, Kawai Lindo, JD Irons, Dave Wassel, Koa Rothman and Derek Ho. The surfers will compete for one slot into the Volcom Pipe Pro. Organizers also anticipate to finish Heat 11 of Round 2 today.
This three-day event will see a mix of athletes all competing for a piece of the $100,000 prize purse, up to 3,000 ratings points, a berth into the Pipeline Invitational in December, and ultimate bragging rights.
Here's a look at this morning's Round 1 matchups:
H1: Joao Marco Maffini (HAW); Kai Barger (HAW); Noa Mizuno (HAW); Gregg Nakamura
H2: Kamalei Alexander (HAW); Mikey Bruneau (HAW); Bruce Irons (HAW); Shayden Cruz-Pacarro (HAW)
H3: Chris Foster (HAW); Ian Gentil (HAW); Landon McNamara (HAW); Ulualoha Napeahi (HAW)
H4: Elijah Gates (HAW); Dylan Goodale (HAW); Takayuki Wakita (HAW); Gavin Sutherland (HAW)
H5: Derek Wong (HAW); Eala Stewart (HAW); Kona Oliveira (HAW); Sheldon Paishon (HAW)
H6: Imaikalani deVault (HAW); Evan Valiere (HAW); Dylan Kowalski (USA); Kai Mana Henry (HAW)
H7: Luke Shepardson (HAW); Makai McNamara (HAW); Kalani Chapman (HAW); Jason Shibata (HAW)
H8: Travis Beckmann (HAW); Myles Padaca (HAW); Allen Schuyler (HAW); Ezra Sitt (HAW)