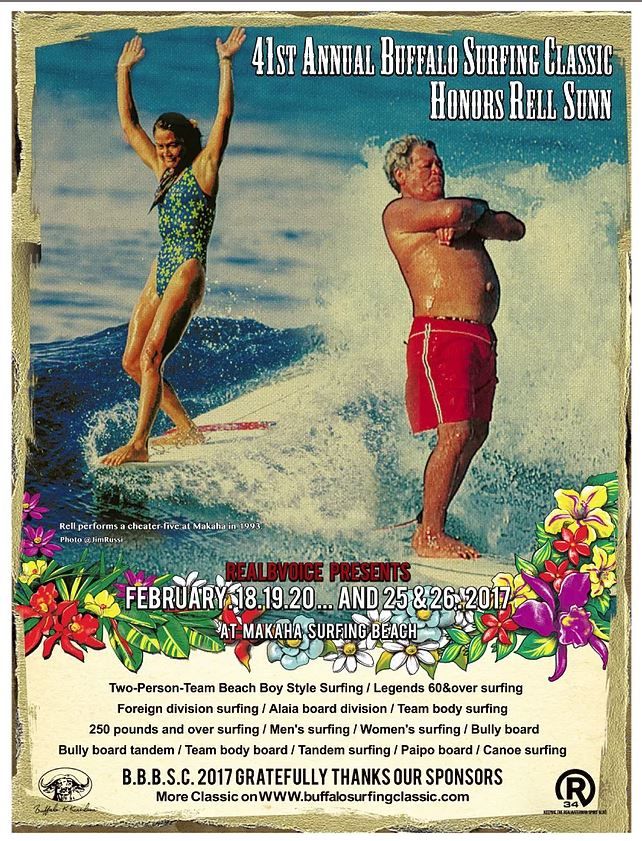 In 1976, the year of the nation's bicentennial celebration and the height of a hawaiian renaissance, Polynesian Voyaging Canoe Hokulea's set sail on its maiden voyage of cultural rediscovery to Tahiti. Buffalo Keaulana was the double-hulled canoe's steersman.
After enduring 35 days beating in rough seas, drifting in doldrums, and dealing with others' experimental ideas, Buffalo, 41 at the time emerged tested and toughened in his own sense of self worth and Hawaiian culture.
On return to Makaha, Buffalo got a chance to steer his path in what originally was the pastime of Hawaii ali'i, Larry "The Weatherman's" suggested that Buffalo start a big board surfing classic at Makaha. The idea struck home.
The classic became a collective expression of giving back to surfing and for 33 years has flourished under Buffalo's sense of what's right.
"I wanted something for the old-timers to enjoy," he said, something to bring out those who don't usually surf in contests, something that doesn't rely so heavily on judgement calls, something that uses big boards (10 feet and over), and something that is fun.
With the help of his wife Momi, co-founder Adam Holbron and Makaha friends, the first mission was to clean up the beach in social ways. "No stealing for two days," was the law. "I wanted the boys to feel what it was like to do something good." Buffalo said.
The first Classic in 1977 had only a men's open surfing division. Of seven finalist, there was no first place (they were all winners!). Awards were ipu, grown in Charlie Carroll's back yard from seeds Buffalo brought back from Tahiti.
Buffalo turned to Waikiki for funding. Braving bodyguards and a new sense of asking for something. Buffalo visited entertainer Don Ho. He left with a $1,000 Check.
Two following Classic were funded by the late Carlton Beal, a Texas oilman who lived at Makaha Point. Buffalo had saved his life in a previous surfing accident.
As word of the Classic spread (there was front-page news coverage), funding got easier with company sponsor's such as Town and Country and Hawaiian Tropic.
Though the early 80's alongside the longboard surfing – Hawaiian music, hula and a Royal Hawaiian Court organized by Kona Smith's Waianae High School Hawaiiana class were featured.
Boogie Kalama, Buffalo's friend and fellow Hokule'a crew mate, organized a huge mix of nonstop entertainment and halau. Henry Preece's The Nobodies, Liko Martin, Melveen Leed, the Brothers Cazimero, the Hoopii Brothers, The Lim Family, Makaha Sons of Niihau, Eddie Kamae and Sons of Hawaii, Danny Kaleikini and Leinaala Kalama Heine's Napua Lei o Liko Lehua – just to name a few.
Speedo and bikini contests also flourished with coverted judging seats filled with the likes of emcee Tally Ho Blears, and Waianae Coast matrons Auntie Aggie Cope and Frenchie DeSoto.
Crowds grew to the point of overflow. But when the city Managing Director was asked to donate $2 for parking, the kitchen got hotter. There was already heat amongst the Makaha Beachboys, a non-profit group that ran the Classic and was dedicated to building a double-hulled sailing canoe. The group dissolved.
It was time to refocus on the church – Makaha, and throw creative efforts into why we were there in the first place – surfing.
As a result, bodyboarding was added to the list of Classic events. There were solo divisions, but real ingenuity centered on a team event where two people shared a wave together.
A weight division weighed-in for longboarding and bodyboarding to give the big guys (250 pounds and over) their time for fun. Even, a special bodyboard (bullyboard) was created by Gary Fischer of Wahoo International.
Age division were introduced. And with the passing of time, what was affectionately called "the legends" got older. Guys longing to grow into that division had to wait, as the division age cutoff moved from 40 to 47 to 50 and now 60.
Forms of surfing that had almost died out, also were revived: tandem, canoe,bodysurfing, paipo, Beachboy style (stand-up-paddle) surfing and, in 2009, the Alaia Board Division. This last division uses skegless, wood replicas of boards used by commoners during the Hawaiian Monarchy.
Over its 33 years, the Classic's division coun has swelled to 15 events. Much of this is thanks to the efforts and ideas of Brian Keaulana, Buffalo's oldest son helped pioneer the use of rescue jet skis with attached sleds. These innovations now double as shuttle in many of the surfing events.
In the late 1980's and early 90's, Buffalo's contest became well known in international circles. As a result, Buffalo welcomed the international community by adding a foreign division.
Mabo Kamoru of Japan responded to Buffalo's aloha, by organizing a trip to Japan. This brought further sponsorship to the Classic through Mabo Royal, Mr. Koyama's Hang Loose and Tenji Oda's Coast Line. Cocomut trees grow near the Makaha's north-side shower in memory of their generosity.
For the past 10 years, Real B Voice has sponsored the Classic. And for five years, the Japan-based lifestyle company has hosted a Buffalo Classic in Shonan, Japan.
Good things have come from giving. This is not only an old Hawaiian belief, it's a way of life for Buffalo.
A way that all those down at Makaha beach knew; whenever Buffalo touched the water with his spear, get the fire burning.
Mahalo Nui loa Buffalo for leading the way
-Bunky Bakutis