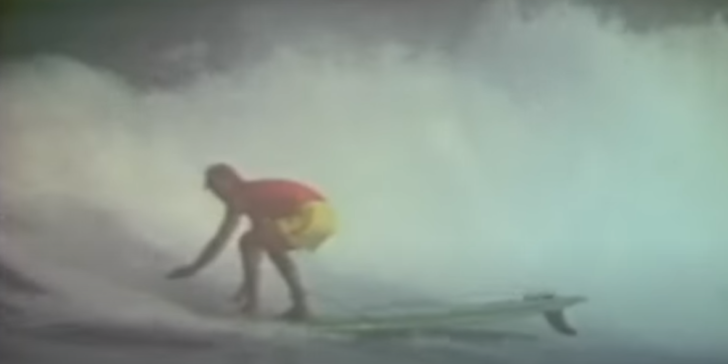 LONGBOARDIN' SURF MOVIE NAT YOUNG, JOEL TUDOR, WINGNUT, JAY MORIARTY, LANCE CARSON, DALE DOBSON
LONGBOARDIN' SURF MOVIE (1994 49 min)) WAS MADE AT A TIME WHEN TRADITIONAL LOGGING HAD ALMOST BEEN FORGOTTEN ABOUT, ENDLESS SUMMER 1 WAS A DISTANT MEMORY AND ENDLESS SUMMER 2 WAS JUST ABOUT TO DROP..
HIGH PERFORMANCE LONGBOARDING WAS IN FULL SWING, YET AS THE DESCRIPTION ON THE VHS BOX SAID "GOOD TIME RIDES ON THE HOT CURLS OF HAWAII, AUSTRALIA AND CALIFORNIA" IT WAS ALL ABOUT FUN.
HOT BIKINI BABES, CONTEST AND FREE SURFING ACTION AT MALIBU, RINCON, NEWPORT, HUNTINGTON BEACH, SAN CLEMENTE, MEXICO, SAN ONOFRE, SANTA CRUZ, TRESTLES, NARABEEN, LENNOX HEAD, KIRRA, BURLEIGH HEADS. PIPELINE, PUPUKEA, WAIKIKI, SYDNEY, AND MORE!
SURFERS: NAT YOUNG, JOEL TUDOR, WINGNUT, DALE DOBSON, RUSTY KEAULANA, LANCE CARSON, PHIL EDWARDS, JOHN PECK, BUTCH VANARTSDALEN, GREG NOLL, COLIN MC PHILLIPS, JOEY HAWKINS, HERBIE FLETCHER, JOEY THOMAS, RICO DE SOUZA, MARK RABBIDGE, TERRY SIMS, JAY MORIARTY, BEN AIPA, JEFF KRAMMER, JOHN HUNTER, KEVIN MISKE, MATT TANNER, CARL ANDERLE, BOB PEARSON, RENNIE YATER, TED ROBINSON, MIKE LATRONIC, SUNNY GARCIA, WAYNE DEAN, DAVID NUUHIWA, JIMMY HOGAN, DINO MIRANDA, JOEY VALENTIN, EVERETT, POTO DAVID, GARY KONG ELKERTON, AND MANY MORE.
MUSIC: THE THONGS
©1994 Golden Pictures