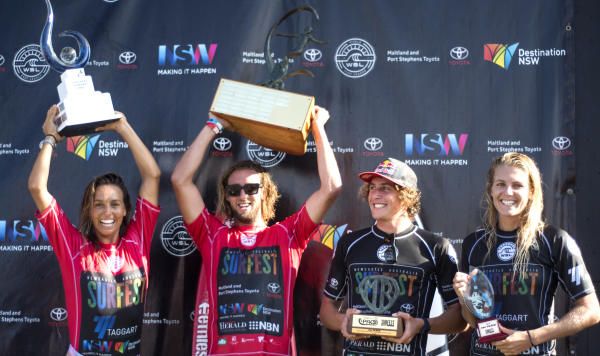 Matt Wilkinson and Sally Fitzgibbons Nab Wins at Surfest in Australia as we near the WSL World Championship 2016 Tour March 10th. All photos WSL
The 2016 qualifying season hit high gear this week at the Surfest in Newcastle, home to the Maitland and Port Stephens Toyota Pro and theTaggart Women's Pro. The QS6000 events attracted several of the WSL's elite talents, and in pumping surf on the final day of competition CT starsMatt Wilkinson and Sally Fitzgibbons topped their respective fields to take the wins.
After narrowly defeating Conner O'Leary in the quarterfinal by less than a point, Wilkinson found his groove in the improving conditions. He dominated his semifinal match against Matt Banting by earning two 9-point rides with his lethal backhand.
Leonardo Fioravanti was turning heads all week on his way to the final.
"I'm so stoked, I didn't really realize how long it had been since I had won something," Wilkinson said. "I've had a few seconds and thirds but it definitely feels good to be on top."
In the Final Wilkinson faced the pride of Italy, Leonardo Fioravanti, the surprise package of the week. Fresh off his semifinal finish at the World Juniors event in Portugal last month, Fioravanti is clearly rolling. He had a tough road to the final, too, beating Ezekiel Lau, Josh Moniz, Patrick Gudauskas along the way.
Matt Wilkinson put his backhand to good use this week in Newcastle, taking the first major QS event of the 2016 season.
Meanwhile the Finals of the Taggart Women's Pro was a showdown between Australian CT stars Stephanie Gilmore and Sally Fitzgibbons.
Stephanie Gilmore was on point all week, impressing everyone with her aggressive assault.
Gilmore was on fire all week in her return to competition, showing no signs of the injury that kept her sidelined for most of last year. Her best moment came during her semifinal match against Hawaii's Malia Manuel. The two traded blows in the perfect surf, and Manuel would have likely advanced with her two 8-point rides against anyone other than Steph. But Gilmore peaked, earning a 9.5 and a perfect 10 to advance to the final.
"It's been a really good week," Gilmore said. "I feel like we had some really fun waves this event. I definitely peaked in my Semi then couldn't really buy a wave in the Final, but I'm really happy with this result, it's a great start to the year."
Current rankings
Events
Rank
+/-
Name
Points
1
2
3
4
5
Earnings
1
–

MATT WILKINSON 

AUS

6,000

6,000

–
–
–
–
$25,000
2
–

PATRICK GUDAUSKAS 

USA

5,275

3,550

1,000

395

330

–
$9,600
3
–

LEONARDO FIORAVANTI

ITA

4,830

4,500

330

–
–
–
$12,700
4
–

JOAN DURU 

FRA

3,830

2,650

1,180

–
–
–
$5,400
5
–

CONNOR O'LEARY 

AUS

3,695

2,650

750

185

110

–
$4,500
6
–

MATT BANTING

A US

3,550

3,550

–
–
–
–
$5,500
7
–

MARCO GIORGI 

URY

3,340

1,550

1,260

420

110

–
$5,600
8
–

JOSHUA MONIZ 

HAW

3,140

2,650

280

210

–
–
$3,200
9
–

KELLY SLATER 

USA

3,000

3,000

–
–
–
–
$16,000
10
–

RYAN CALLINAN 

AUS

2,650

2,650

–
–
–
–
$3,000
11
–

ETHAN EWING 

AUS

2,520

1,000

750

370

200

200

$4,450
12
–

JAMIE O'BRIEN 

HAW

2,435

2,250

185

–
–
–
$10,00
For the Whole story GO HERE