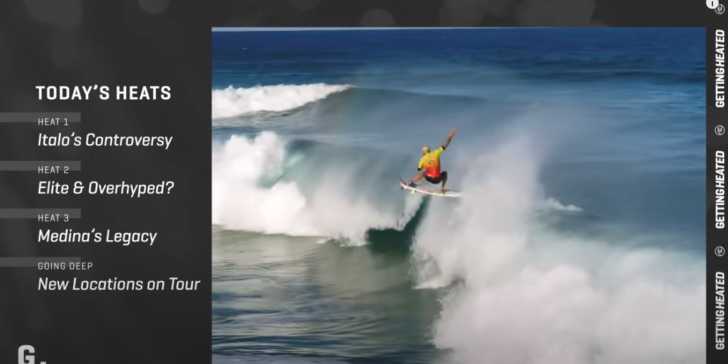 This week on "Getting Heated" with three-time World Champ Mick Fanning and New School icon Ross Williams breakdown the following topics:
HEAT 1: WAS ITALO ROBBED AT THE RIP CURL NARRABEEN CLASSIC?
HEAT 2: IS GABRIEL MEDINA THE GNARLIEST COMPETITOR OF ALL-TIME?
HEAT 3: BIGGEST DISAPPOINTMENT ON THE LEADERBOARD SO FAR?
GOING DEEP: ARE NEWCASTLE AND NARRABEEN EXACTLY WHAT THE TOUR NEEDED, OR LET'S NEVER GO BACK HERE AGAIN?
SNN's Take on Italo: Fans are there for the extreme critical performances, not 'riding out of white water'.  More Fan satisfaction means more marketing money and success for Pro Surfing.
Sure, riding out of a wave is a component of the score but it shouldn't define the whole maneuver or carry most the weight.
Italo was given less than 2 points. Which is laughable when you witness this freak with bugged out eyes. That thing he executed is why we watch Pro Surfing! For us, it was a 'essentially' a make…not a perfect riding out…but not even close to a total failure as the score implied.
We make distinctions to the 10th of a point on a  1-10 scale, in a somewhat subjective performance criteria. Can we not apply some practical 'wiggle room' to instances like Italo's?
Italo woulda-coulda-shoulda had at minimum an excellent score…especially had the white water not over taken him a few moments after he landed. Still he was solid, on his feet and riding towards shore right after the critical 'make' on the flats.
Suggested solution: Why not offer -at a minimum- at least half (even 2/3rds) the full score?
If the WSL can adjust so well to the pandemic as they have, and also for example the 'Medina Interference Rule' (against Caio Ibelli at Pipe in 2019, see story HERE) can't they consider adjusting/broadening the definition of 'making a wave or maneuver'? Of course they can.
Making a wave is not all or nothing all the time.
There's nuance and THAT should be respected.
It's what makes surfing so distinct, just like the waves we ride.