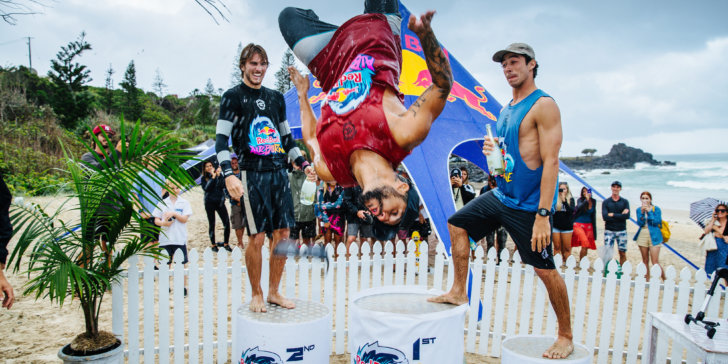 Boost Mobile Pro Gold Coast Kicks Off with Rounds 1 & 2

11X Champ Slater Eliminated Early from Quiksilver Pro Gold Coast
 Italo Ferreira (BRA) celebrating his win at the Red Bull Airborne Gold Coast.
Credit: © WSL / Dunbar
COOLANGATTA, Queensland/AUS (Thursday, April 4, 2019) – The first event of the women's World Surf League (WSL) Championship Tour (CT) season, the Boost Mobile Pro Gold Coast, kicked off today after a three-month offseason. The world's best surfers started the day at Duranbah in three-to-five foot (1-to-1.5 metre) conditions, completing Rounds 1 and 2.

Following the women, men's elimination Round 2 said goodbye to its first four competitors. The day ended with the high-flying action of the Red Bull Airborne Gold Coast, which saw Italo Ferreira (BRA) claim the win.
Italo Ferreira Wins Red Bull Airborne Gold Coast
Today, Italo Ferreira (BRA) won the Red Bull Airborne Gold Coast, a WSL specialty event that highlights aerial surfing. The 24-year-old is known for his creative antics in the air, landing some of the Championship Tour's biggest maneuvers and setting the bar for above-the-lip surfing. Ferreira brought his same flair into today's air show to light up Duranbah and take home the win.
"That was an epic Final," said Ferreira. "It was special with Filipe (Toledo) and Yago (Dora). To me those are two of the best guys in the air. I am so happy to take the win. I tried to go big in the first five minutes and I landed the first one. It was so fun."
To make the Final, the Brasilian battled through the 18-surfer field in a leaderboard-scoring format for a place in the top six alongside finalists Filipe Toledo (BRA), Yago Dora (BRA), Mateus Herdy (BRA), Reef Heazlewood (AUS), and Mitch Parkinson (AUS). Ferreira landed a frontside air-reverse to earn the specialty event win. Ferreira will now prepare for his next heat in the Quiksilver Pro Gold Coast.
"Two years ago I had a big injury here and hurt my ankle," continued Ferreira. "That was devastating. It was crazy because after two years, I've now won an air comp here. I do not know how to explain how crazy that is to me. I am so excited for tomorrow and bringing this to the CT competition."
The Red Bull Airborne Series is a three-part WSL specialty event that will now look ahead to its next air shows in Keramas, Bali and Hossegor, France.
 Event wildcard Isabella Nichols (AUS) shines in Round 1 of the Boost Mobile Pro Gold Coast. 
Credit: © WSL / Dunbar
Wildcard Isabella Nichols Off to Strong Start
Wildcard Isabella Nichols (AUS) was not flustered by Stephanie Gilmore (AUS) and battled with the reigning, seven-time WSL Champion throughout the heat alongside Paige Hareb (NZL). Nichols' CT debut was nothing short of tactful and displayed the grit Qualifying Series competitors possess heading into the five-minute mark, by posting a 5.60 (out of a possible 10) under pressure from Gilmore.
"You have to do what you have to do and I had to block Steph (Gilmore) on that last one because I wanted to win the heat," said Nichols. "Both girls were surfing really well, so I'm just happy to take the win. Of course, Steph will always be the favorite, it's her hometown, she is the seven-time World Champion and she's also my favorite, too, so I probably would've put my vote towards her, as well. I have '100%' written on my board to remind me to go one-hundred percent all the time. I can get lost out there time to time as we all do, but it's a great reminder from my coach."
With a second-place finish in Round 1 Heat 3, Gilmore will also advance to Round 3. She will face 2019 CT Rookie Macy Callaghan (AUS) next in the head-to-head, elimination round.
"The yellow Jeep Leader Jersey is a pretty special jersey to have on and it has stars for how many Titles we've won," said Gilmore. "But it adds a bit of pressure for sure. First event of the year, it's a light, bright jersey but it has some weight to it. It'll be tough going for an eighth. First heat of the year, I wanted two excellent scores and to really start strong, and I didn't do that. It's a long year, but it's important to start strong, so I've got work to do. The best surfers learn to adapt really quickly and that's something maybe I wasn't confident in just then and wanted to stick with my plan."
2018 Event Winner Peterson on Track to Repeat
Lakey Peterson (USA) made an incredible statement in 2018, going toe-to-toe Gilmore's Title campaign all the way to Maui, and renewed that intensity today coming into the 2019 season. The Californian left no doubt in her win over injury replacement Sage Erickson (USA), who will also advance into Round 3, and Coco Ho (HAW).
"It's so good to be back and get a heat under the belt," said Peterson. "I always get nervous with that first heat. A lot of it is just giving yourself enough opportunity. There are waves for everyone to surf and perform in the heat. I think a lot of our waves on Tour are right pointbreaks, but I've been surfing a bunch of beach breaks going left and right that are similar to here."
Rookies Find Redemption in Round 2
Unlike the men's rookie class spoiling yesterday's proceedings on opening day, Brisa Hennessy (CRI) and Callaghan got a taste of what it takes to compete among the world's best as both were relegated to Round 2, despite a few shining moments.
Hennessy fell to a dominant performance from Tatiana Weston-Webb (BRA), who posted an excellent 8.33 (out of a possible 10), leading to a 15.16 heat total (adding top two wave scores, out of a possible 20). Malia Manuel (HAW) had no intention of an early exit and locked in a second-place finish behind Weston-Webb to advance to Round 3. Finishing last in the heat, Hennessy was relegated to elimination Round 2 where she handled the pressure against Hareb and Ho to win Round 2 Heat 2. The rookie's heat win puts her back in the running at the Boost Mobile Pro, eliminating Hareb in Equal 17th place.
"I look up to Coco Ho and Paige Hareb a lot and it was pretty scary," said Hennessy. "I needed to bring out my surfing and get the best waves. To get a heat win in any CT event helps your confidence a lot. It doesn't happen too often for a rookie so I will take it. It was special and I was happy with that."
Rookie Callaghan started strong in her full-time CT rookie debut with a quick lead against Courtney Conlogue (USA), who she faced in the 2018 Roxy Pro France Final, and Johanne Defay (FRA). Callaghan's lead was short-lived with Defay and Conlogue finding their rhythm and placing ahead in Round 1. In Round 2 Heat 1, the newcomer found redemption with a runner-up result behind Sally Fitzgibbons (AUS) and overtaking Keely Andrew (AUS), the 2018 event runner-up.
11X Champion Kelly Slater Eliminated Early, Disruptors Continue To Charge
2019 CT Rookie Peterson Crisanto (BRA) helped send shockwaves through the event proceedings after helping eliminate 11-time WSL Champion Kelly Slater (USA) alongside veteran Owen Wright (AUS), who took the Round 2 heat win.
"I felt a lot more settled in that heat," said Wright. "The first heat I felt great and just got a little bit lost out there and that last heat I just felt like I was there. I've gotten a little heavier, so I've got a bit more volume in my boards. I've been training a bunch in the offseason using weights, probably the first time in four years, and it felt great to enjoy that heavier training again."
Reigning World Junior Champion Mateus Herdy (BRA) also caused trouble of his own with a big Round 2 heat win over last year's World Title contender Julian Wilson (AUS) and simultaneously eliminating Italy's Leonardo Fioravanti.

Jordy Smith (ZAF) and Ricardo Christie (NZL) showcased their innovative and powerful styles to overcome Caio Ibelli (BRA) in Round 2 Heat 2. Finishing Round 2, Willian Cardoso (BRA) took over for a vital win alongside Sebastian Zeitz (HAW) advancing to eliminate Jadson Andre (BRA).
The next call for the Quiksilver Pro and Boost Mobile Pro Gold Coast will be tomorrow at 6:30 a.m. AEST, when event organizers will assess the conditions to decide the event's location and schedule.

The Quiksilver Pro and Boost Mobile Pro Gold Coast will be broadcast LIVE on WorldSurfLeague.com and Facebook.com/WSL. Also check local listings for coverage from the WSL's broadcast partners.

Red Bull Airborne Gold Coast Final
1 – Italo Ferreira (BRA)
2 – Reef Heazlewood (AUS)
3 – Yago Dora (BRA)
4 – Mitch Parkinson (AUS)
5 – Filipe Toledo (BRA)
6 – Mateus Herdy (BRA)

Boost Mobile Pro Gold Coast Round 1 Results:
Heat 1: Nikki Van Dijk (AUS) 13.20 DEF. Carissa Moore (HAW) 10.60, Keely Andrew (AUS) 6.50
Heat 2: Lakey Peterson (USA) 13.34 DEF. Sage Erickson (USA) 8.27, Coco Ho (HAW) 8.14
Heat 3: Isabella Nichols (AUS) 11.60 DEF. Stephanie Gilmore (AUS) 10.17, Paige Hareb (NZL) 8.44
Heat 4: Tatiana Weston-Webb (BRA) 15.16 DEF. Malia Manuel (HAW) 13.83, Brisa Hennessy (CRI) 10.44
Heat 5: Johanne Defay (FRA) 12.53 DEF. Courtney Conlogue (USA) 11.83, Macy Callaghan (AUS) 10.30
Heat 6: Caroline Marks (USA) 14.50 DEF. Bronte Macaulay (AUS) 12.84, Sally Fitzgibbons (AUS) 9.40

Boost Mobile Pro Gold Coast Round 2 Results:
Heat 1: Sally Fitzgibbons (AUS) 13.00, Macy Callaghan (AUS) 11.83, Keely Andrew (AUS) 11.73
Heat 2: Brisa Hennessy (CRI) 12.60, Coco Ho (HAW) 9.46, Paige Hareb (NZL) 7.53

Boost Mobile Pro Gold Coast Round 3 Matchups:
Heat 1: Stephanie Gilmore (AUS) vs. Macy Callaghan (AUS)
Heat 2: Caroline Marks (USA) vs. Isabella Nichols (AUS)
Heat 3: Tatiana Weston-Webb (BRA) vs. Brisa Hennessy (CRI)
Heat 4: Nikki Van Dijk (AUS) vs. Malia Manuel (HAW)
Heat 5: Lakey Peterson (USA) vs. Sage Erickson (USA)
Heat 6: Sally Fitzgibbons (AUS) vs. Courtney Conlogue (USA)
Heat 7: Carissa Moore (HAW) vs. Bronte Macaulay (AUS)
Heat 8: Johanne Defay (FRA) vs. Coco Ho (HAW)

Quiksilver Pro Gold Coast Round 2 Results:
Heat 1: Mateus Herdy (BRA) 12.77, Julian Wilson 11.23, Leonardo Fioravanti (ITA) 10.66
Heat 2: Jordy Smith (ZAF) 13.93,  Ricardo Christie (NZL) 12.56, Caio Ibelli (BRA) 10.63
Heat 3: Owen Wright (AUS) 13.73, Peterson Crisanto (BRA) 13.50, Kelly Slater (USA) 10.63
Heat 4: Willian Cardoso (BRA) 12.93, Sebastian Zietz (HAW) 11.64, Jadson Andre (BRA) 8.90

Quiksilver Pro Gold Coast Round 3 Matchups:
Heat 1: Filipe Toledo (BRA) vs. Soli Bailey (AUS)
Heat 2: Adrian Buchan (AUS) vs. John John Florence (HAW)
Heat 3: Kanoa Igarashi (JPN) vs. Jesse Mendes (BRA)
Heat 4: Conner Coffin (USA) vs. Jeremy Flores (FRA)
Heat 5: Julian Wilson (AUS) vs. Reef Heazlewood (AUS)
Heat 6: Griffin Colapinto (USA) vs. Seth Moniz (HAW)
Heat 7: Kolohe Andino (USA) vs. Peterson Crisanto (BRA)
Heat 8: Owen Wright (AUS) vs. Ezekiel Lau (HAW)
Heat 9: Gabriel Medina (BRA) vs. Mateus Herdy (BRA)
Heat 10: Yago Dora (BRA) vs. Joan Duru (FRA)
Heat 11: Jordy Smith (ZAF) vs. Ryan Callinan (AUS)
Heat 12: Mikey Wright (AUS) vs. Jack Freestone (AUS)
Heat 13: Italo Ferreira (BRA) vs. Ricardo Christie (NZL)
Heat 14: Michael Rodrigues (BRA) vs. Willian Cardoso (BRA)
Heat 15: Wade Carmichael (AUS) vs. Sebastian Zietz (HAW)
Heat 16: Michel Bourez (PYF) vs. Deivid Silva (BRA)
Surfline Forecast for the Quiksilver Pro and Boost Mobile Pro Gold Coast
About the WSL 
The World Surf League (WSL) is dedicated to celebrating the world's best surfing on the world's best waves through a variety of best-in-class audience platforms. The organization, headquartered in Santa Monica, is a global sport with regional offices in Australasia, Africa, North America, South America, Hawaii, Japan and Europe.The WSL has been championing the world's best surfing since 1976, annually running more than 180 global events across the Men's and Women's Championship Tours, the Big Wave Tour, Qualifying Series, Junior and Longboard Championships, as well as the WSL Big Wave Awards. The League possesses a deep appreciation for the sport's rich heritage while promoting progression, innovation and performance at the highest levels, and in doing so crowns the undisputed Men's and Women's World Champions across all tours.Showcasing the world's best surfing on its digital platform at WorldSurfLeague.com, the WSL has a passionate global fan base with millions tuning in to see world-class athletes like Kelly Slater, Stephanie Gilmore, Tyler Wright, John Florence, Lakey Peterson, Paige Alms, Kai Lenny, Steven Sawyer, Soleil Errico, Carissa Moore, Gabriel Medina, Courtney Conlogue and more battle on the most dynamic field of play of any global sport.For more information, please visit WorldSurfLeague.com