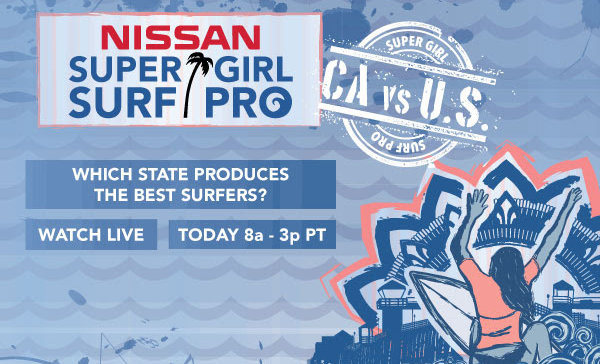 Watch it live below!
Event Information
The Nissan Super Girl Surf Pro specialty event is set to return pro surfing to California's coastline October 3-4. This marks the first all-women's event of the year and features some of the world's best ready to ignite competition. The unique team format will bring Team California vs Team Rest of U.S. contests featuring 16 world-class surfers from CA, HI and FLA competing head-to-head to help answer the age-old question: Which state produces the best surfers?
"Everyone is so excited about this event," said 2018 Super Girl Pro champion Moore. "I've always been inspired by the message behind Super Girl, and it's incredible to have a contest like this that focuses entirely on women's surfing. I am thrilled to be back in the ocean competing, and the contest format seems really fun."
Team CA
Courtney Conlogue
Sage Erickson
Lakey Peterson
Caity Simmers
Alyssa Spencer
Sam Sibley
Tia Blanco
Meah Collins
Team Rest of U.S.
Carissa Moore
Tati Weston-Webb
Caroline Marks
Gabbi Bryan
Zoe McDougall
Vaihiti Inso
Brianna Cope
Zoe Benedetto
Also featured will be the incredibly talented adaptive women including 2010 Paralympic Sportswoman of the Year Alana Nicholes, 2020 Women's AMPSurf ISA Para Surfing World Championships Gold Medalist Olivia Stone, first-ever ISA World Championship female medalist, Darian Bailey Haynes, and more.
Results
Event results will be updated here throughout the weekend.