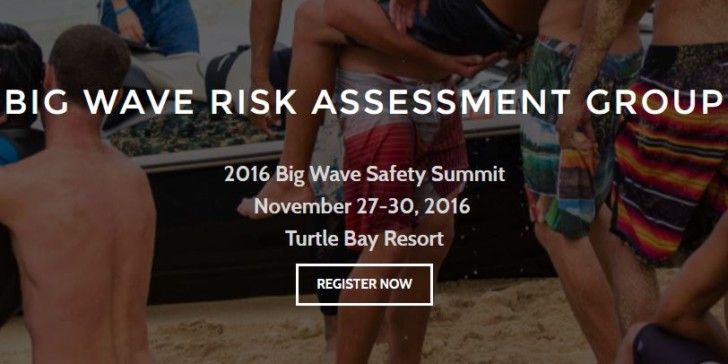 "Sign up at
bwrag.org
for the North Shore, Oahu course Nov. 27-30. It's the best opportunity on the planet to learn water safety/rescue from the experts. A lot of lives has been saved through this course. Learn how to be proactive instead of a bystander!" Mark Healey
– CPR 2 year certification class
– Oxygen Provider (DAN Course) 2 year certification
– intro to Surf Survival with Performance free diving
– High surf Risk management workshop with Brian keaulana
– Talk Story party night at Surfer the Bar on Wednesday 30th too.
2016 Hawaii Safety Summit
Turtle Bay Resort
November 27-30th
The Big Wave Risk Assessment Group exists to educate and train surfers in ocean risk management, safety protocols, equipment, technology and skills training to maximize their own safe practices and to elevate the safety of those with whom they share their surf lineup. Our educational program is open to participants ranging from competent recreational riders through to professional big wave riders, meeting them at their respective level, in their natural environment. It is also our mission to share our progress and key learnings with members of the surf industry to continue to advance awareness, best practices, and technological advancement.